SOROPTIMIST INTERNATIONAL CLUBS OF SOUTH AUSTRALIA

---
A very moving service at the Women's Memorial Playing Fields
On 19th Feb 2023, at the SA Women's Memorial Playing Fields at St. Mary's, SISA Soroptimist members honoured the nurses who died on Radji Beach on February 16th 1942, after fleeing Singapore. 21 nurses died and one survived, Vivian Bullwinkel, who became a Soroptimist.
SA Governor Her Excellency Honorable Frances Adamson AC was in attendance this morning. Keynote speaker was Colonel Toni Bushby Director of Army Health, who spoke of the key qualities of nurses, mateship, dedication and calmness under pressure.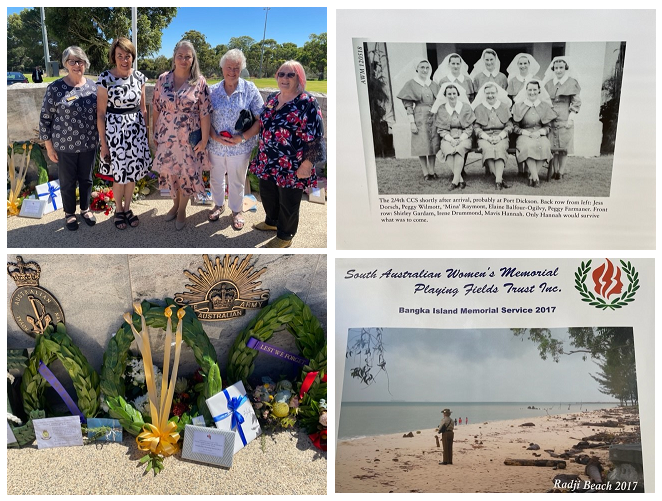 Soroptimists who attended on this day: Pam Lacey (SI Adelaide), Region President Louise Bruce (SI Eastern), Fiona Wirth (SI Torrens and member of the SAWMPFTrust committee), Sue Newton (SI Torrens), Anne Berry (former SISA President and SI Torrens member).
Link to the podcast from the Virtual War Memorial Australia site: Click here
A brief history of the Women's Memorial Playing Fields
SI Port Pirie's International Women's Day lunch 2023
Friday March 10th 12 -1.30pm at Port Football Club Rooms, Esmond Road, Port Pirie
Speaker: Sue Scarman, Mayor of Northern Areas Council, experienced in volunteering, business, tourism in Southern Flinders Ranges and local council
Cost $20- prepaid tickets available through Secretary siportpirie@siswp.org
16 Days of Activism against Gender-Based Violence - 2022
16 Days of Activism against Gender-Based Violence is an annual international campaign that kicks off on 25 November, the International Day for the Elimination of Violence against Women, and runs until 10 December, Human Rights Day.
SI Torrens will be joining forces with Zonta of Para Districts and Rotary from Mawson Lakes to hold a Twilight Vigil on the 9th of December 2022 from 8pm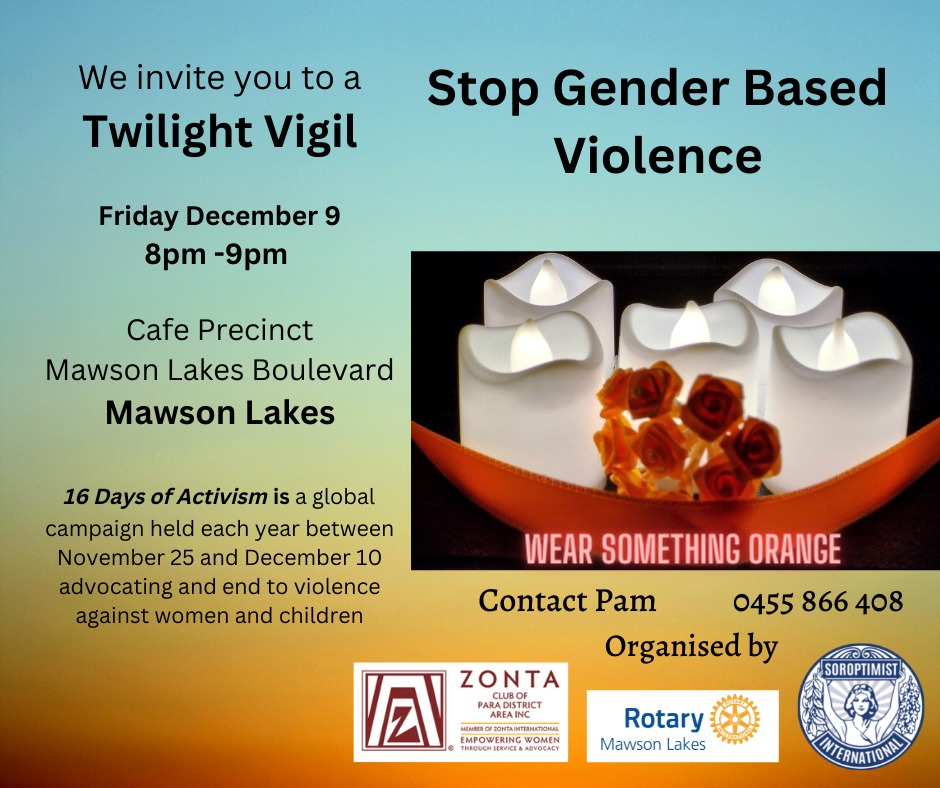 Each year more than one woman a week is murdered in Australia by a partner or former partner. This is a chance to show your support for a fantastic cause and learn how to move from awareness to action towards ending violence against women and children.
BREAKING NEWS
Our name has changed from Soroptimist International South West Pacific to Soroptimist International South East Asia Pacific. This change is in light of creating an inclusive environment across the Asian countries.
We congratulate and welcome our new President Christine Johnstone for the year 2022 - 2024 biennium.
We are pleased to announce that Her Excellency the Governor of South Australia, Ms Frances Adamson AC has accepted our invitation to be our Patron.

The Region of South Australia has undertaken to fund and plant 100 trees , as part of the 100 years celebration, to create a wetland adjoining the Women's Memorial Playing Fields, a large space dedicated to the women who served in the war. A Soroptimist, Miss Helen Black, was active in its establishment. Miss Black was an inaugural member of the playing fields committee, tasked with developing a space to encourage women and girls to be active and physically fit. It was later (in early 1952) turned into a "living memorial" to the nurses who were massacred on Radji Beach at the fall of Singapore.
The playing fields are undergoing a large-scale redevelopment but unfortunately, delays in works have meant that the trees cannot be planted this year. Next year when conditions are best for native tree planting, a wetland will be planted and two groves of trees within the playing fields will be restored with a memorial from Soroptimists along with a plaque commemorating our Federation's centennial celebration. An original memorial from Soroptimists will be restored as part of the reconstruction.
SI South West Pacific Federation project
2021-2022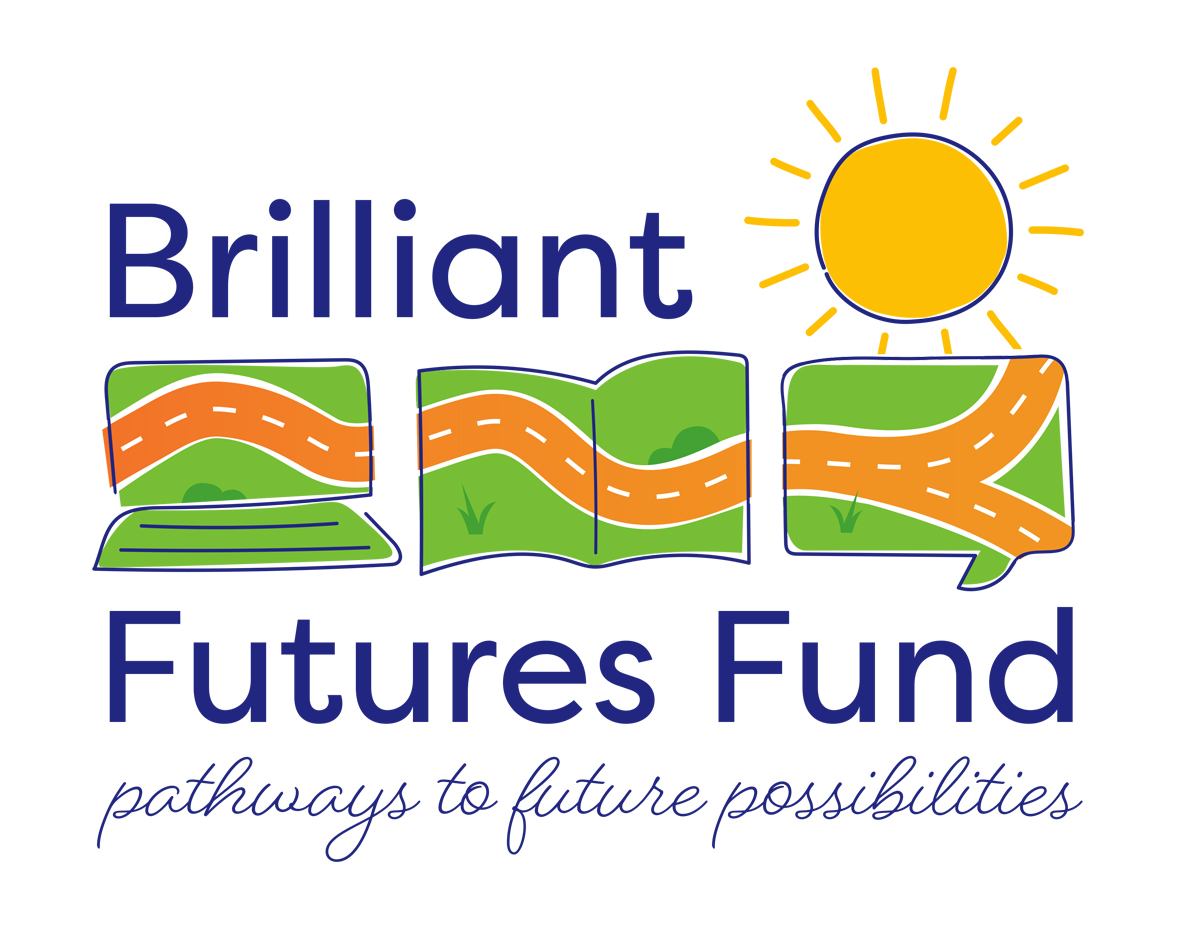 Brilliant Futures Fund is the Federation Project for the remainder of this biennium. Designed to support projects that focus on Education and support our mission and values it is an opportunity for clubs to nominate a project up to AUD 10,000.
International Presidents Appeal 2021-2023
Every SI President proposes a 'President's Appeal': a project to which Soroptimists worldwide are called to raise funds during the President's two-year tenure. For the period 2021 – 2023 the President's appeal is the project "Opening Doors to a Bright Future"
Soroptimist International Cambodian project
The first project of the SI President's Appeal 'Opening Doors to a Bright Future' launched in Cambodia in early 2022, in the Soroptimist International Federation of South East Asia Pacific.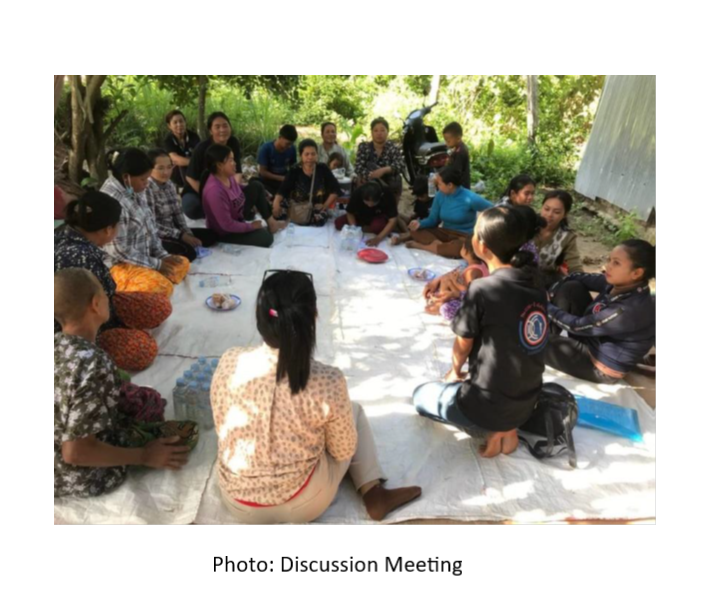 'Education and Learning in Cambodia throughout the life course', is working in partnership with the Cambodian Community Dream Organization (CCDO).
Click here to read more...
Conference of Clubs 2020 Virtual Due to Covid 19
Every 2 years in Federation of South West Pacific a conference of Clubs is held in the destination of choice of the Federation president. Plans are being made for this conference to be held in Indonesia The Conference is a time to renew friendships , make new friends, attend workshops, listen to inspiring speakers and catch up with club projects. A gala dinner on the last night sees the installation of the Federation President for next bienium 2020-2022. We welcome Suman Lal from Fiji as our 2020-22 Federation President. President Suman's theme is..

South Australian soroptimists join members across the globe to celebrate 16 Days of Activism
The Adelaide white ribbon breakfast 2022
Adelaide White Ribbon Breakfast 2022 in support of White Ribbon Australia presents THE COVID CHALLENGE facilitated by Will McDonald from Nine Adelaide.
AWRB 2022 booking link - https://www.trybooking.com/CBIIL
INTERNATIONAL Women's Day 2022
Each year Soroptimists celebrate women's achievements on International Women's Day March 8th, while also remembering the struggles faced by women around the world. In 1993 the Adelaide International Women's Day Breakfast was established and is now the largest event celebrating IWD in Australia and, it is the largest Annual Women's Event in the Adelaide. In supporting the work of UN Women National Committee Australia through the Adelaide International Women's Day Breakfast we were delighted that a virtual breakfast is to be hosted by Senator Hon Penny Wong chatting with 2021Australian of the year Grace Tame

---
Soroptimist International of South Australia
Welcome to our website! Read through our club pages, see where we are and what we do, add event dates to your diaries and look at the galleries of photos. You're sure to find something that interests you.
Soroptimist International is a world wide service group for women. We work towards improving the lives of women and girls through a gobal network of members and international partnerships. Women linked as sisters around the world working to enable the best in all women everywhere.
"Soroptimist" is derived from two Latin words, "soror" meaning sister and "optima" meaning best for. We interpret it as "women helping women to be their best". read more
SISA Events
government house
On the 16th of November 2022, 4 members went to Government House to represent Soroptimist as a voluntary organisation. Liz Flint was there to represent Children's Week.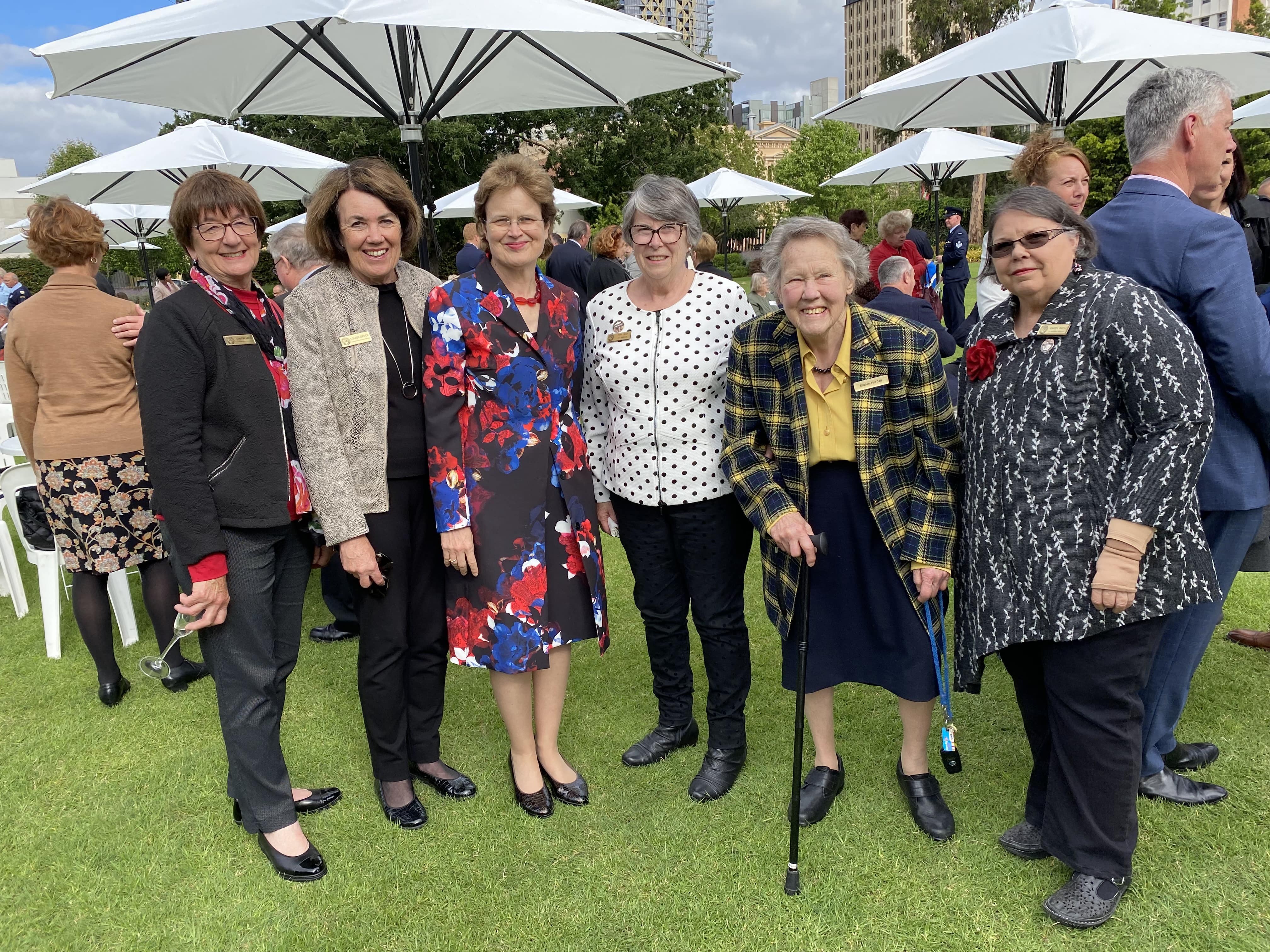 L-R Lyn Palmer (Southern) Louise Bruce (President) Frances Adamson AC (Governor) Pam Lacey (Adelaide) Liz Flint (Eastern ) and Carol Bath (Murray Bridge)
ncwsa 120 years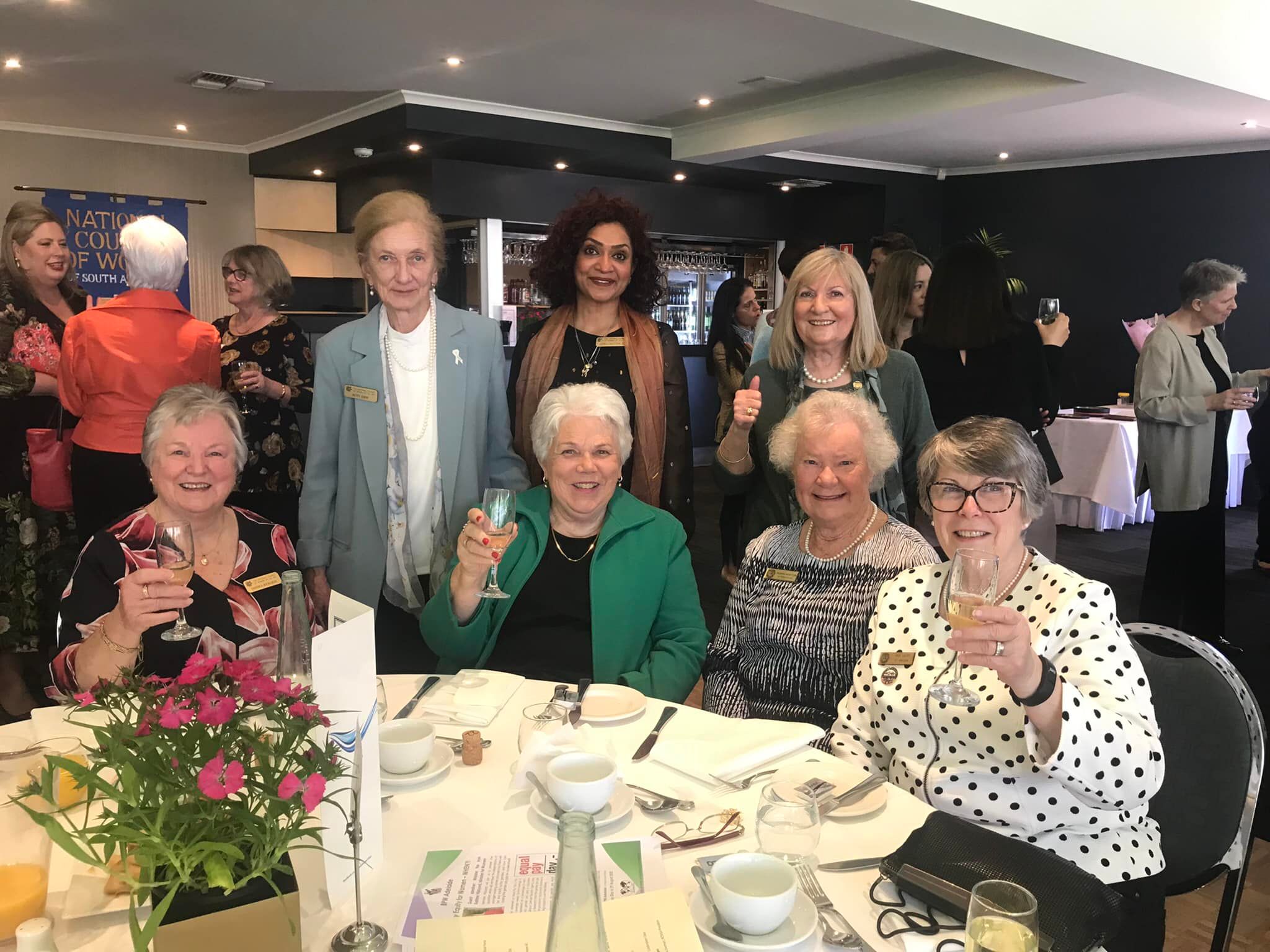 Congratulations on a lovely celebration of NCWSA 120 years, at the Adelaide Pavillion today. SI Adelaide has been an affiliated member since 1950 - click here to read more...
Celebrating 100 years of Soroptimist International
The region of South Australia held a lunch, with invited guests. Past region and club presidents. The lighting of candle ceremony with Di Lockwood representing Soroptimist International, Annette Korzeba,Federation of South West Pacific, Evonne Tylor Region of SA and Jenny Hughes our members in SA.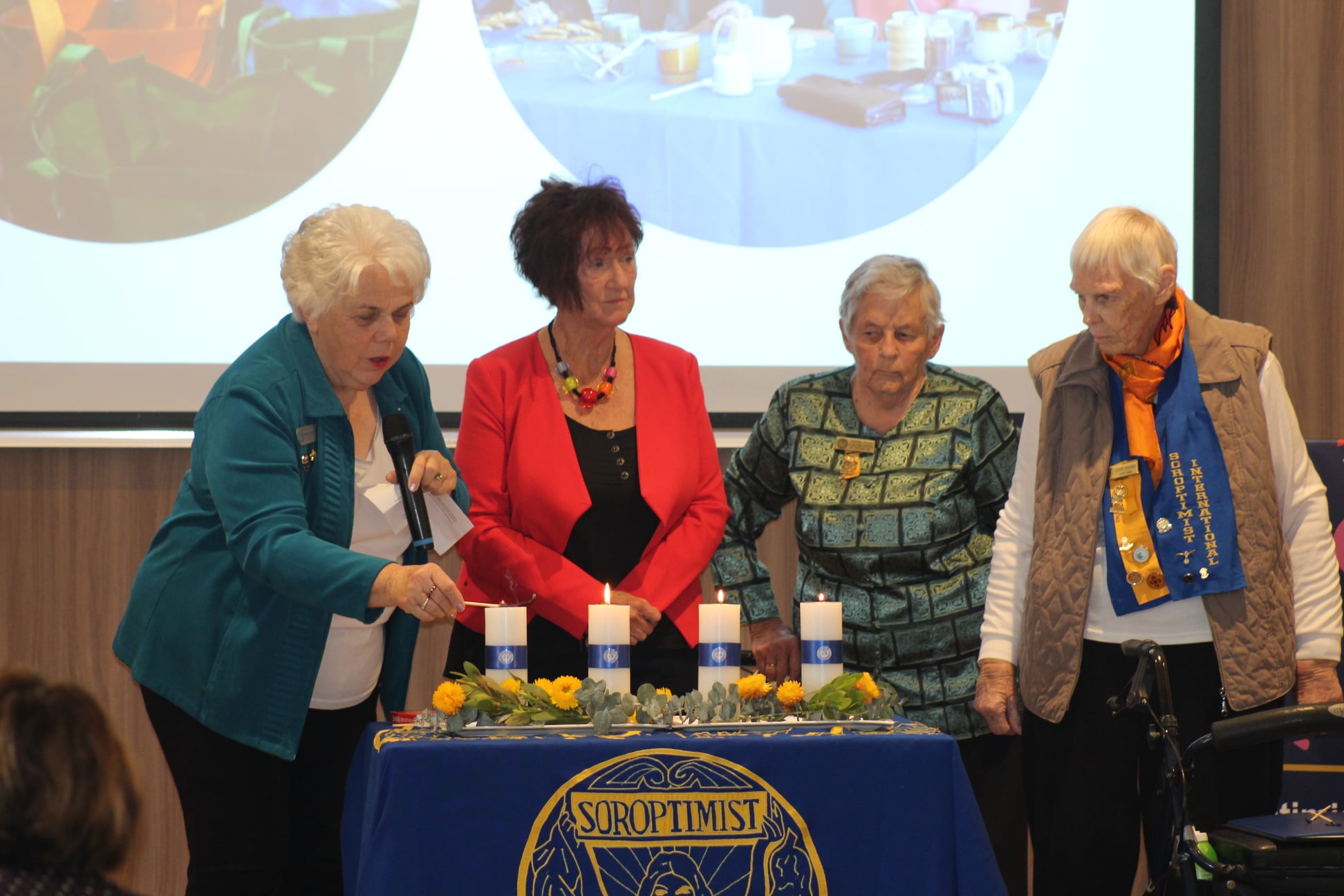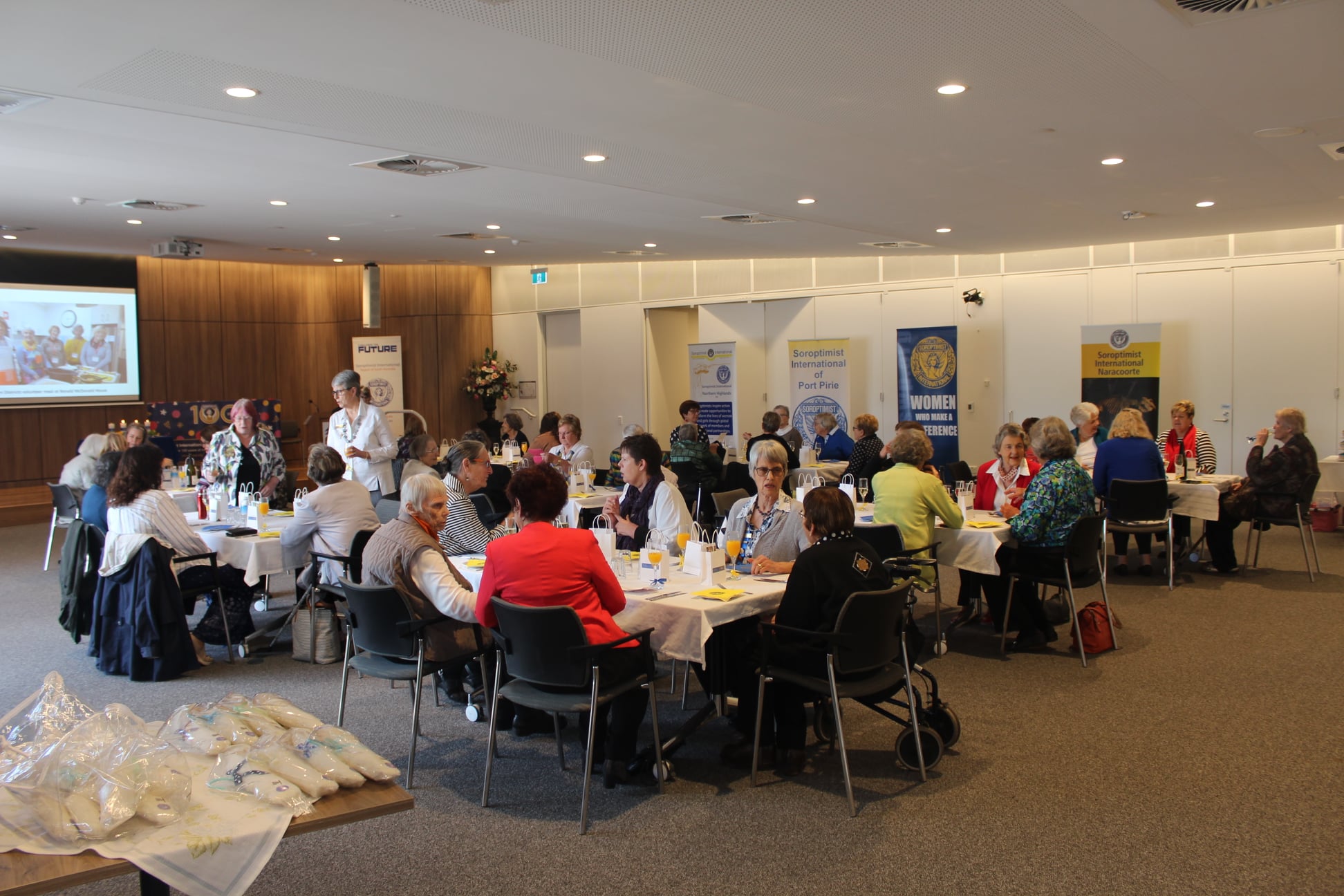 gender studies award recipient 2023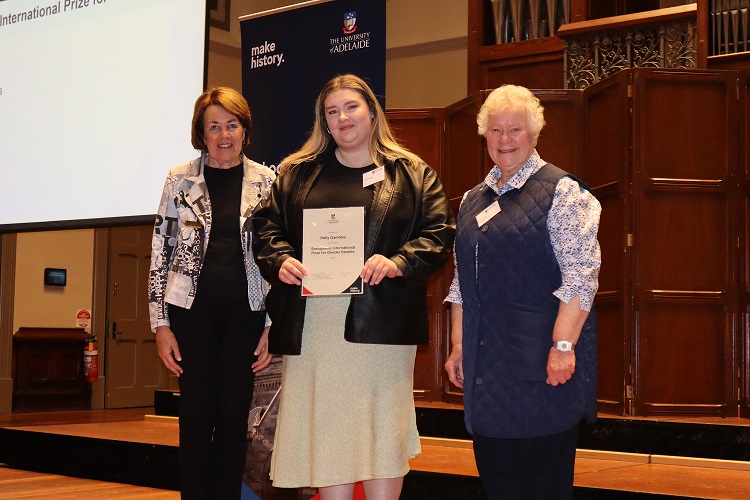 We were delighted to see that many of our previous region presidents, past club presidents and present club presidents were able to join with us for our celebration.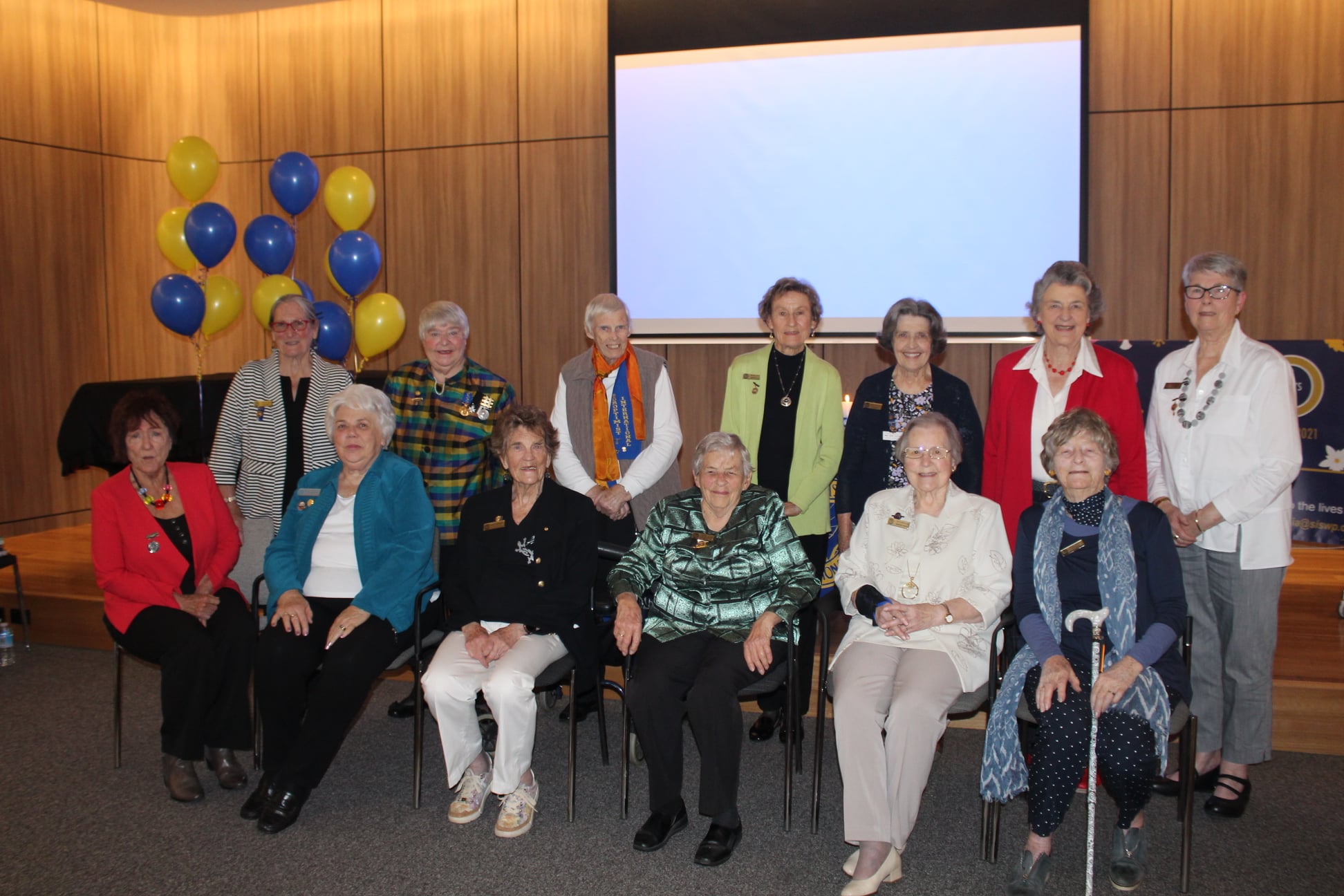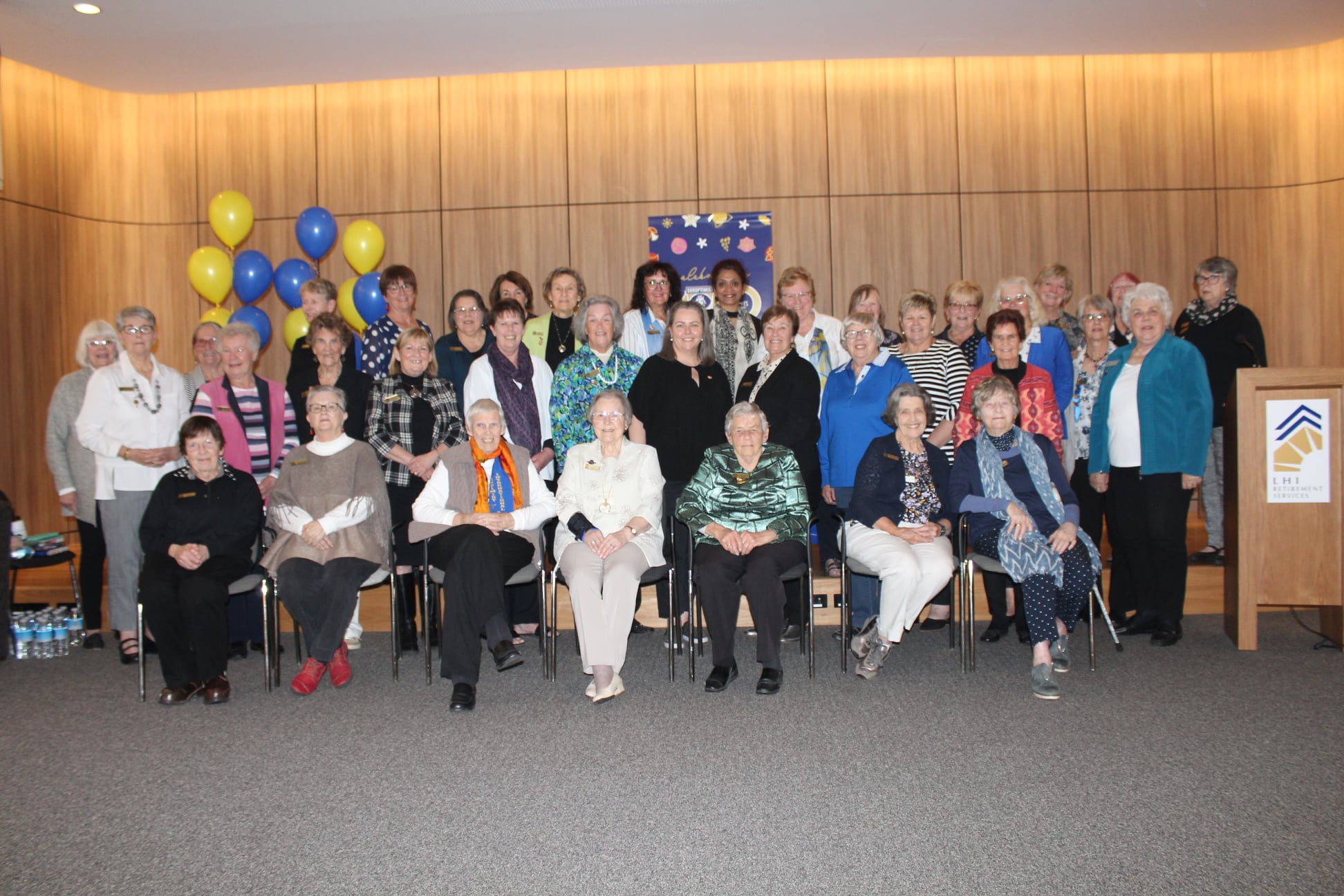 Past Region Presidents Current Members of SISA at the lunch
Mrs Lan Le hosted morning tea at Government for members of SISA.
Mrs Le has been the Patron of Soroptimist International of South Australia for the last 7 years, a morning tea was enjoyed by members to celebrate Mrs Le's term and wish her well in future endevours.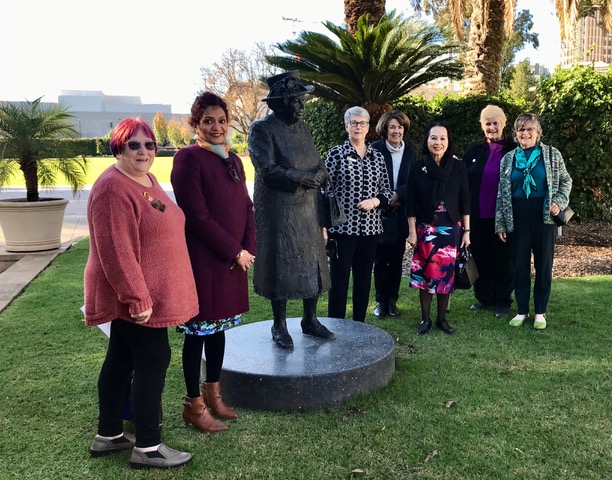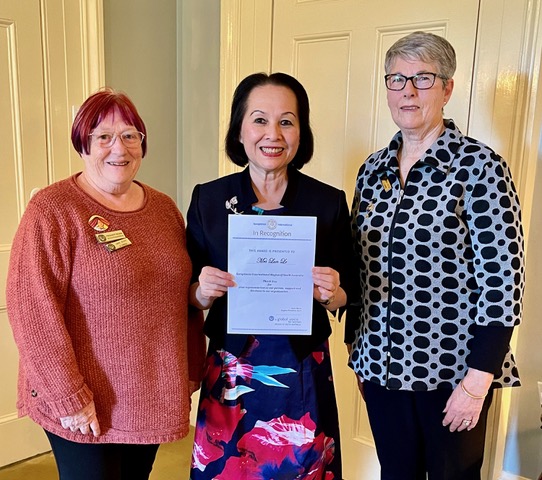 President Anne Berry, Mrs Lan Le and Secretary Dianne Potter
sisa region Executive 2020-2021
L-R Anne Berry President, Deb Devlin Treasurer, Dianne Potter Secretary, Sandr Richards Minute Secretary, Louise Bruce President Elect, Pam Lacey Membership Training, seated, Anne Scutchings Program UN Liaison.
SISA News
Bangka Day Memorial Service
SA Women's Memorial Playing Fields Trust Inc. February 2022
Soroptimists from SI Adelaide and SI Torrens, attended the 80th Anniversary service of the Bangka Straits massacre of nurses, in 1942. A Soroptimist member was part of this original committee. Vivian Bullwinkel who was the only survivor, became a Soroptimist member. The main oval in the redeveloped site will take her name.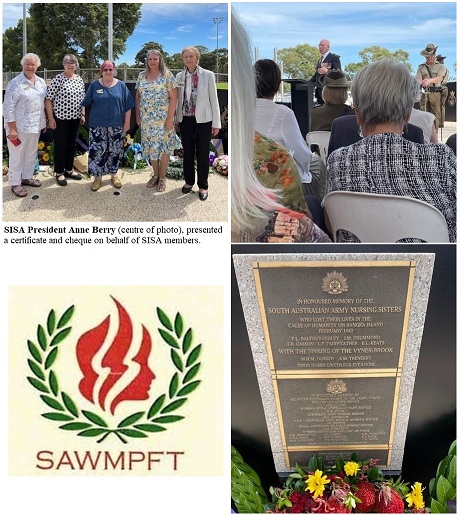 SA Women's Memorial Playing Fields Trust Inc. May 2021
The Trust has successfully completed the Bangka Day Memorial Service for 2021. This service was held in the grounds of Government House on 13 February. We were lucky to have a glorious day in the mid-20's, a wonderful and inspiring guest speaker and a beautiful service with the army band and all branches of Defence Force in attendance. Thank you to the Soroptimists who attended and lent support to the Trust