The Soroptimist International Prize for Gender Studies
Soroptimist International is a worldwide organisation for women in management and professions working through service projects to advance human rights and the status of women.
Soroptimists are women who inspire action and create opportunities to transform the lives of women and girls through a global network of members as well as local and international partnerships.
Soroptimist International Adelaide, Naracoorte, Northern Highlands, Southern Districts, Eastern Districts and Torrens Clubs in the Region of South Australia have provided ongoing support and an annual prize to encourage and support feminist scholarship important to the advancement of women. The prize is awarded to the student whose academic performance, in the opinion of the examiners; show her/him to be the most outstanding student in Level III Gender Studies courses.
gender studies award recipient - 2022
The SI Award is a certificate and $1,000 from Clubs in South Australia. The Award is given annually. Cindy Tran is the Soroptimist International Awardee for Gender Studies this year. Cindy is an Honours student this year at Adelaide University. Cindy's Parents came from Vietnam and Cindy is the eldest of 3 children born in Adelaide. Her Mother is very proud of her Daughter's achievements.

Louise Bruce, Region President and Member of SI Eastern Districts and Susan Newton, Member of SI Torrens attended the Gender Studies Award Presentation to Cindy Tran on Wednesday 11th May 2022 at Adelaide University.

Dr Nathan Manning is the Head of Department of Sociology, Criminology and Gender Studies. The University is very grateful to Soroptimist International for giving this Award having some organisations pulled out of continuing with their awards due to financial reasons.
Gender Studies Award Recipients
2017 Awardee is Susan (Cam) Biddle shown in photo with Dianne Potter and Susan Czernich from SI Torrens club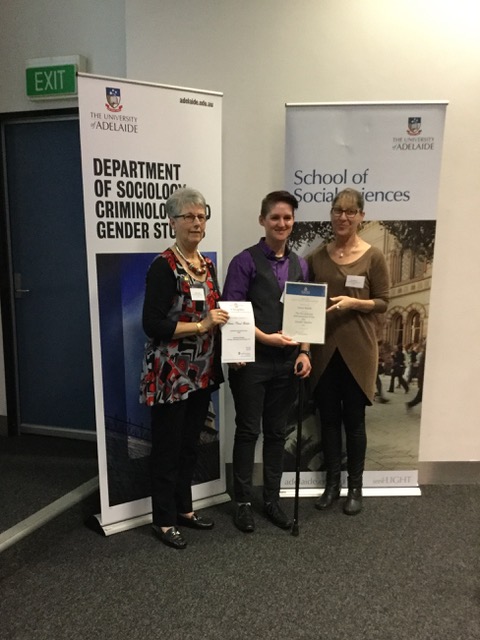 The Department of Gender Studies and Social Analysis acknowledged the achievements of the 2016 prize-winners on Tuesday 2 May 2017 in the Ira Raymond Room, Barr Smith Library at the University of Adelaide, Julie Doyle and Dianne Potter, SI Torrens attended the presentation on behalf of the clubs in the Region that support Gender Studies.
The 2016 winner of The Soroptimist International Prize for Gender Studies is Genevieve Brandenburg.
Congratulations Genevieve.
In 2015, Ms Rachael Nielsen was the successful recipient. Rachael planned to enter the workforce on completing her studies before considering higher level studies later.
A very grateful Rachael is pictured below receiving the award from Marilyn Seidel, member of SI Torrens and Ms Rosemary Czernezkyj representing SI Adelaide.