SI Southern Districts of Adelaide Inc
Welcome to our club and we invite you contact us at sisouthadelaide@siswp.org for more information.
This Club began officially in 1961 and the original members donated pieces of gold jewellery to form the Southern Cross which is part of the President's regalia.
Currently we meet for a Business meeting/Speaker on the third Monday of the month. Meetings are held at various places and an email to the above address will give you the information required. Social and fundraising activities also occur regularly each month.
We are a friendly, enthusiastic and optimistic group of women with a strong focus on education, as education helps women become more productive citizens, benefiting families and communities. Our aim is to improve the lives of women and girls locally, nationally and internationally. Some of our projects are highlighted below.
SI Southern Districts Club Projects and Activities
LOCAL & NATIONAL:

Flinders University: Our club provides an annual prize of $1,000 for a High Achieving Female Science/Engineering Graduate to assist with her postgraduate studies.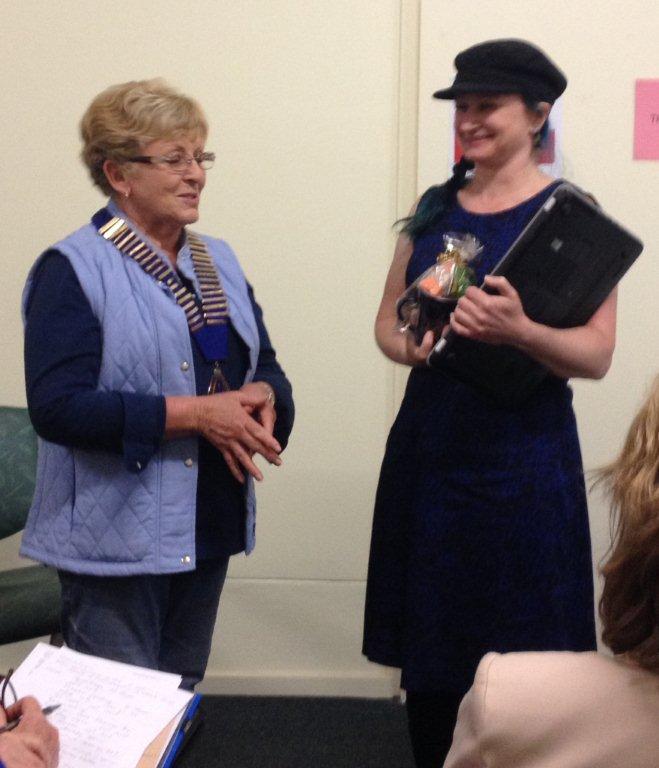 Adelaide University: With other local Soroptimist clubs we provide prize money for two female students at Adelaide University, one for Biotechnology the other for Gender Studies.
Southern Off Campus Learning Experience (SOLE): is for young mothers who have not completed their secondary schooling and are returning to complete their SACE requirements. We award an Academic Achievement and an Encouragement Award plus prize money to two students each year.
Literacy: We support literacy programs like Little Big Book Club for young children and Wall of Hands for indigenous children as we believe that to be able to live as part of Australia's society children need to be able to read and write.
INTERNATIONAL:

'There are still 1,000 women dying every day due to pregnancy and childbirth complications. That is like two jumbo jets full of women crashing down daily' Julie Marsaban SIWP
'Pregnancy and childbirth are the leading cause of death and disability'. 2H Safe Arrivals Training Program for Cambodia. Our financial support has helped in the training of Traditional Birth Attendants, many of whom are illiterate and have learned their midwifery skills through trial and error.
| | | |
| --- | --- | --- |
| Few attendants have literacy skills | The Programme training manequin | This little one is a "safe arrival" |
Like many other Soroptimist clubs, we support BIP, Birthing in the Pacific, which also provides funding for the training of birthing attendants in developing countries.
See Solar Cook Solar Project which will fund Solar Cookers for women in Fiji in rural and island locations, Vitu Ievu and Vanua Ievu.
Musasa Primary School in rural Western Uganda is an area without electricity and families are dependent on paraffin lamps so Solar panels will provide lighting.
EMPOWERMENT OF WOMEN

Leadership
This year we are providing funds to ARA, the Australian Refugee Association to develop a new initiative, a Leadership Conference which will consist of a series of activities, workshops, discussion groups and speakers for young refugee women.
S.O.L.E. (Southern Off Campus Learning Experience)
At the beginning of 2014 we updated stationery packs for the 32 students (young Mums). We have also provided book packs for toddlers to be given to the young Mums from the Little Big Book Club and provided tins of non-perishable food for the mothers.
Southern Domestic Violence Services/Walk the Talk
As part of an advocacy, awareness/action campaign by Soroptimists for the elimination of violence against women, we purchased and gifted sets of saucepans and frying pans to the Southern Services to provide to women leaving the Centre when starting a new independent life.
SI Southern Districts News
celebrating 100 Years of Women in Policing
Our club is very proud of our three members who were former police officers: Joyce Richardson, Ivorine Waye and Kathryn Finnigan. Joyce, who recently had her 95th birthday, was working in munitions before sitting for exams and joining the Police force in 1944. Ivorine Waye worked in different areas of South Australia including the Riverland, Port Adelaide and the Southern areas. Kathryn Finnigan was the first female to be appointed to the Drug Squad and first female to be made Detective Sergeant at Burnside CIB. read more
Click here to hear Kathryn's and Joyce's story on SAPOL U-Tube
Supporting The Australian Refugee Association
SISD seek to raise awareness and education about family and domestic violence among Culturally and Linguistically Diverse (CALD) communities through a leadership and education conference. We have provided $3,000 for the Leadership Conference held in July at the University of Adelaide. Our conference was aimed at helping develop the leadership skills of young woman aged 15 to 25 years from refugee backgrounds,
Click here for registration form. Registrations Closed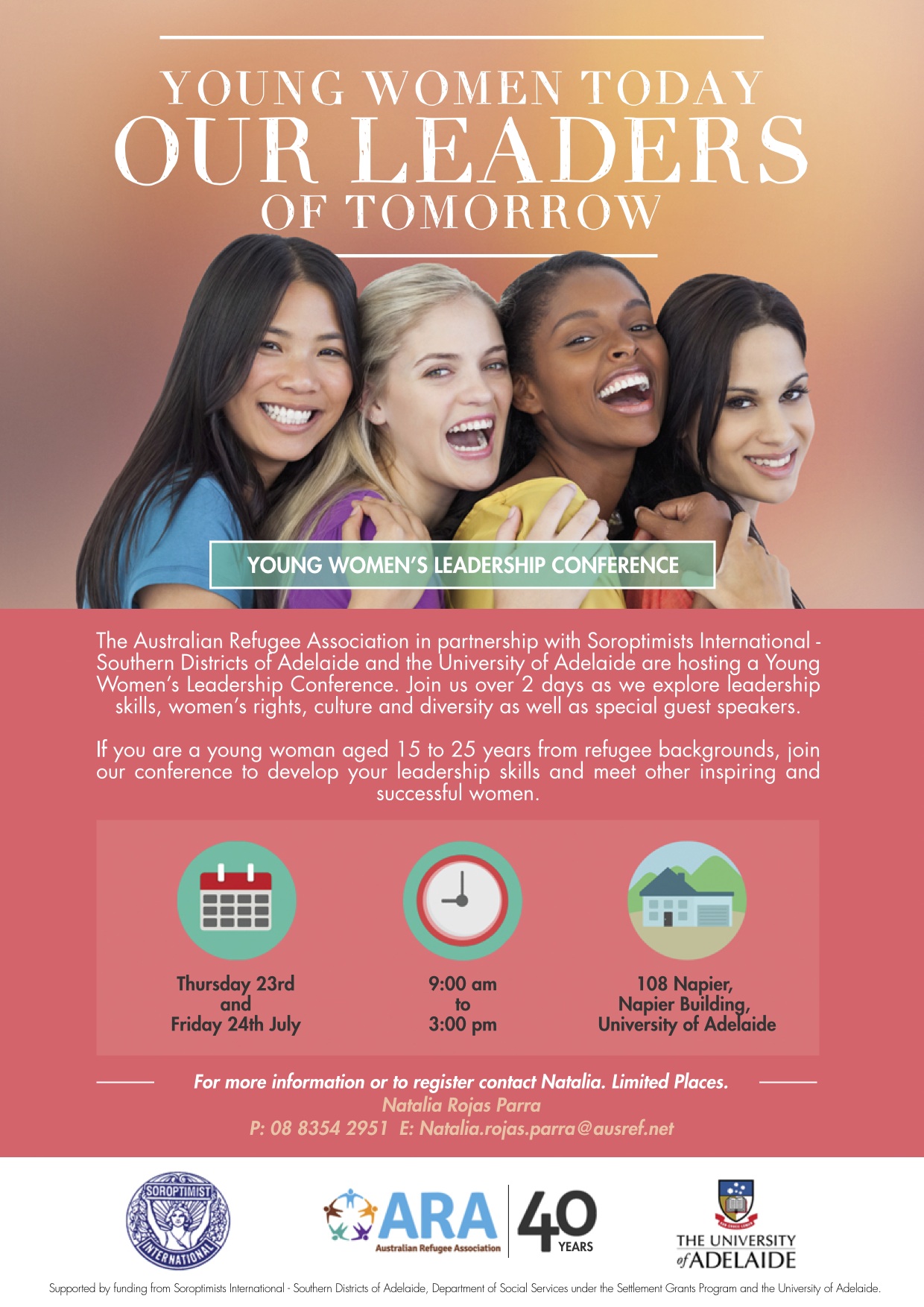 SI Southern Districts of Adelaide Present Prizes for High Achieving Women.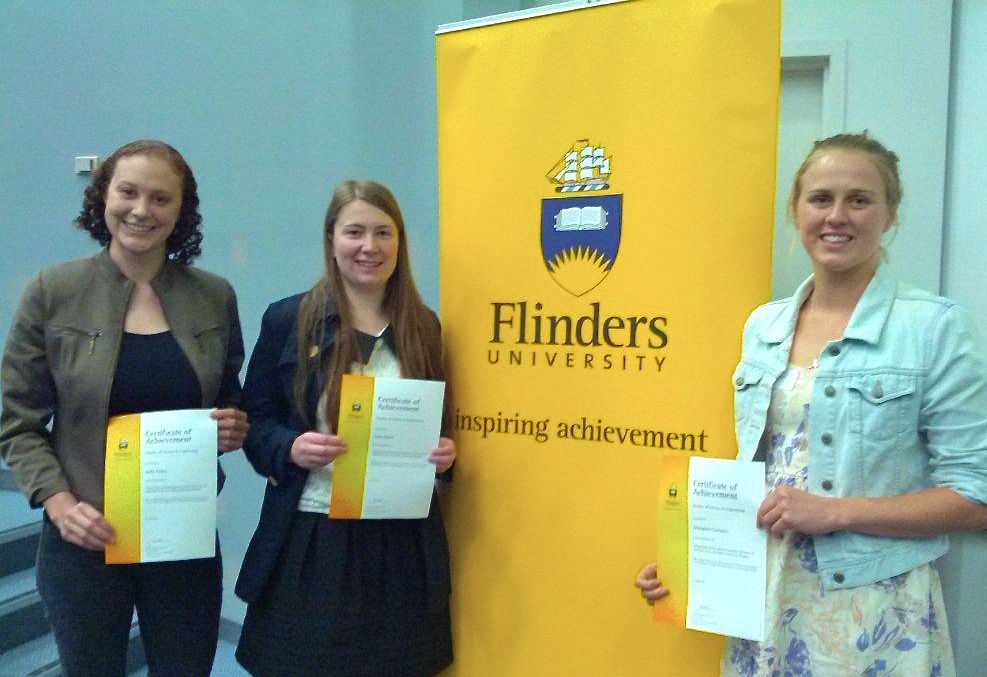 Lisa Alcock, Georgina Custance and Jody Fisher are this year's winners of the SI Southern Districts of Adelaide Prize for High Achieving Women. Our $1000 prize is usually awarded to the highest achieving woman who has completed the first three years of the Bachelor of Science (Honours). This year, 2015 we have three young women who are sharing a $1500 prize. They were also awarded the Max Clark Prizes in Science and Engineering.
Additional prizes were awarded to:
Lisa Alcock for The Royal Australian Chemical Institute (SA Branch) Prize.
Georgina Custance for The Playford Memorial Trust: Honours Scholarship.
Jody Fisher, a Chancellor's Letter of Commendation.
They are very talented women and we are so proud to be associated with them. We are looking forward to Lisa, Georgina and Jody joining us for dinner to share their interests, achievements and aspirations.
Also, last year's prize winner, Diana Fusco, also received a Chancellor's Letter of Commendation.
Southern Districts AGM Feb 2015

Many club members at our AGM held 16th February this year. Our Speaker was Rachel Nyiramugisha (pictured with members). Rachel told of her family's displacement from the Democratic Republic of Congo, her experience in 3 refugee camps and the long process and wait for Asylum. Members were moved by her enthusiasm, insights and strong desire to make a difference for others through her varied interests and awards.
Rachel finished Year 12 at Loretto College last year and has been selected as a Youth Ambassador for the Global Volunteer Network, for which she is helping to raise funds. She is a very strong advocate for new arrivals from refugee backgrounds and is keen to incorporate this in her university studies in Arts and International Studies. read more about Rachel's acheivements.

Southern Districts of Adelaide Club is very proud to be associated with Rachel. The club has undertaken to support Rachel with her fundraising efforts and she will receive the proceeds from one of our regular Coles Bbqs, where Rachel is planning to come and help with some of her friends.
SI Southern Districts Events