SI Southern Districts of Adelaide Inc
Welcome to our club webpage!
As part of Soroptimist International we work together to offer opportunities and improve the lives of women and girls. In our Southern Districts of Adelaide, we raise funds and provide practical items of support for people in our area and more widely in Adelaide, Australia and internationally. Our perspective stems from the international to the local. We are an optimistic and enthusiastic group of women and with a strong focus on education.
Would you like to be involved?
We meet monthly for dinner and a meeting, often at "The Holdy" Glenelg. Come along and find out more. You will be among friends. You are invited to look in, visit or join. Contact our club secretary on sisouthadelaide@siswp.org
education:
Flinders University: Our club provides an annual prize of $1,000 for a High Achieving Female Science/Engineering Graduate to assist with her postgraduate studies.
Adelaide University: With other local Soroptimist clubs we provide prize money for two female students at Adelaide University, one for Gender Studies and another in the area of Science.
Literacy: We support literacy programs like Little Big Book Club for young children, as the importance of being able to read cannot be underestimated.

INTERNATIONAL PROJECTS:
2h Project (Save Arrivals) in Cambodia to reduce maternal and neo-natal mortality. Our financial support has helped in the training of Traditional Birth Attendants, many of whom are illiterate and have learned their midwifery skills through trial and error. www.the2hproject.com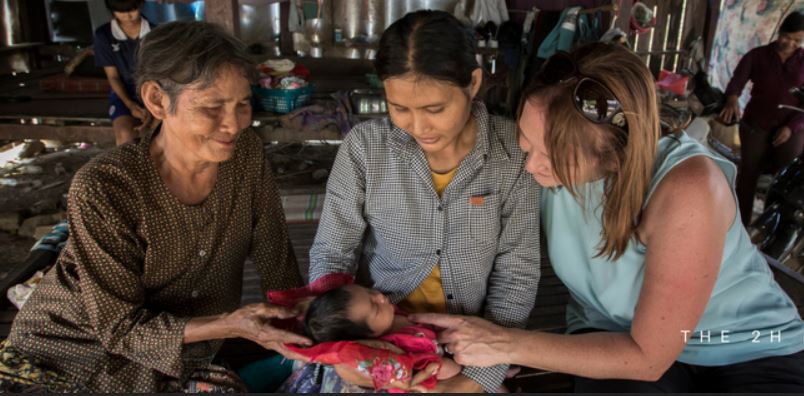 ● "Sight to Life Project" as part of the 2h Project we have provided money to assist in cataract
surgery.

● "Days for Girls" a project empowering women and girls worldwide by making and giving access
to quality sustainable hygiene products and health education www.daysforgirls.org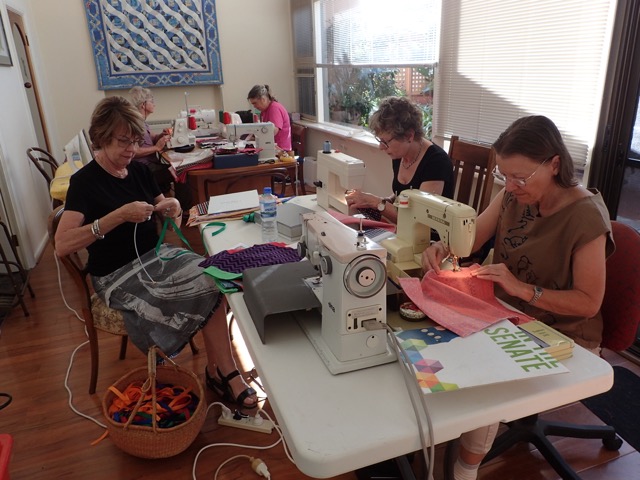 ● The "Hands on" Project – involves the purchasing and assembling of prosthetic hands for
victims of landmines in Cambodia and Laos. www.handsonproject.com.au
Sanctuary Shelters for Women in Fiji - assisting women and children who are victims of violence and natural disaster. This is a project organized by the Federation of the South West Pacific.
LOCAL PROJECTS:
Ninko Kurtanagga Patpanagga (Southern Regional Aboriginal Family Violence Unit) - assisting with the upgrade of play areas, new equipment for the children, providing a meeting area for the women and purchasing native food plants for the women to grow.
● Cora Barclay Centre – providing assistance to enable suitable books, games and puzzles for the children.
● Southern Domestic Violence Units – purchasing phone cards and gift cards for women at the centre.
● Hutt Street Centre – providing home starter kits for couples moving from the street into housing.
Catherine House - financial assistance with upgrading accommodation for homeless women.

Rhodanthe Lipsett Charitable Trust for Indigenous Midwives - scholarships for midwifery education.

Angel Flights - financial assistance for the transport of patients and carer from remote areas to city for treatment.

Women's Legal Service SA - donating vouchers to assist women from Culturally and Linguistically Diverse backgrounds.
SCASA awardS: Premier's Community Service Team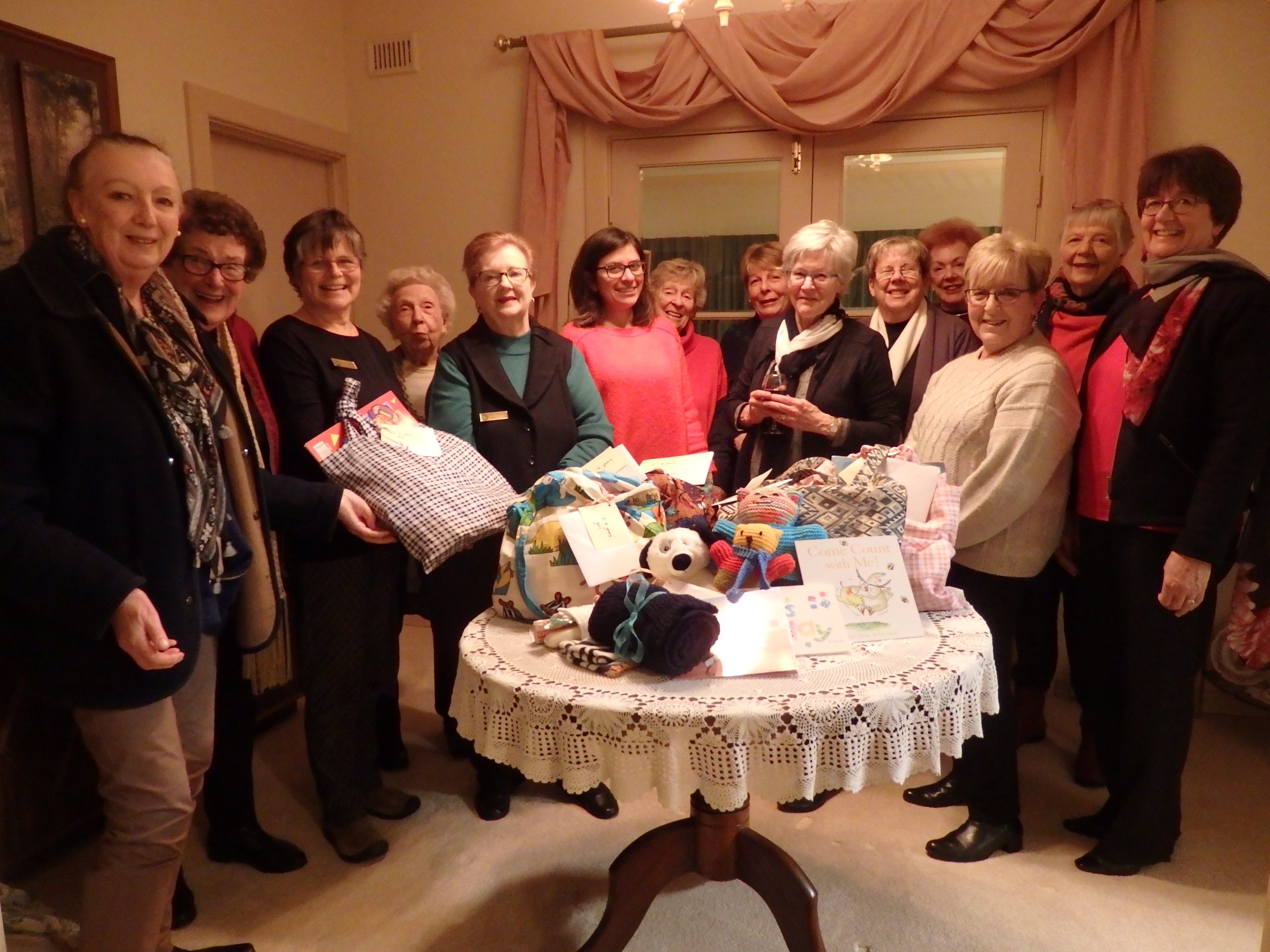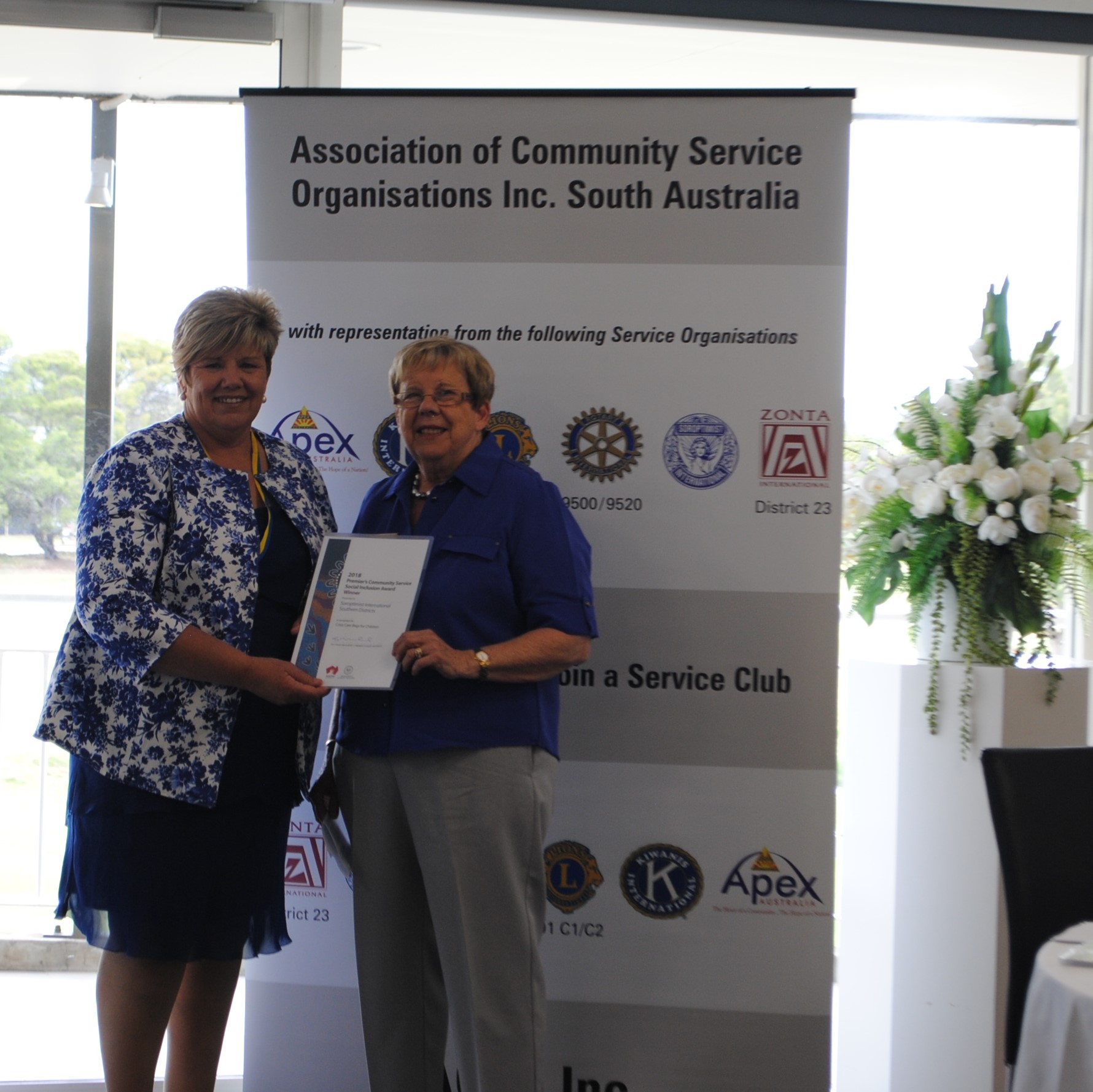 Our club regularly applies for the Premier's Awards to members of the Service Clubs of South Australia. A recent succes was the Crisis Care Bags project. Our aim was to help alleviate children's trauma arising from situations of domestic violence. The recipients were children 18 months to six years of age, arriving at two women's refuges in the southern area of Adelaide.
To assist the children to cope with the experience of leaving their homes, the Crisis Care Bags contained:
• Something to read (for children and for mother to read to them)
• Something to love (cuddly blanket, soft toy)
• Something to stay clean and fresh (toothbrush, toothpaste, soap, washcloth)
• Something to do (pencils, paper, activity books, puzzles, sock puppets)
• Something to give to mother (scarves, hand-cream or lip-gloss)

Members made the 56 carry bags, knitted toys and scarves. We were assisted by donations from our group and from commercial enterprises. Bags were tagged according to three age ranges and hand-written cards completed the contents.
By helping the children, we believe we also helped their mothers to cope better with their situation.
ANNUAL FLINDERS PRIZE
SI Southern Districts of Adelaide presents the Annual Flinders Prize for High Achieving women. The winner has completed the first three years of a Bachelor of Science. Recent winners included Lauren Common whose focus was Animal Behaviour and parasitism and Laura Schroder (more information soon).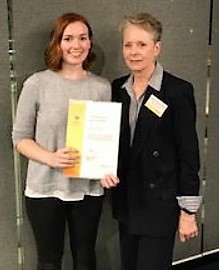 Lauren Common with SISDA member Inge Kirkwood-Bleys
FUNDRAISING ACTIVITIES:
Over many years SI SDA has staged major events to raise funds for our local and international projects. These events include a 1960's Fashion Parade and Dinner at the Glenelg Golf Club, a community event and Open Day in collaboration with Rolls-Royce Owners Club at the Motor Traders Training Centre at Royal Park and a 1940's Review/Soiree at the Fullarton Community Centre.
For over ten years, we have staged successful Spring Fashion Parades with morning tea at the Glenelg Golf Club. We have recently held a well attended Film Evening at the Capri Theatre and expect to repeat this event in the near future.
We also have a team of expert "barbecuers" working at Bunnings Marion every two or three months every year.
Take a look at our facebook page for news about events and causes we support. There may be an item there that will touch something in you, raise an issue you would like to work on or an event you would like to join, for the fun and friendship!
SI Southern Districts News
targeted groups for RECENT projects
Homelessness for women over 50 years.
Crisis Care packs for young children arriving at Domestic Violence Units.
Days for Girls - Aim to improve access to feminine hygienic solutions and education.
OARS - providing care packs for women leaving prison.
Scholarships for high achieveing young women at Flinders and Adelaide Universities.
Little Big Book Club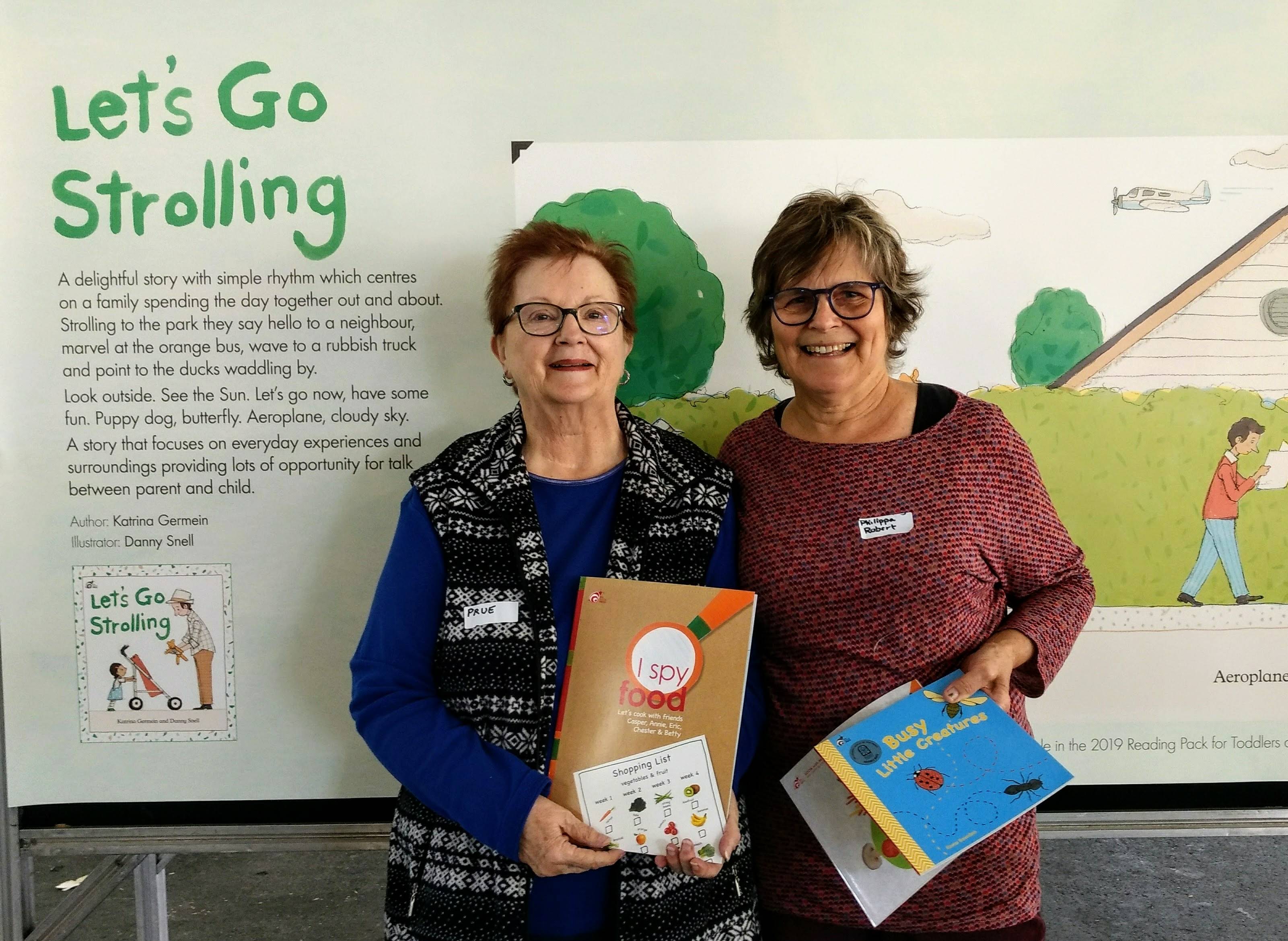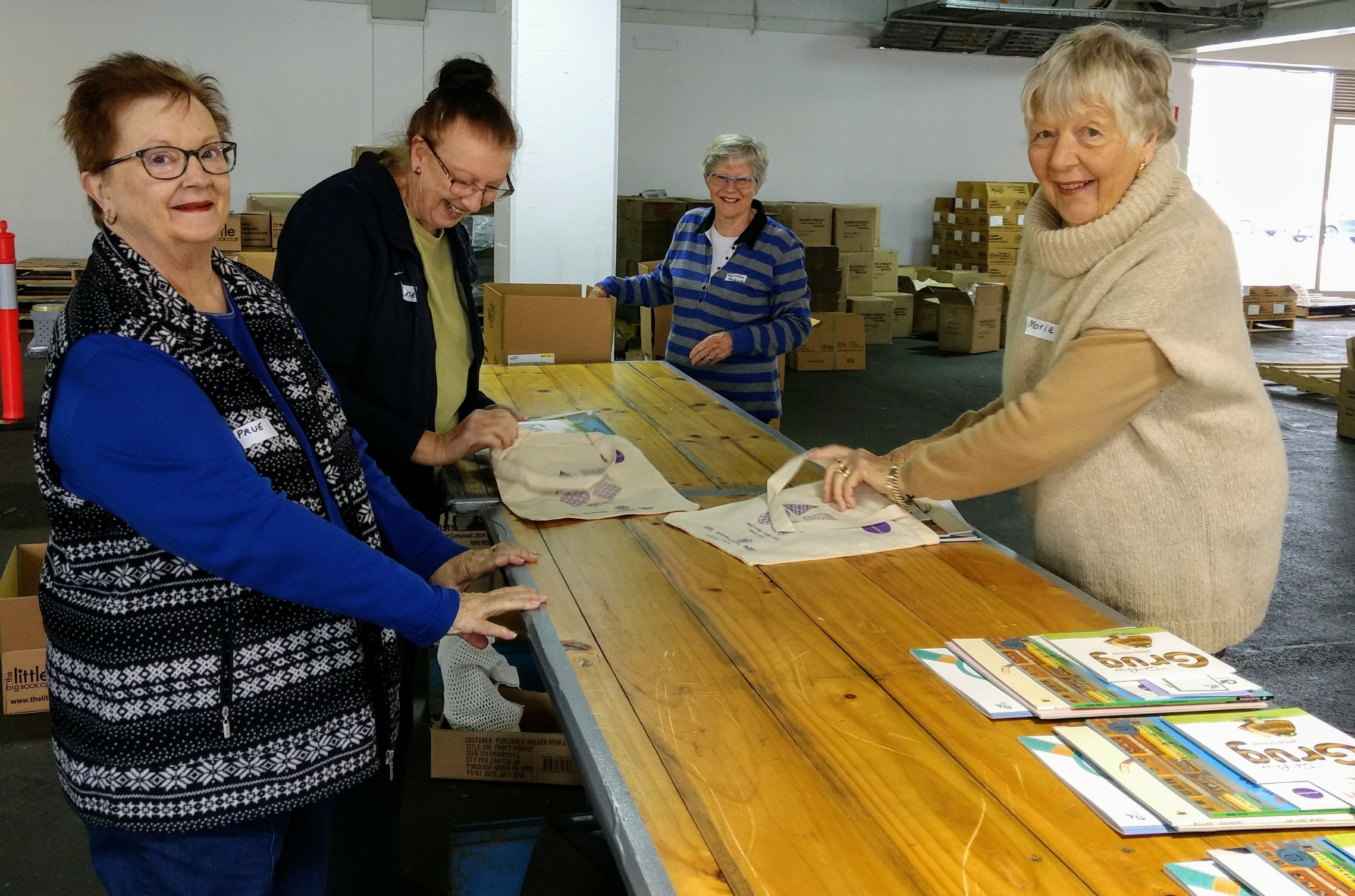 All smiles at the packing table!
Annually, a group from Southern Districts helps with the packing of school and pre-school cartons of books for the Little Big Book Club. We are well looked after with tea, coffee and snacks and a mildly competitive spirit keeps the work flowing. It is a great feeling of achievement. Recently one of our members was personally touched by this Literacy Project when her new-born grand-daughter received a reading pack.
Women Leaving Prison
A recent project was designed to assist women leaving prison in the Adelaide area.
We had been inspired by a talk by Dot Stagg from Offenders' Aid and Rehabilitation Services at a Business Meeting, and decided to support her work.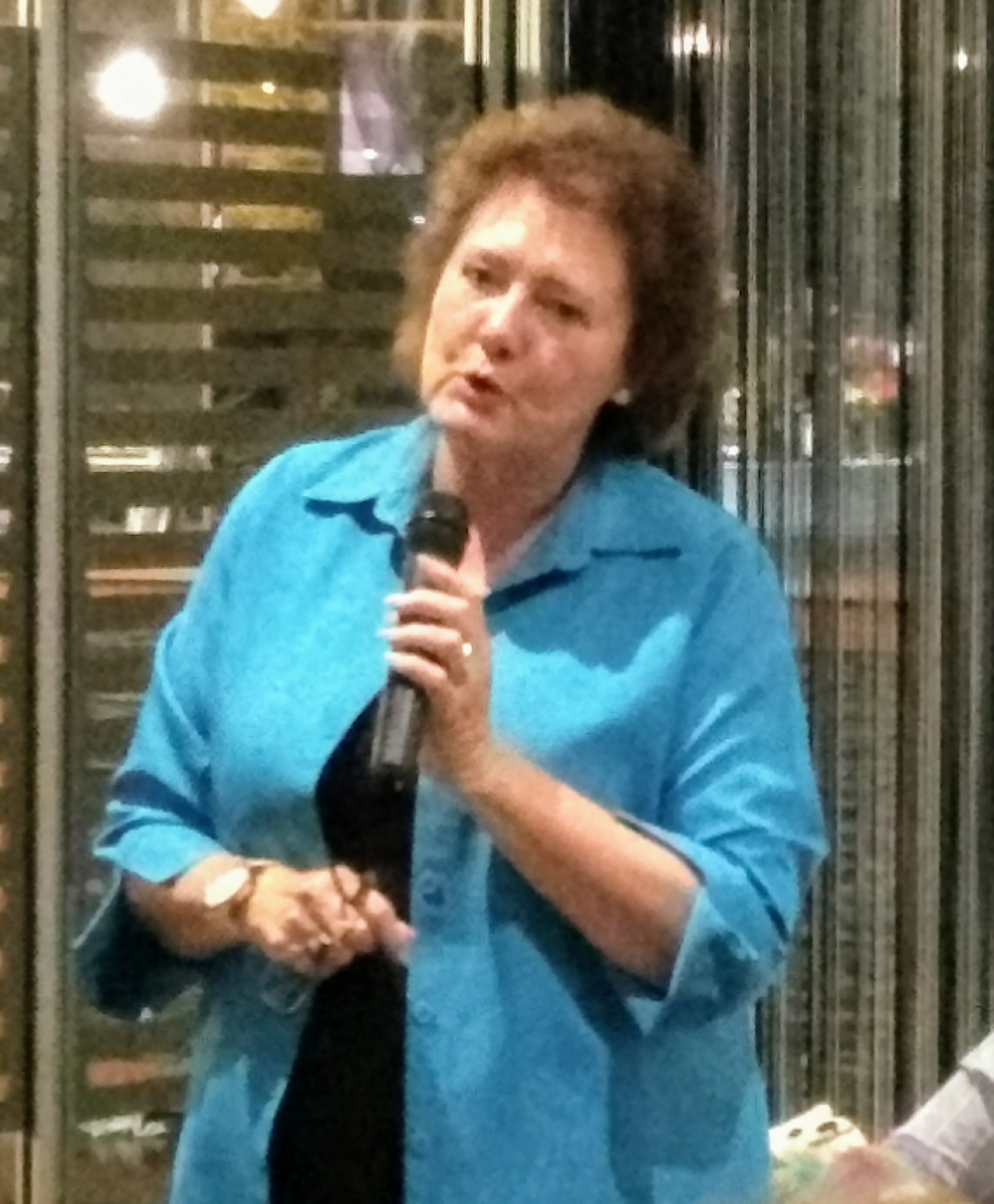 The inspiring Dot Stagg from OARS.
Our title "It's in their bag!" reflects our pleasure in providing practical items and little touches of luxury for these women who often have nothing. We sourced large handbags through donations and careful shopping. A small committee worked diligently to gather purchased and donated goods and fill these bags.



The range of goods included toothbrushes and paste, shampoo and conditioner, hand cream, cleanser, emery boards, purse or wallet, and sometimes a scarf or lip gloss. Local businesses supported our cause too, as did our members with donations and effort.
Every bag was unique and designed to bring comfort to the women who received them. Some months after the conclusion of the project, we received a heart-warming message of thanks from one of the recipients. Among other things, she said that it was empowering to know that there was a group of strong women in the community, supporting her in this way.
UNITED NATIONS – 16 Days of Activism Against Gender-Based Violence

GOING Orange
We participate annually in 16 days of Activism against Gender-Based Violence. This includes awareness-raising through receiving daily emails introducing topics for discussion, distribution of posters or displaying signs. A particularly innovative member has hung orange balloons and a banner on her gate!
Members have also attended the White Ribbon March, the Women's WAVE Rally (End Violence Against Women spelled backwards) and a Vigil for Victims of Aboriginal Domestic and Family Violence.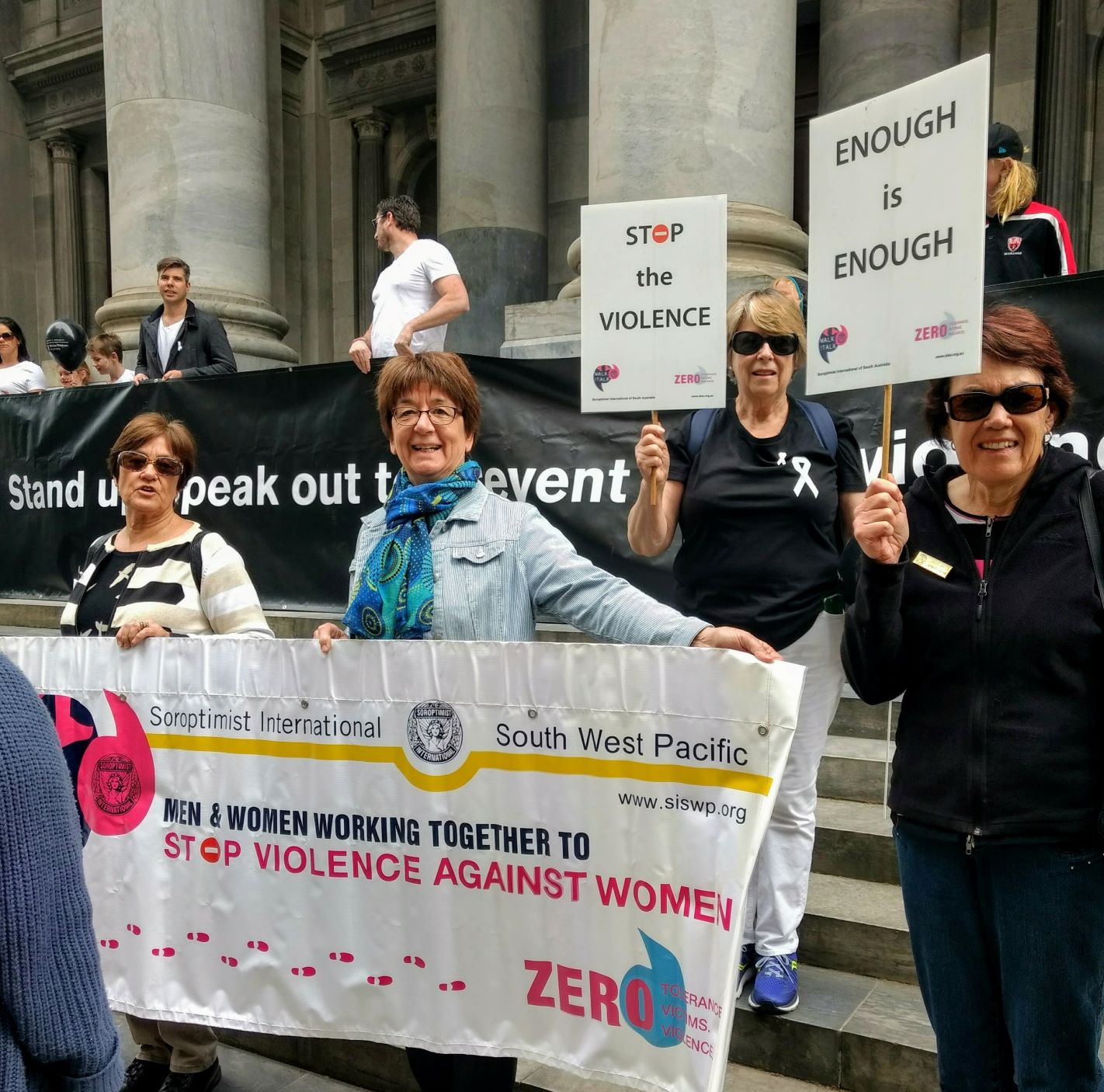 SI members with banner at White Ribbon March
FRIENDSHIP AND OUR SOCIAL SIDE
As well as using social occasions for fund-raising, we enjoy some just for their own sake.
On the second of every second month we meet for tea, coffee and cake at a cafe, so we have time to relax together without work to do. It is a chance to chat and also to introduce potential new members to our group.
Contact us to learn more about these friendly coffee mornings! Visitors are welcome. Drop us a line at sisouthadelaide@swp.org
Our Christmas parties are also a good time to reflect and enjoy time together. If possible we attend the social celebrations and fund-raisers of other clubs. It is wonderful to feel the fellowship between SI clubs at these events and to know that we work for the same goals - to improve the lives of women and girls.
We sustain informal Friendship Links with three Soroptimist International clubs in the United Kingdom. At a recent Christmas party we had a visit from our friend from SI Southampton Club. Betty has been a long-time friend of SI Southern Districts of Adelaide and usually attends a meeting when she comes to stay with family in Adelaide.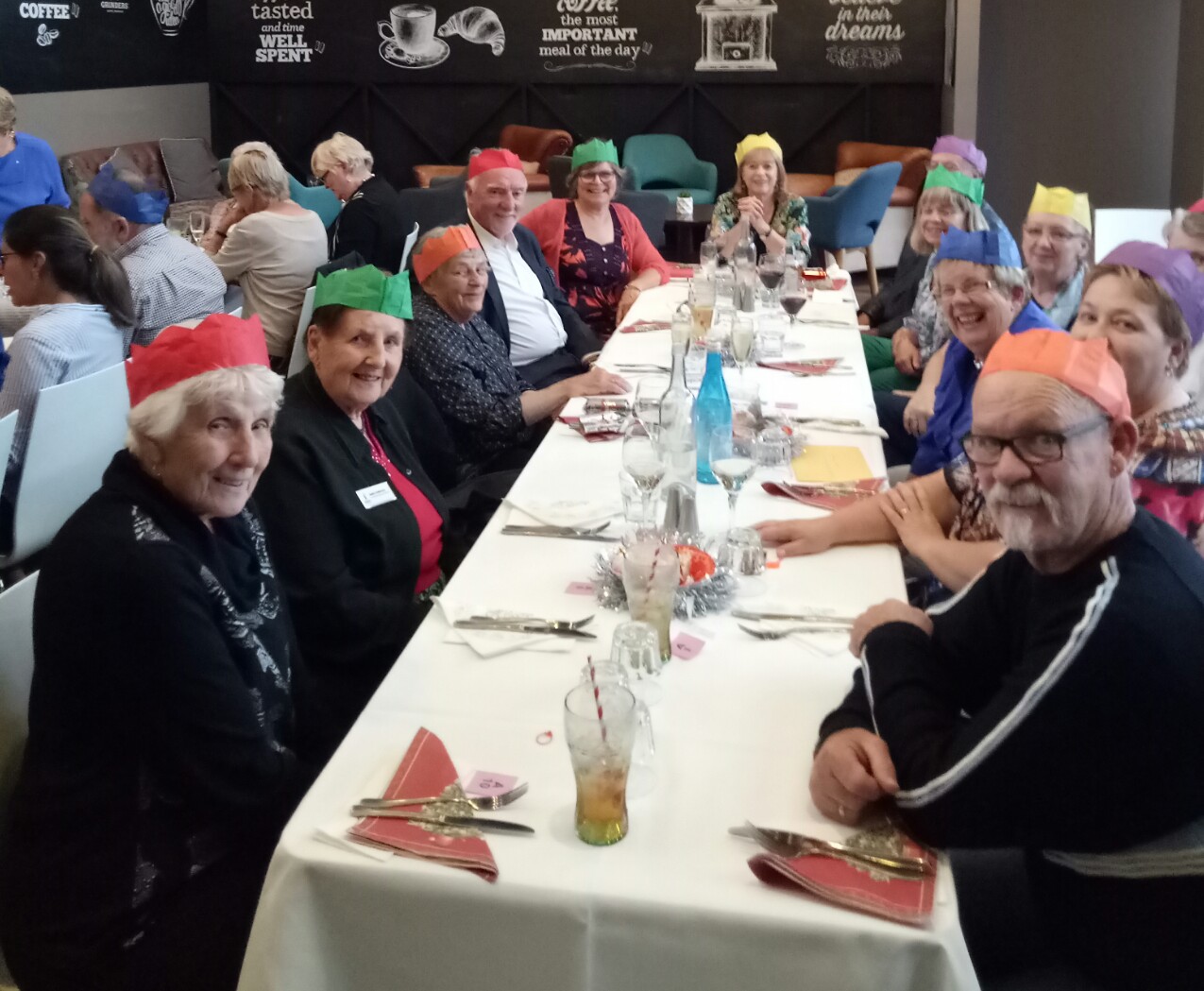 We also share Christmas greetings of peace from our new friends at SI South Shields, a club visited by one of our members on a trip to the United Kingdom. We exchange special greetings with our Club Friends on International Friendship Day in October. It is such a positive experience to share messages this way, and reinforces our shared goals across the miles.
The Federation of the South West Pacific has declared October as our Recruiting Month, but we actively seek new members all year round. Most of us have had fortunate lives and have joined Soroptimist in order to "give back" to the community.
To find out more and see whether we are the right fit for you, drop us a line at sisouthadelaide@swp.org