SOROPTIMIST INTERNATIONAL CLUBS OF SOUTH AUSTRALIA

---

---
Soroptimist International of South Australia advocate for ZERO TOLERANCE TO GENDER VIOLENCE. Soroptimist International "Walk The Talk" Campaign to SAY NO TO VIOLENCE runs from 25 November to 10 December each year.
---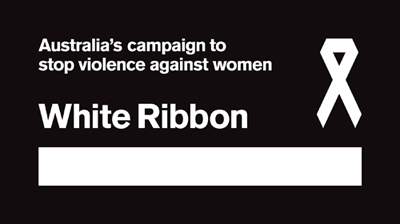 Ken Lay address on International Day for the Elimination of Violence against Women
Keynote address by COAG Advisory Panel on Reducing Violence against Women and their Children Chair, Mr Ken Lay delivered on 25 November 2015. Monash University, Melbourne.
... on this International Day for the Elimination of Violence against Women and Children ... I also acknowledge the many thousands of woman and children who have been murdered, maimed or otherwise harmed by those men who professed to have loved them, it is for them that we do what we do.
"If you or someone you know is impacted by sexual assault, domestic or family violence, call 1800RESPECT on 1800 737 732 or visit 1800RESPECT.org.au. In an emergency, call 000. For more information about a service in your state or local area download the DAISY App in the App Store or Google Play."
Australia's White Ribbon Campaign to stop violence against women is strongly supported by SISA. read more about The White Ribbon Campaign and Adelaide's White Ribbon Breakfast Committee's activities and news.
---
The 2016 Candlelight Vigil was held in Elder Park May 4th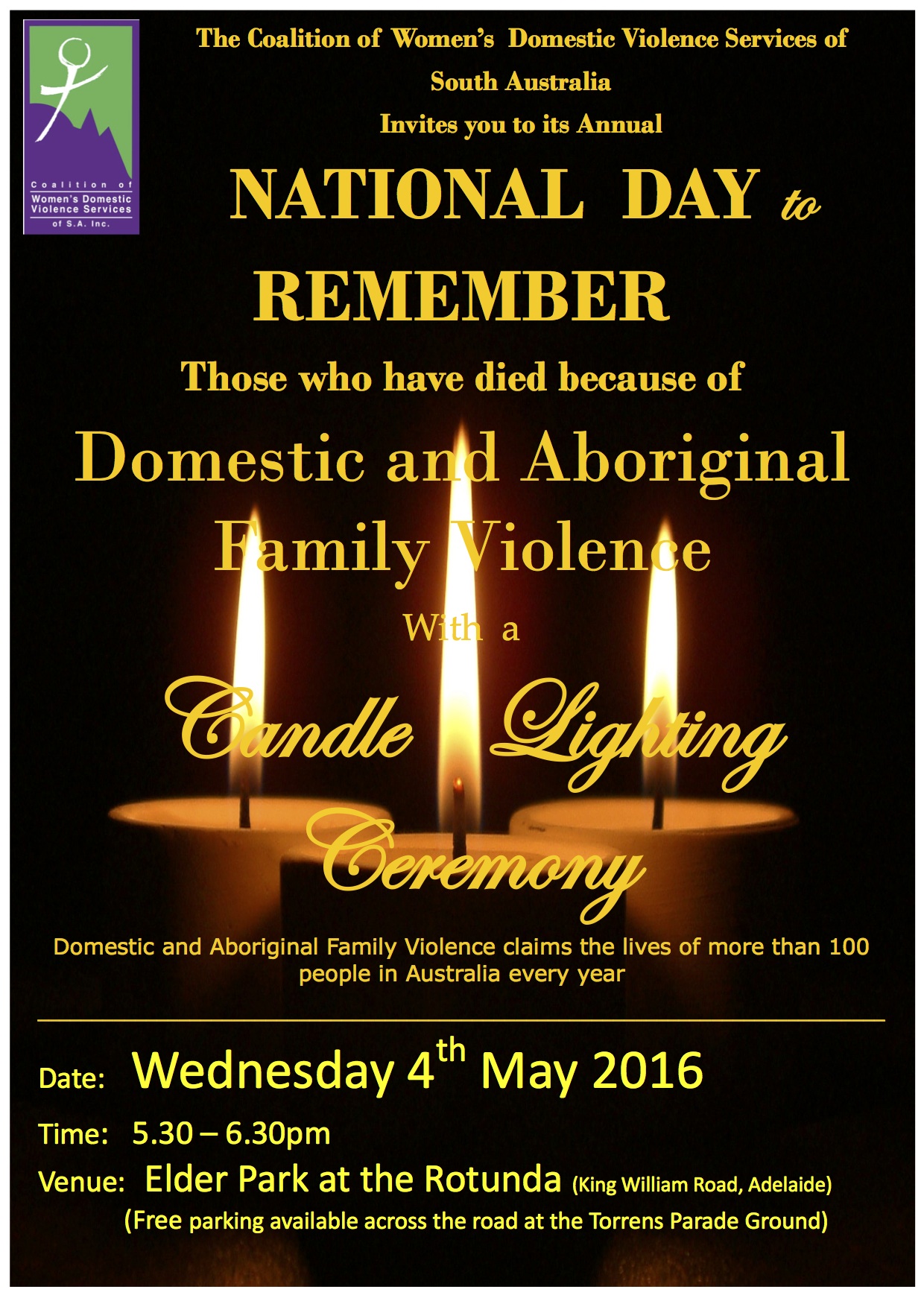 ---
Soroptimist International President's Appeal 'Educate to Lead: Nepal'
The appeal, initiated by our International President Yvonne Simpson, calls on the collective power of Soroptimist International, to undertake projects which will provide access to education and livelihood for at least 200 women and girls and seeks to empower and enable women & girls to overcome adversity, and develop leadership skills that will benefit entire communities. Read more about the project and listen to an "ABC World Today" update on the reconstruction of Nepal.
Soroptimist International of South Australia
Welcome to our website! Read through our club pages, see where we are and what we do, add event dates to your diaries and look at the galleries of photos. You're sure to find something that interests you.
Soroptimist International is a world wide service group for women. We work towards improving the lives of women and girls through a gobal network of members and international partnerships. Women linked as sisters around the world working to enable the best in all women everywhere.
"Soroptimist" is derived from two Latin words, "soror" meaning sister and "optima" meaning best for. We interpret is as "women helping women to be their best". read more
---
Latest SISA News & Events
Click on individual Club Pages for their "Latest News and Events". You'll find some great things going on!
See: SI Murray Bridge's Domestic Violence Awareness Raising Day, May 18th 2016
The 20th Conference of Clubs of SISWP
Many SISA members will attend the Conference held in Sydney 29th April - 1st May 2016. The theme of the Conference will be "Challenge the Future – Women Accepting the Challenge". read more
Congratulations Di McCarthy, SISA President 2016-17.
Di is a member of SI Northern Highlands and we wish her the best in her role of SISA President. The opportunity to step up into a leadership role with the support of every member in each of the 10 SA clubs is one of the fabulous benefits of being a Soroptimist. Congratulations Di from the whole team! read more
Soroptimist chairperson of acso
Congratulations Kath Gribble, voted in as Chairperson of ACSO 2016. Kath (pictured 3rd from left) is a member of Soroptimist International Barossa Valley. ACSO is an organization of representatives of recognised service clubs, which aims to foster goodwill, co-operation and understanding between each organization and the communities within which they serve. Currently ACSO includes Soroptimist International, Zonta, Apex, Kiwanis, Lions and Rotary.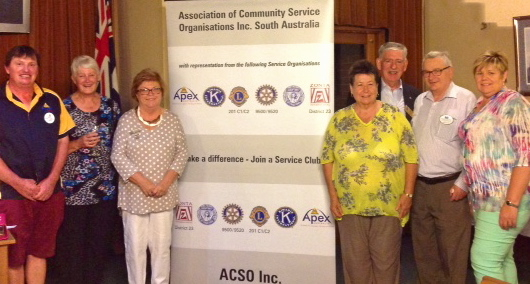 SI Adelaide Scholarship Applications now open
See SI Adelaide's page for more details or Click here to download poster
International Women's Day.
Soroptimists across the world celebrate the social, economic, cultural and political achievement of women. Click on the the club names to find details of celebrations. SI Port Pirie, SI Barossa Valley, SI Naracoorte
celebrating 100 Years of Women in Policing
SI Southern Districts club is very proud of three of their members who were former police officers: Joyce Richardson, Ivorine Waye and Kathryn Finnigan. Click here to hear their stories on SAPOL U-Tube. Go to SI Southern Districts Page
SISA at government house
SISA members were invited to Government House for the Children's Week Awards. Elizabeth Flint is SISA Appointee on the Children's Week committee. Elizabeth was accompanied by SISA President Elect Di McCarthy, Anne Marsh, Cindy Ogden, Susan Newton and Helen Fischer.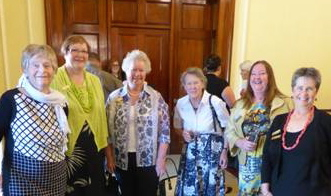 SI Australia national representative anne sheehan visits Sisa
Anne Sheehan was welcomed at the SISA October Region Day where she was invited to speak about her role as SI Australia's National Representative. She has a full agenda including travelling all over the nation representing Soroptimists at meetings, seminars and conferences. Anne (pictured far right) is a wonderful ambassador for Soroptimist International.

Congratulations SI Barossa Valley!
Winnner of the SA Premier's Community Education Award for their Responding to Domestic Violence Project. SIBV Members thank the Northern Domestic Violence Service for their partnership and support and their continuing work in raising awareness of DV and in providing services and support. read more
Well done SI Adelaide!
After being nominated by SI Adelaide, Arman Abrahimzadeh was awarded the Allan Sloan Young Citizen Community Service Award for 2015. Since the death of his mother, Zahra, in March 2010, Arman has worked tirelessly to raise awareness of domestic violence issues. read more
Soroptimist International 2015 20th International Convention in Istanbul, Turkey.
read more