SOROPTIMIST INTERNATIONAL CLUBS OF SOUTH AUSTRALIA

---
SI South West Pacific Federation project 2016-2020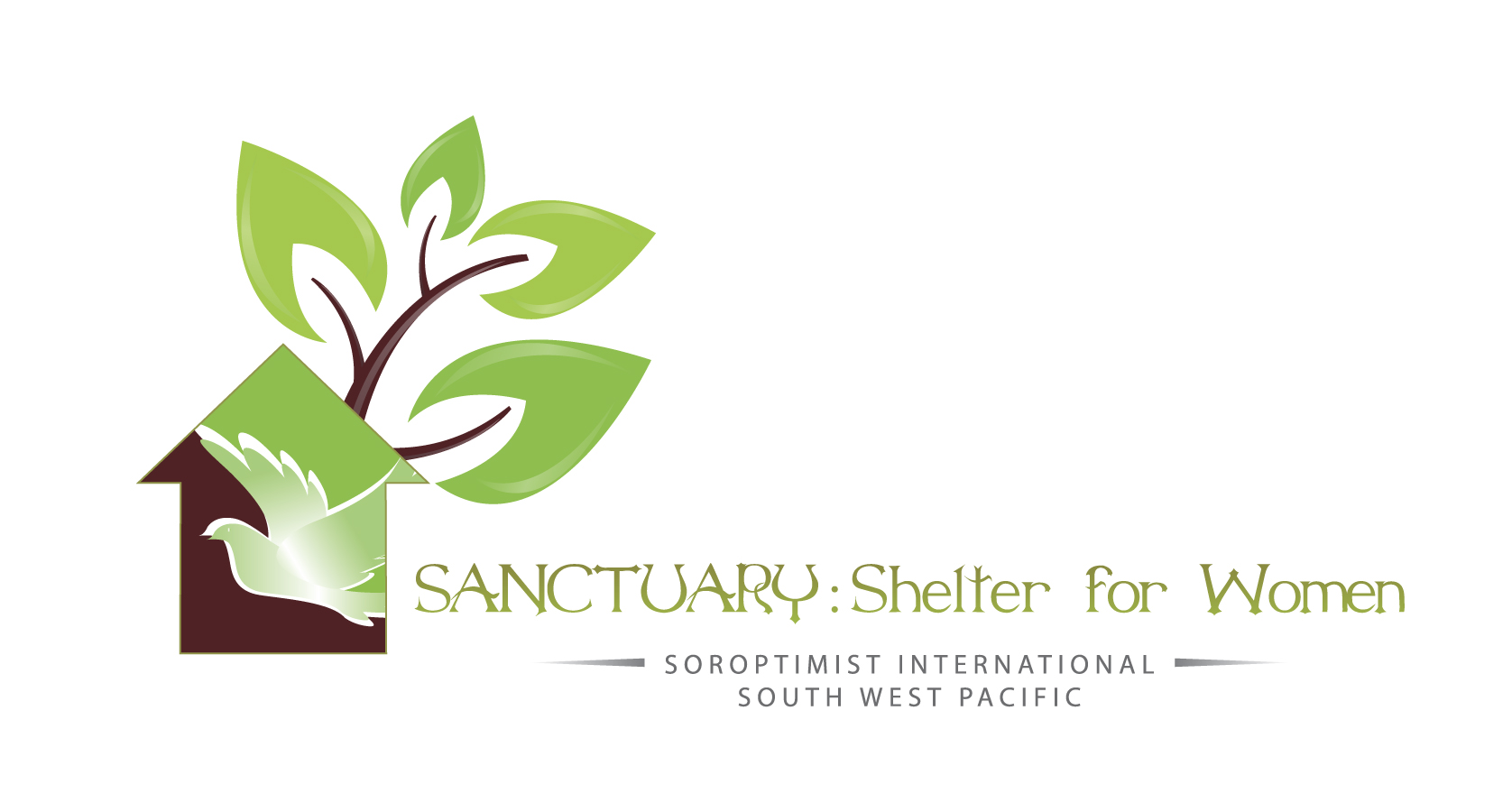 These are emergency shelters for women and children who are victims of violence and natural disasters. This project reflects the voice of Soroptimist International of the South West Pacific and its goals and objectives. Fiji is ranked 4th in the world in terms of violence and is also prone to natural disasters; cyclones in particular. Fiji's rates of violence against women and girls are among the highest in the world. There is a severe lack of shelters in Fiji and victims are often brought back to their homes, where perpetrators can re-offend.
International Presidents Appeal 2017-2019

Every SI President proposes a 'President's Appeal': a project to which Soroptimists worldwide are called to raise funds during the President's two-year tenure. For the period 2017 – 2019 the President's appeal is the project Women, Water & Leadership. At least five projects will be supported in five continents with a view to enabling women to become active leaders in water management. More specifically, these projects will connect to Sustainable Development Goals 4 – Quality Education, 5 – Gender Equality and 6 – Clean Water and Sanitation, for all purposes
Region AGM Mount Gambier 2018
The AGM in February 2018 was held at Mt Gambier and was well attended by members from across the Region. The theme of homelessness was highlighted with guest speakers Jessica Porter, a PhD student who spoke on her research into homelessness and Trish Spark the ac.care homeless services Manager.
Around 30 Soroptimists discussed ways to address homelessness among older women in particular and attendees workshopped ideas to take back to their respective Soroptimist groups to attempt to make change through advocacy and direct action.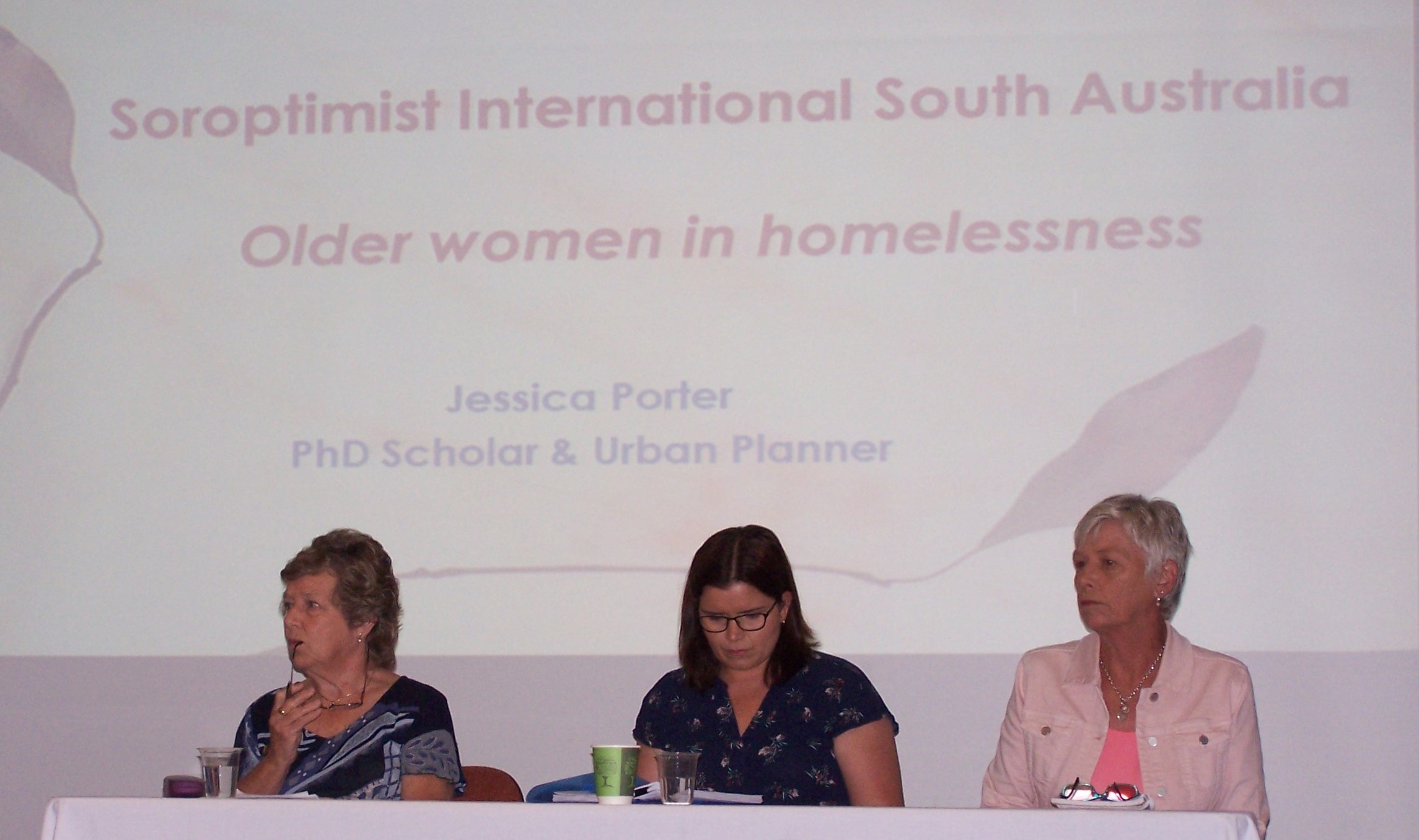 See region gallery for more photos from 2018 Region AGM
Conference of Clubs Melbourne 2018
Every 2 years in Federation of South West Pacific a conference of Clubs is held in the destination of choice of the Federation president. This year in May it was held in Melbourne. Its a time to renew friendships , make new friends, attend workshops, listen to inspiring speakers and catch up with club projects. A gala dinner on the last night sees the installation of the Federation President for next bienium 2018-2020. We welcome Anusha Santhivasthipam from Maylasia. Anusha's theme is..

Below are the SISA members who attended the conference.
Soroptimist International OF SOUTH AUSTRALIA
support the worldwide campaign to Stop Violence against women
---
The Adelaide white ribbon breakfast
Soroptimist International South Australia are strong supporters of The White Ribbon Campaign. The WRC works to prevent men's violence against women. It seeks to promote wide-scale awareness about the positive role men can play in its effective prevention, to foster leadership, particularly by men and boys, and to bring about social change. Each year this breakfast has increased in numbers from 400 to 1400. South Australia has the largest event in Australia.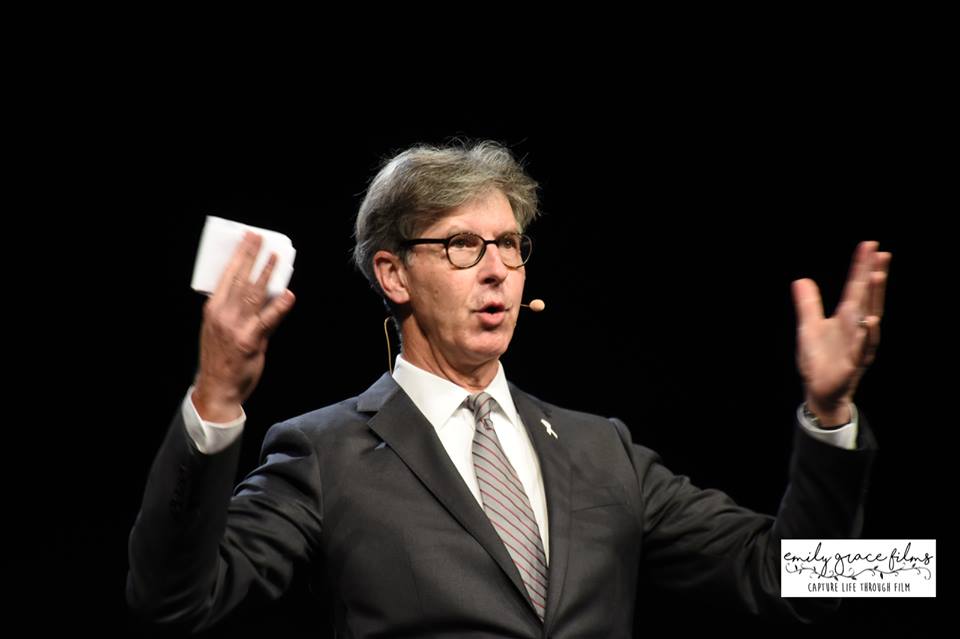 The internationally-acclaimed co founder of the White Ribbon Foundation, Dr Kaufman was the main guest speaker for the 2107 breakfast. Currently senior fellow at Instituto Promundo in Washington DC, he works to promote gender equality and create a world free from violence by engaging men and boys in partnership with women and girls.
2018 The White Ribbon Breakfast
The White Ribbon Breakfast Committee are proud to invite you to this year's Adelaide White Ribbon Breakfast to hear how young people are "Breaking the Silence" on domestic violence.
In a first for this long-running event, they will explain to a packed Adelaide Convention Centre audience their commitment to a program aimed at building respectful relationships and stopping violence against women.
Veteran South Australian journalist Ron Kandelaars will interview students from across the state who've embraced White Ribbon Australia's "Breaking the Silence" program which has been rolled out across schools in South Australia, New South Wales, Queensland and the ACT.
Bookings open 24th September. Come and join us to hear how young people can influence our future - it's in safe hands!
"If you or someone you know is impacted by sexual assault, domestic or family violence, call 1800RESPECT on 1800 737 732 or visit 1800RESPECT.org.au. In an emergency, call 000. For more information about a service in your state or local area download the DAISY App in the App Store or Google Play.
Australia's White Ribbon Campaign to stop violence against women is strongly supported by SISA. read more about The White Ribbon Campaign and Adelaide's White Ribbon Breakfast Committee's activities and news.
---
INTERNATIONAL Women's Day
Many of our South Australian clubs hold breakfast to celebrate International Women's March 8th. The 2017 Adelaide breakfast was the largest event held in Australia for many years. It was hosted by Senator Hon Penny Wong with Guest Speaker Tanya Hosch
Tickets go on sale online in February. Don't hesitate, as tables fill very fast!
---
Soroptimist International of South Australia
Welcome to our website! Read through our club pages, see where we are and what we do, add event dates to your diaries and look at the galleries of photos. You're sure to find something that interests you.
Soroptimist International is a world wide service group for women. We work towards improving the lives of women and girls through a gobal network of members and international partnerships. Women linked as sisters around the world working to enable the best in all women everywhere.
"Soroptimist" is derived from two Latin words, "soror" meaning sister and "optima" meaning best for. We interpret is as "women helping women to be their best". read more
Latest SISA Events
Region President Christine Plunkett visiting SI Adelaide meeting April 2018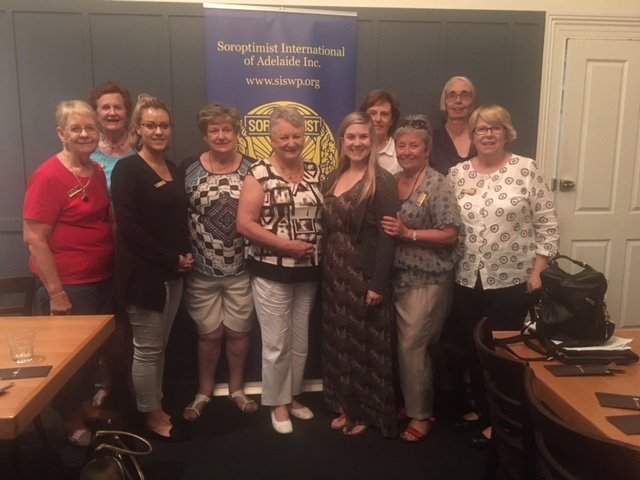 Handover to new sisa region president
At the February 2018 AGM, Allison Hobbs handed over the reins to Christine Plunkett, after a successful 2017 year of activity. Christine has a focus on homelessness during her 2018 year as President and this topic was reflected in the theme of the AGM.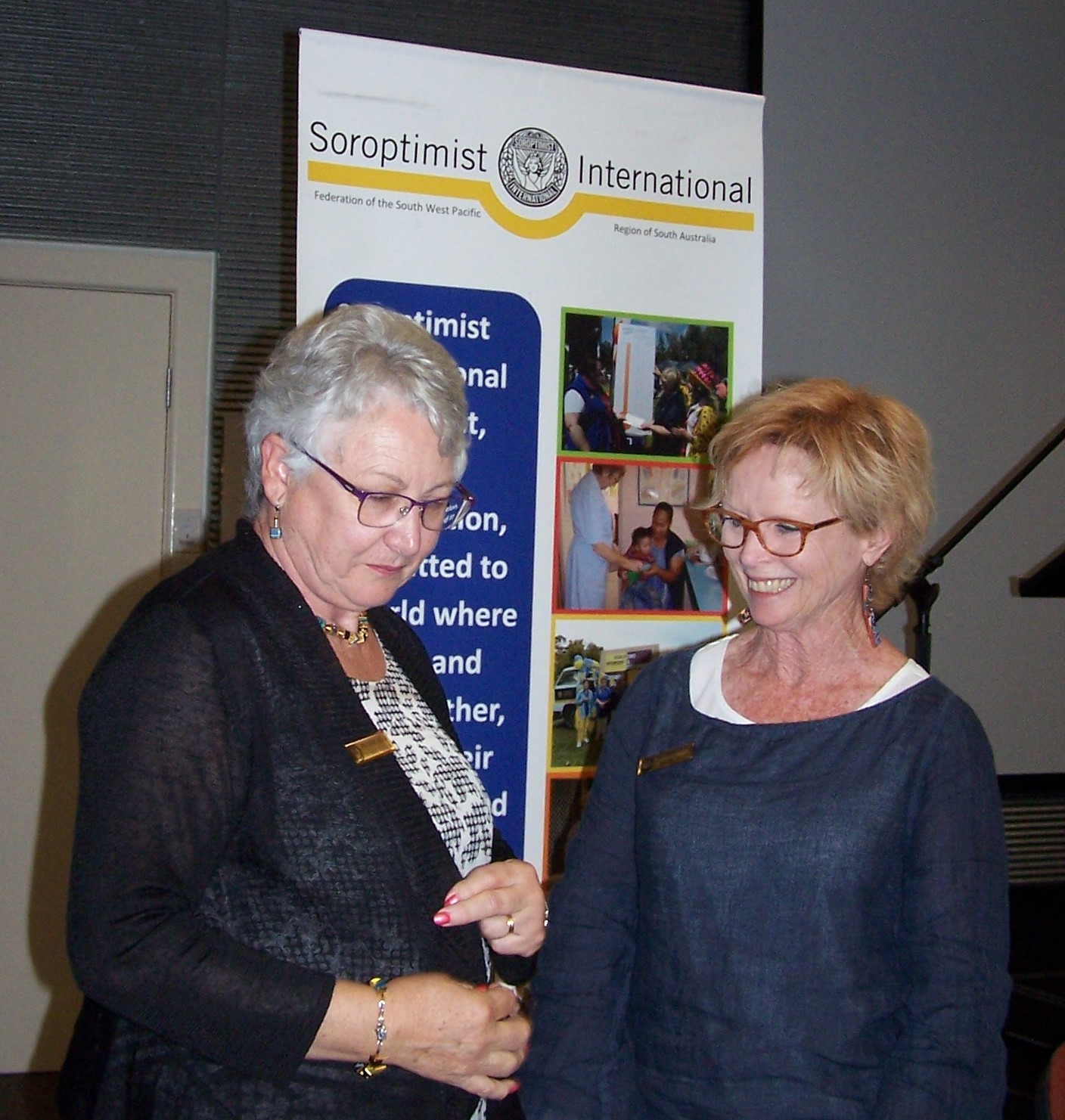 ACSO Awards October 2017 (Association of Combined Service Organisations)
Congratultions to South Australian Soroptimist clubs on their awards.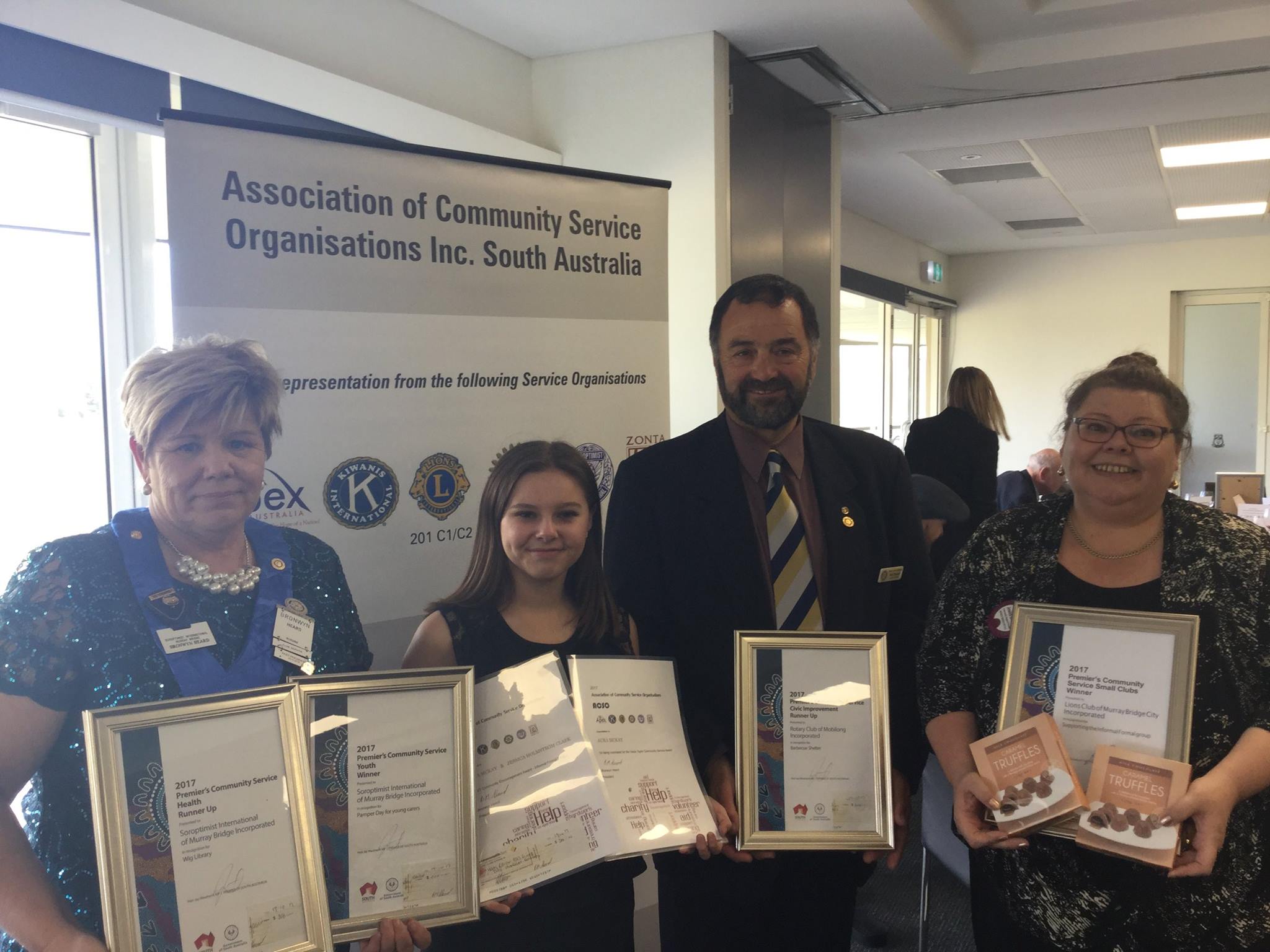 Soroptimists attend the Zonta women of achievement awards night
It was a privilege to be invited to attend the Zonta Club of Adelaide's 'Women of Achievement for 2017' Awards at the Adelaide Town Hall in March. A wonderful event where nine "Women of Acheivement" were presented awards by Lord Mayor of Adelaide Martin Haese, Zonta Club President Beverley Gum, and Awards Chairperson Raema Mahony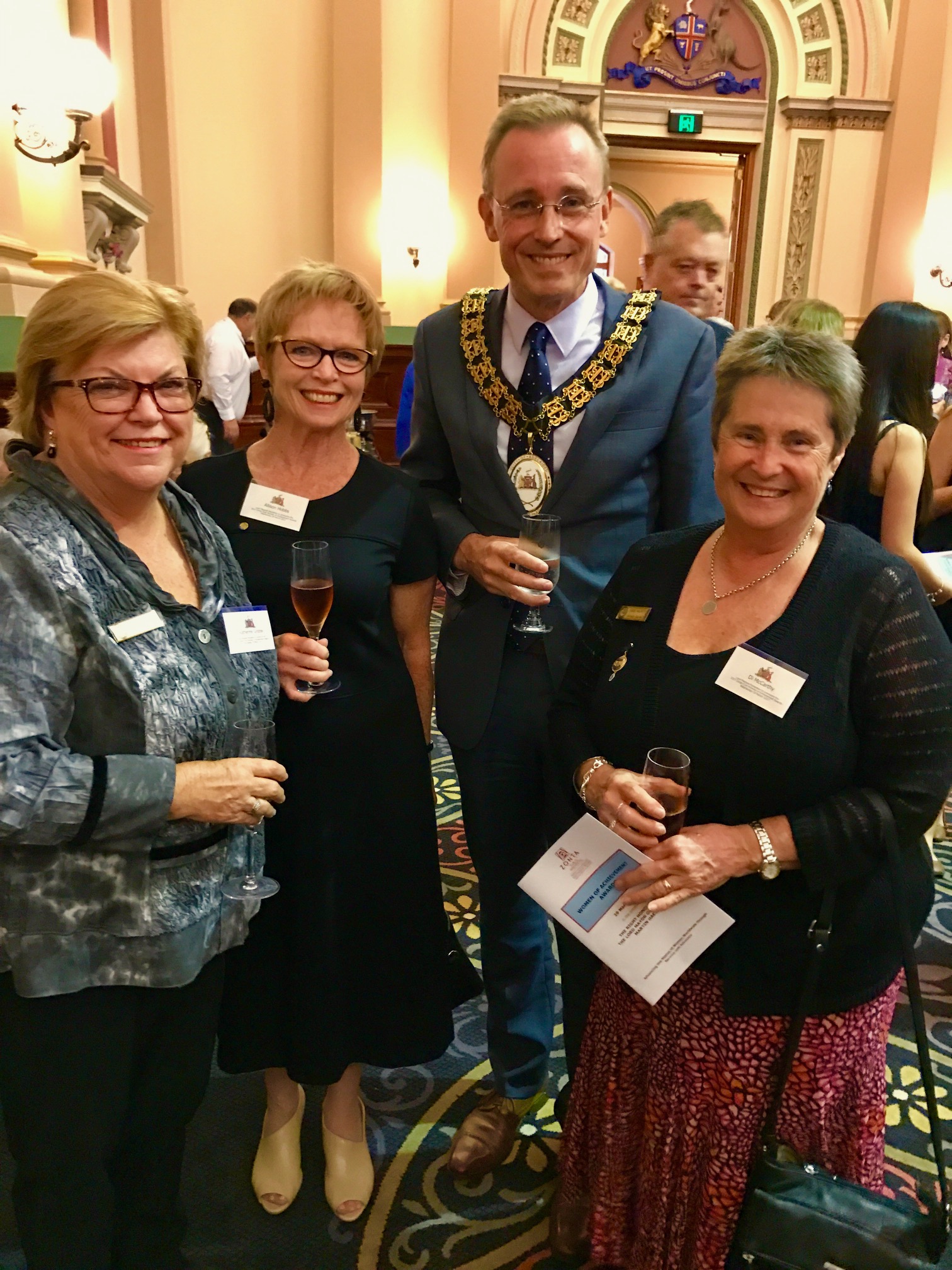 Pictured at the event with the Lord Mayor is Kath Gribble President Elect SI Australia, Allison Hobbs SISA President and Di McCarthy Immediate Past President SISA.
Afternoon Tea at Government House
A wonderful afternoon was spent with SISA Patron Mrs Le, discussing the work of Soroptimist International in South Australia and Mrs Le's involvement with our organisation. Mrs Lan Le.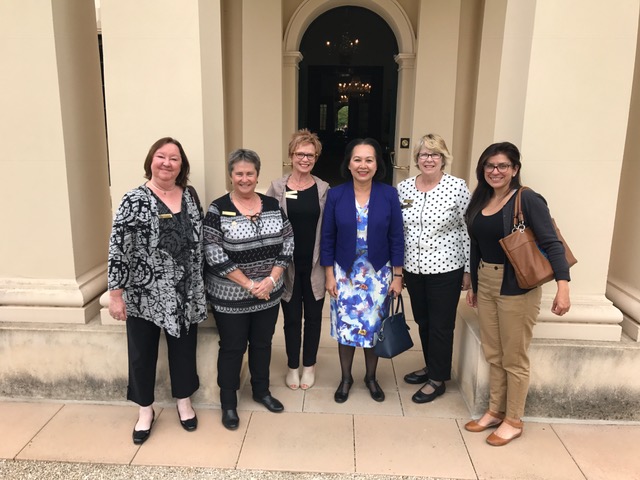 Pictured with Mrs Le from left SISA Public Relations Helen Fischer, Past President Di McCarthy, President Allison Hobbs, Mrs Le, Pam LaceyUN/Programme Liaison and Natalia Rojas Parra SISA ACSO Representative. click here for more photos.
REGION AGM 2018 IN Mt Gambier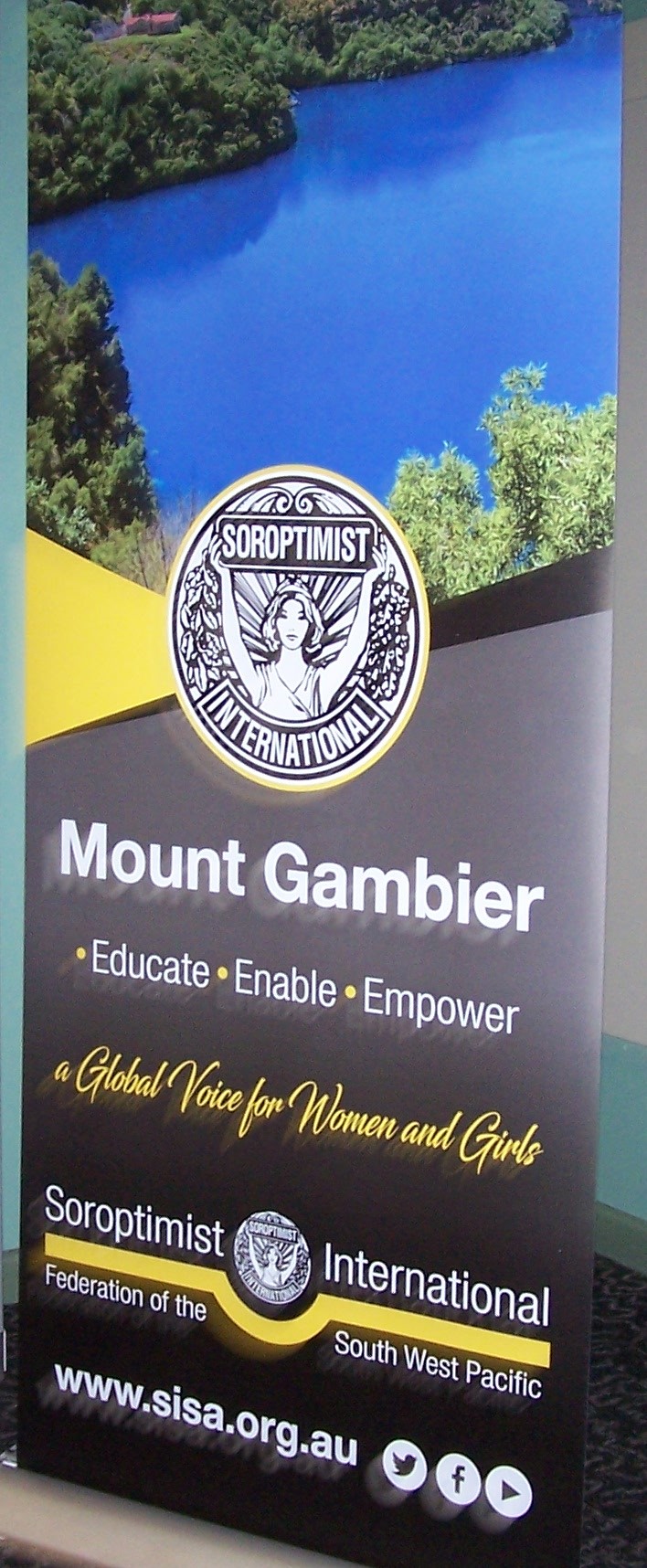 SI Mt Gambier hosted this years Region AGM to welcome their long time member Christine Plunkett as the incoming president for 2018. A weekend of fellowship, catchup with friends and of course the business meeting with new executive for 2018. Christine's theme for 2018 is Homelessness
Latest SISA News
IPP Allison along with Pauline SI Adelaide, Karen Eckermann SI Murray Bridge and Karen's daughter Ruby, attended the lady Mayoress's HERSTORY event at the Adelaide Town Hall. This is a follow on event from last year's HERSTORY celebrating SA women volunteers. This year the event was focussed on celebrating and acknowledging the wonderful SA women Mayoress's and women Mayors since 1840.
congratulations si murray bridge on receiving Australia day awards!
Soroptimist International Murray Bridge - in conjunction with Carers SA and Raptcha'u Beauty - held a 'Pamper Day for Young Carers' last year to give four young women (with too much responsibility) some well-earned time off to focus on themselves This community event was awarded the Rural City of Murray Bridge Community Initiative of the Year at the Australia Day celebrations held yesterday. Big congratulations to our President, Bronwyn Heard, for her fantastic efforts in pulling this together. Well done.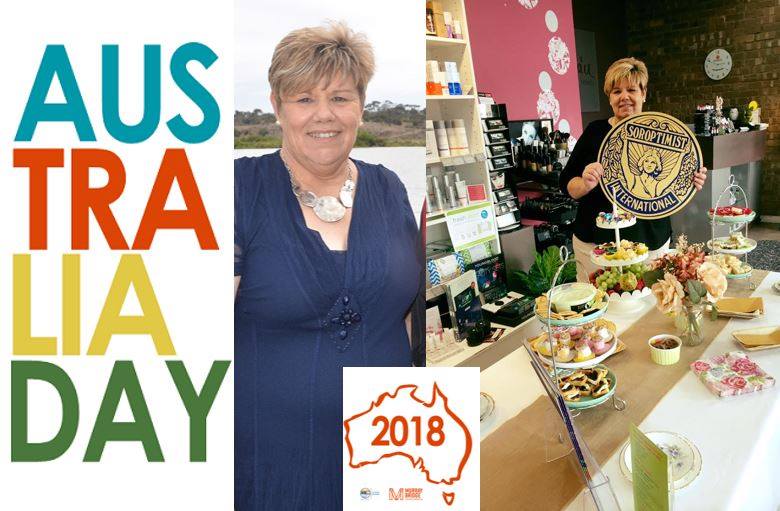 Bangka Day Memorial Service
Very moving Bangka Day Memorial Service at SA Women's Memorial Playing Fields. What an honour to be amongst those present to honour those brave nurses. Recognition too, of vision in the establishment of those playing fields for women and girls and continuing dedication of trust members. Credit to current SA Govt for recent funding anouncement will be a huge benefit.

South Australian members attending service, Allison Hobbs SISA President, Susan Newton SI Torrens, Kath Gribble SI Barossa Valley, Pauline Nutt SI Adelaide, Jenny Hughes SI Port Pirie, Pam Lacey SI Adelaide, Anne Berry SI Torrens. Not shown in photograph was the Region Representative on the SA Women's Memorial Playing Fields Trust Helen Fischer as she was working at event.
SI Adelaide Travel Award
Soroptimist International of Adelaide Esther Bright Travel Award for 2018. Now open for female tertiary students. Travel within Australia or overseas.
Contact siadelaide@siswp.org for criteria, further information and application forms. Closing date is June 29th 2018