SI Port Pirie Inc
Where we meet: At Sanctuary Corner Cafe (Woolworths car park area), Port Pirie on the second Tuesdays at 5:30pm. Meetings consists of either a business meeting or occasionally a dinner meeting at a motel with a guest speaker (6 for 6-30pm start) Both formats incorporate time for friendship activities. On 5th Tuesdays of the month, social/training evening at a member's home starting at 5:30pm.
Secretary: siportpirie@siswp.org Mail: PO Box 1010 Port Pirie 5540 Facebook: Soroptimist International Port Pirie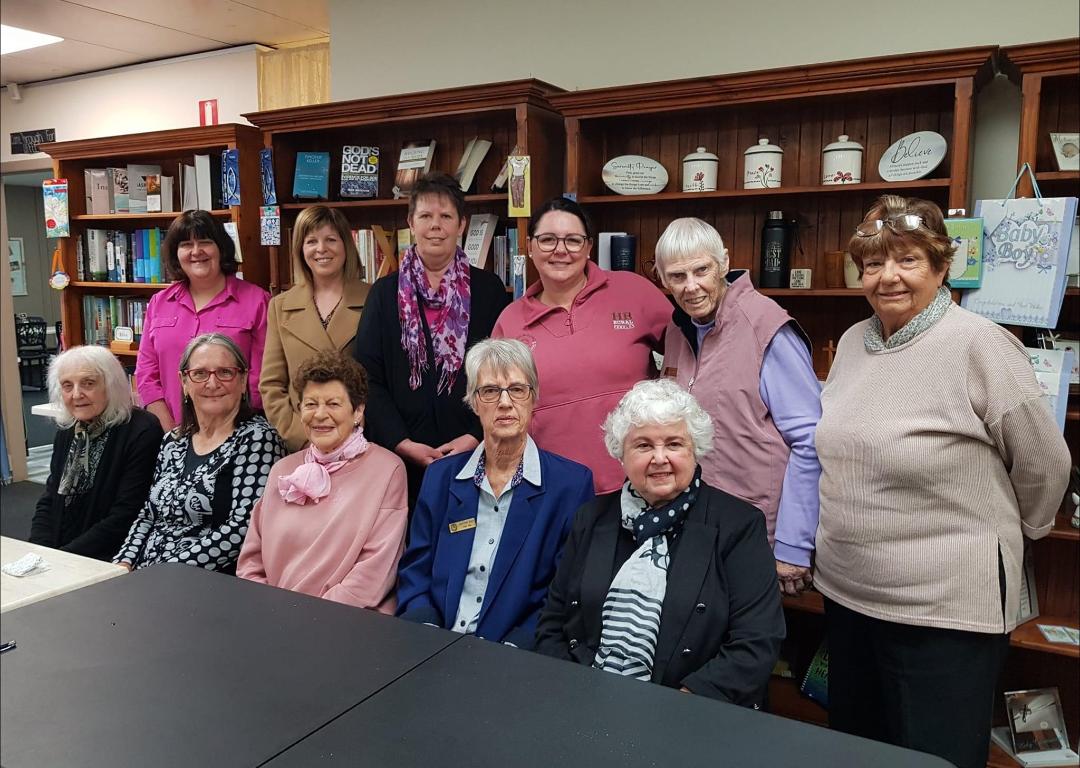 We celebrate Friendship Day each October with a breakfast for members and friends at a local cafe.
jenny hughes oam
Jenny Marlene Hughes has been awarded the Medal of the Order of Australia (OAM) in January 2023 for service to the community through a range of organisations.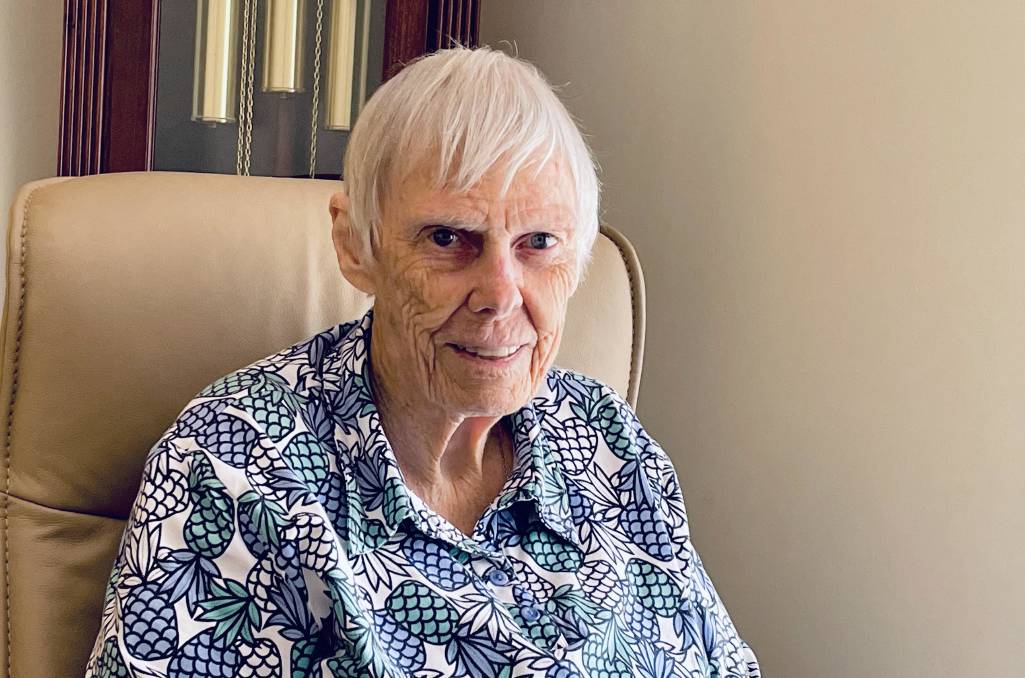 Check out this story in the Recorder newspaper about Jenny Hughes
https://www.portpirierecorder.com.au/story/8064894/oam-for-local-teacher-and-volunteer/?cs=356
birthday celebration
SI Port Pirie celebrated their 39th birthday in June 2022 with a dinner meeting attended by representatives of other service clubs and our friends. Our ongoing local, international and South West Pacific Federation projects are outlined for the guests and a speaker. We also present a Women's Achiever Award to a quiet achiever in the community. In 2022 Cheryl Bruce, a volunteer for Red Cross, was the worthy recipient.
Fundraising – Soup sale - 10th of july 2022
Members' feedback - It went very well and we were happy with the amount raised. It was a very cold day, but we coped and some of us bought 2 cups of delicious soup to keep warm while in between customers. We decided we might repeat the exercise again next year.
Click here to gain more insight about this event
SI Port Pirie Club Projects and Activities
Ongoing projects
Look Good Feel Better Workshops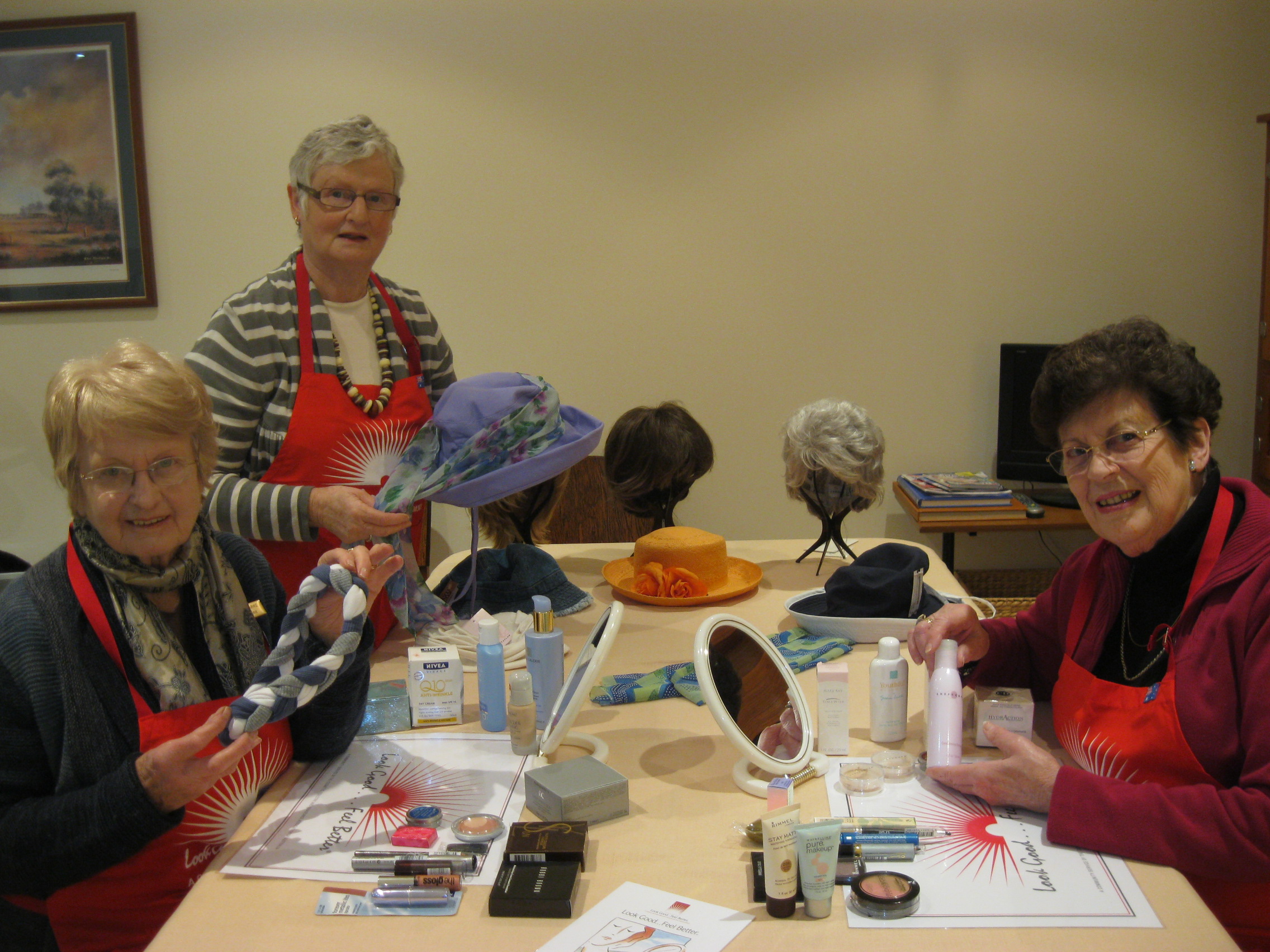 We facilitate 2 or 3 workshops each year at the Anglican Hall in Port Pirie for women who have recently undergone or are currently experiencing treatment for cancer. This involves liaison between the Breast care nurse at the local hospital, who assists in finding women to invite, volunteer beauticians and hairdressers as well as a relaxation therapist. Soroptimist members set up the hall, display the donated make-up kits, wigs, scarves and hats, welcome the women and provide afternoon tea. In this relaxed atmosphere, the women find moral support and a new energy.
IN RECESS FOR 2022
Women Achievers Awards
We recognise contributions of local quiet achieving women to the community by inviting them to a dinner meeting and presenting them with a framed certificate. They are then given the opportunity to inform the members and guests about the field they work or volunteer in. An article and photo usually follow in the next week's local newspaper so that the wider community is also aware of their achievements. (See the nomination form for the 10 categories and the dates linked with them where possible.)
Annual Bursary to Female Students
$200 is awarded to three high school girls at local secondary schools who have excelled in the area of education and leadership. This is presented at the end of year ceremonies for John Pirie Secondary School,Mid North Christian College and St Marks College by the president of our club or her representative.
Essential Packs for Women in Domestic Violence
Packs are provided to women who have sought help at the local women's refuge. When supplies run low, members obtain more items and bathroom bags and pack about 50 kits. On two occasions these have been presented to the manager of the Refuge on November 25th, White Ribbon Day, being an apt time to remind the community of the need to prevent violence against women and girls.
Supporting Combined Service Clubs of Port Pirie
with their Driver Reviver stall at Easter and the long weekend in October.
Annual or frequent events
Celebrating International Women's Day Port Pirie Style
Thank you to Dr Alison Edwards for an insightful speech about female doctors , their history, achievements and disparities which can still exist.This annual lunch was attended by 80 women and men and six senior secondary school students from Port Pirie and Region. It was held at the Port Football Club rooms, which catered for the lunch with delicious gourmet finger food.

Pasty Drive - OUR FOND MEMORY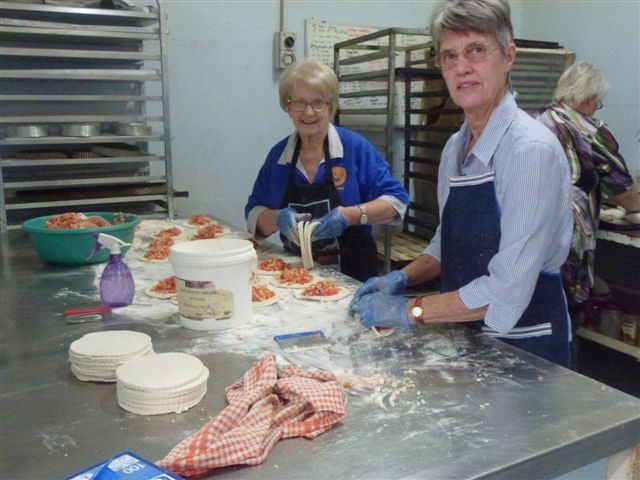 Our major fundraiser held at Baker Bears, Main Road Solomontown usually in May or early June for many years, provided us with sufficient funds for our three bursaries in leadership and education for senior school girls, plus a contribution towards a new local project each year ( eg provision of essentials packs for desperate women seeking help at the local refuge; computer, printer and white board for the use of young parents receiving training at the Parenting House run by Boys Town under the auspices of the local Catholic Church).
Other fundraising is achieved through holding a fundraising stall at the Port Pirie market.
( For 20 years from 1991 to 2011 we ran a Second-hand Book Exchange as our major fund raiser).
This enables us to contribute towards projects in our South East Asia Pacific Federation and the current annual International project.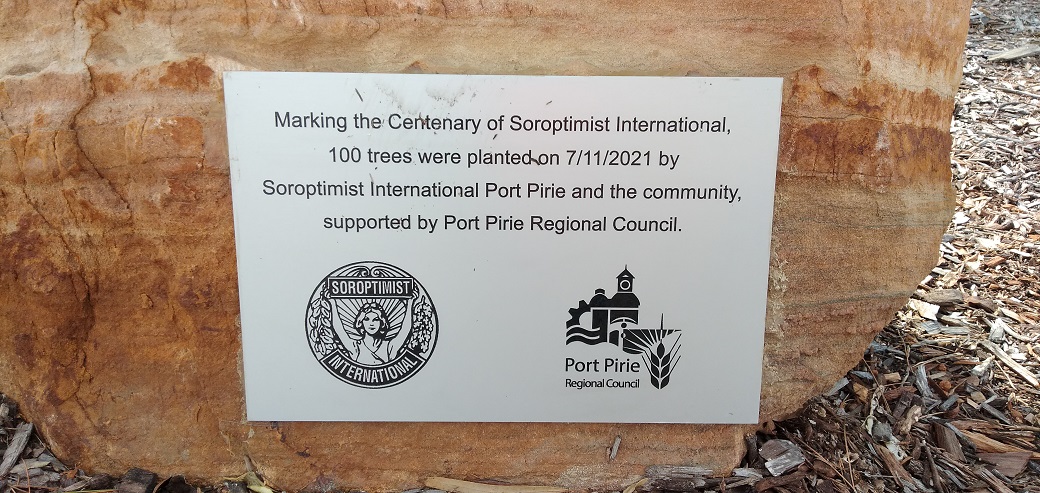 SI Port Pirie News
Port Pirie Brochure
Port Pirie Soroptimists have updated their Information Brochure
Click here to read all about Soroptimist International Port Pirie
our club 100 tree planting celebration
Our club had an afternoon tea at the site of our 100 tree planting for 100 years on Sunday 13th November to celebrate the first anniversary of planting.
50 Manchurian pears and 50 tuckeroos have been thriving and are being cared for by the local council gardening team, as well as being checked on daily by our tree "policeman" who features in the photo (Soroptimister Rooka Ramsey).The weather was very blustery but we enjoyed the afternoon and even did a bit of weeding in between the two rows of trees.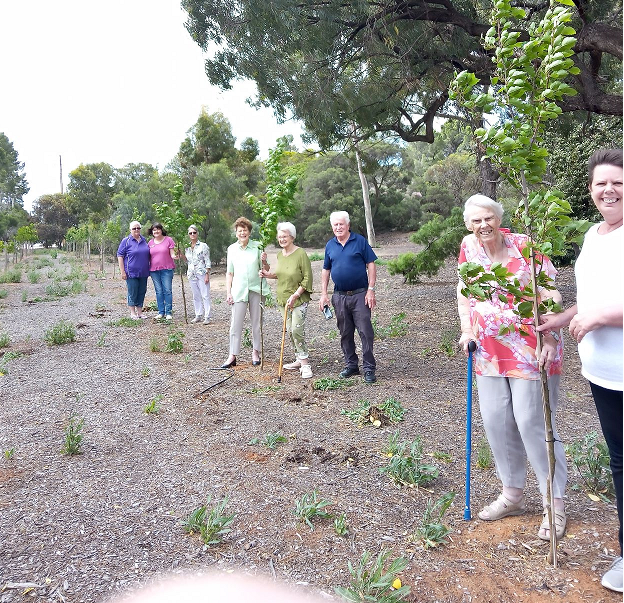 SIPP RECOGNISE WHITE RIBBON DAY
From 2017 onwards, SIPP is supplying paperbags with DV information to the school canteen of John Pirie Secondary School and hopes to extend this to other schools in the town. This project was started by SI Northern Highlands in Jamestown in 2015
"We support DVAG ( Domestic Violence Action Group ) at their annual White Ribbon Day celebrations by attending their annual march or breakfast. "
Thai Food and Friendship
One of the 10 Thai residents in Port Pirie, Anong, kindly cooked Tom Yum, a spicy chicken soup for us at the local High School's kitchen. She also produced precooked sweet potato slices and spring rolls in soft rice wraps. One of our members cooked Thai fish cakes, deliberately not very spicy. Of course there was the obligatory steamed rice!
Anong was a delightful cook discovered for us by Joy Martin from Mambray Creek north of Port Pirie. She acted as Anong's assistant and provided the recipe.
We look forward to future friendship with some of Anong's Thai friends.
Girl Guides Celebrate Un Day Of The Girl Child With Port Pirie Soroptimists
Making kites and flying them is great fun! This was discovered by ten Crystal Brook Girl Guides aged from six to twelve, their three leaders and four members of Soroptimist International of Port Pirie as they celebrated this special day at the Crystal Brook Guide Hall in October. After constructing the kites from the kits with help from leaders and Soroptimists, the girls trooped out onto the nearby oval and launched them successfully. read more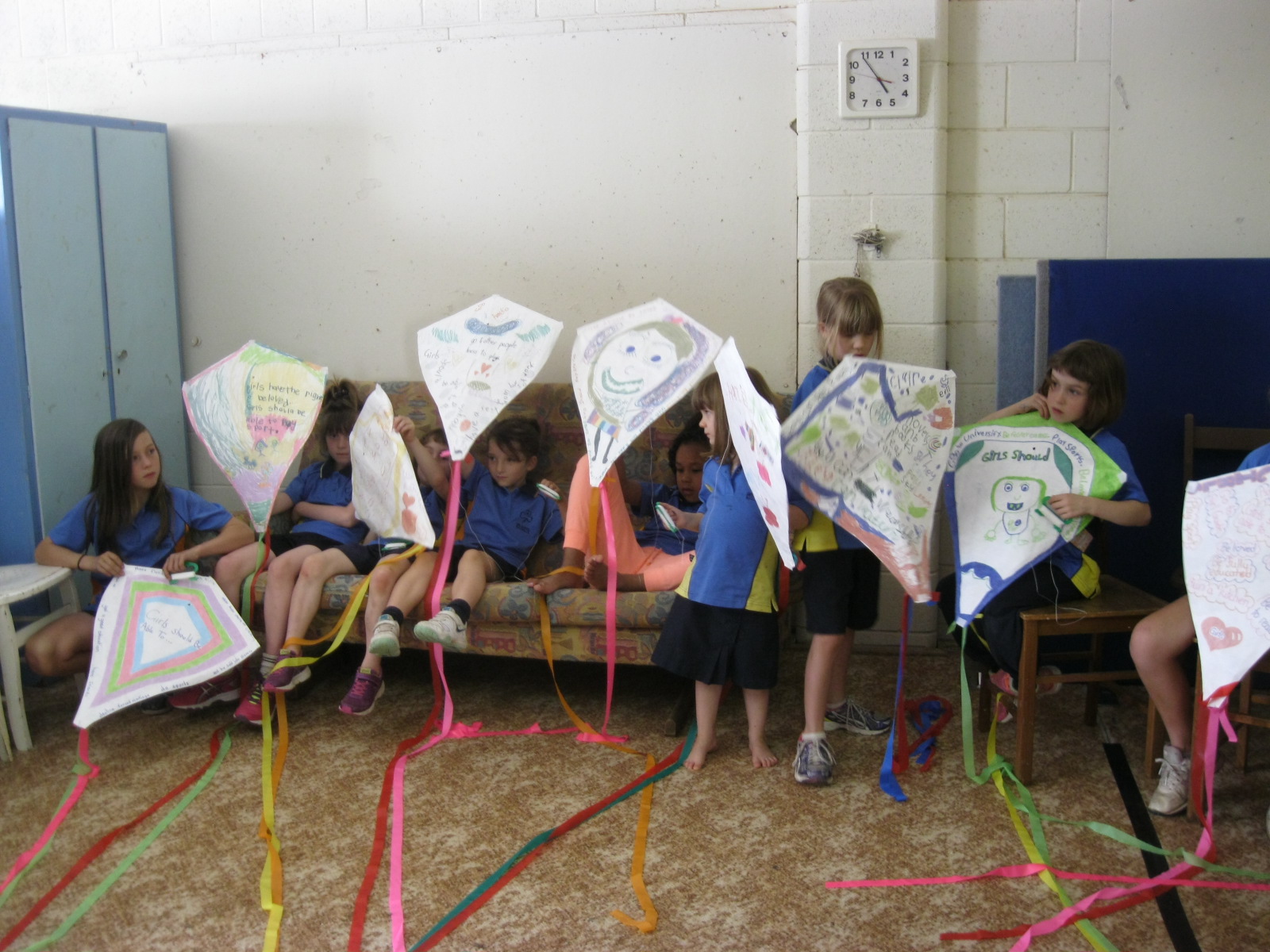 This year SIPP made oregami gift boxes with six guides, their leader and assistant leader. A very worthwhile activity for both Guides and Soroptimists.
Women's Achievers Awards Applications Open
click here for further information and click here for nomination form
SI Port Pirie Events
• Planting of 100 trees in Memorial Park partnered by PP Regional Council and assisted by community members, including Girl Guides, in November 2021 to celebrate 100th anniversary of Soroptimist International.
• International Womens Day lunch at Port Football Club - March 11th 2022
• Fundraiser soup stall and raffle at Port Pirie market - Sunday July 10th 2022
• October 11th UN Day of Girls with Crystal Brook Girl Guides - decorating kites with girl power messages
• October 13th similar activity with Port Pirie Girl Guides