SI Murray Bridge Inc.

follow us on facebook

The Murray River is indeed a popular tourist attraction in South Australia and amongst its many well recognised cities, it stands out above the rest. Murray Bridge is the "crown" of the Murray Region with many attractions for people of all ages.
SI Murray Bridge is an energetic club of dedicated members who have a commitment to making a difference to people's lives. We have innovative fundraising activities to support causes to improve the lives of women and children locally, nationally and internationally.
We welcome new members and would love to see you join us! To contact us simurraybridge@siswp.org
SI Murray Bridge Club Projects and Activities
Read Our Latest News Article
Birthday meeting
Recently we celebrated our Club's 39th year and these lovely cupcakes were created by talented Member, Anna Scheepers, to honour the achievement! We heard from a very special ex-Member, Pauline Nutt, about the friendships she'd made when she was part of our team and Members also discussed the new projects we have upcoming - as our Club moves from strength to strength.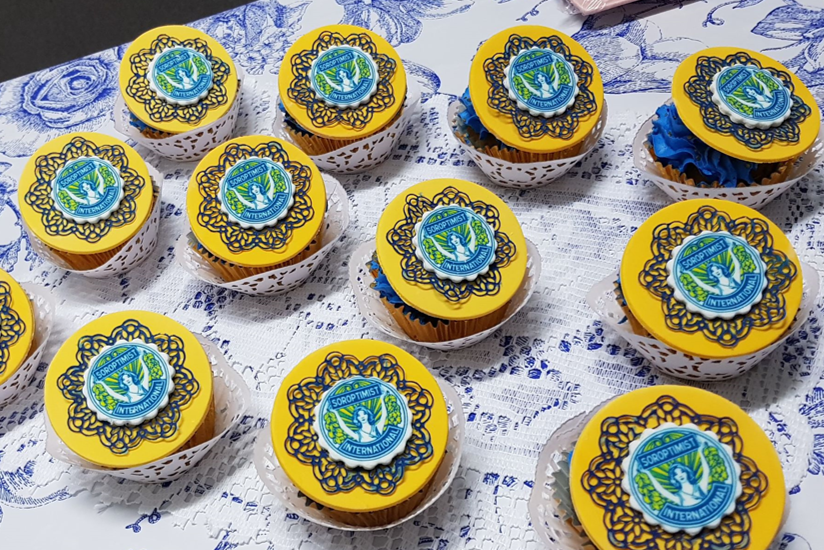 Promoting STEM to Girls- Science show for Year 3 students
Soroptimist International Murray Bridge have sponsored science magic shows at the Murray Bridge Town Hall in 2019 and 2020. The shows were presented by members of the SciWorks team, thrilling hundreds of young Year 3 students from St Joseph's School, Murray Bridge North, Callington, Mypolonga and Tailem Bend. This school excursion aims to enthuse students towards science subjects and spark interest in STEM careers.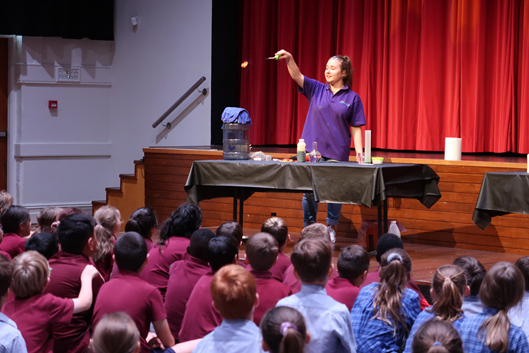 Women's Tour Down Under Event
We want to say a huge THANKYOU to the diverse group of women who attended our high tea style breakfast to watch the women's race start of the Santos Tour Down Under. We had a beautiful view from our venue at Moorundi - overlooking the River and the Bridge.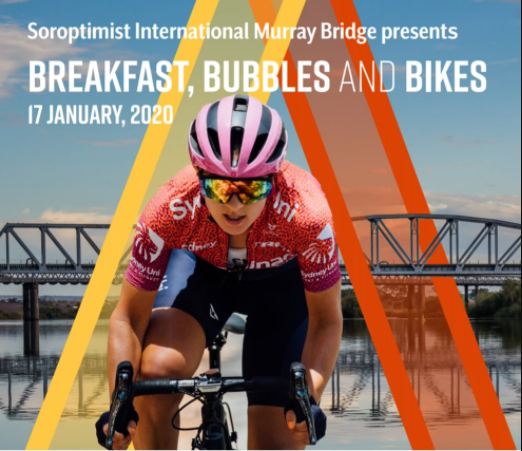 Annual International Women's Day Event
Murray Bridge International Women's Day, hosted by Soroptimist International Murray Bridge, draws a large attendance every year. The program for 2020 included key speaker Sarah Brown, from Purple House, Alice Springs and performances from both local musician Hannah Smith and the Deadly Nannas singing troupe. Sarah Brown entertained with stories of the organisation's true commitment to keeping people at home on Country throughout their dialysis treatments – which had led to enhanced wellbeing and tangible positive health outcomes. The upcoming IWD event for 2021 will be a mini film festival held at Cameo Cinema.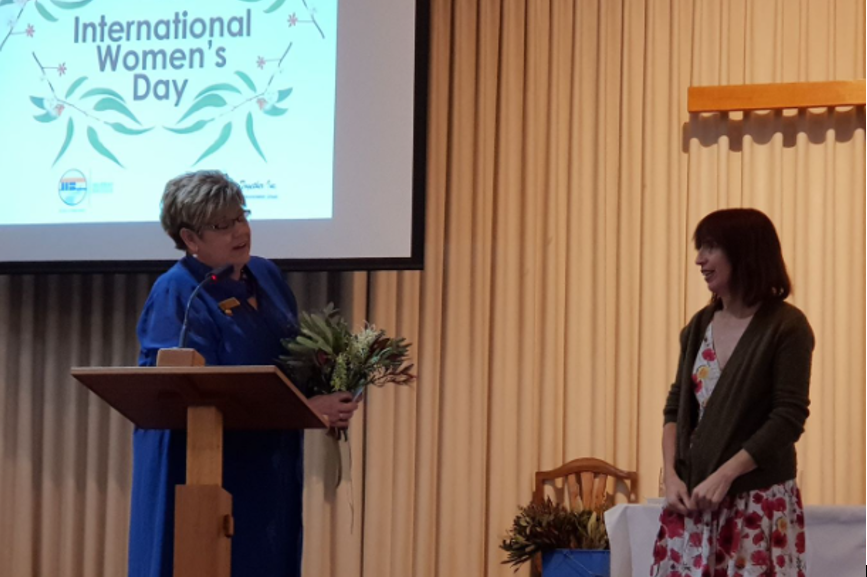 SEminar - Mothers and Their Children
Soroptimist International Murray Bridge members were proud to present an informative, collegiate evening discussing important issues around housing affordability, child support, community service provision and employment outcomes for single mothers in challenging times. Senator Anne Ruston, Terese Edwards and a lovely audience ensured a successful seminar highlighting advocacy potential for our Club.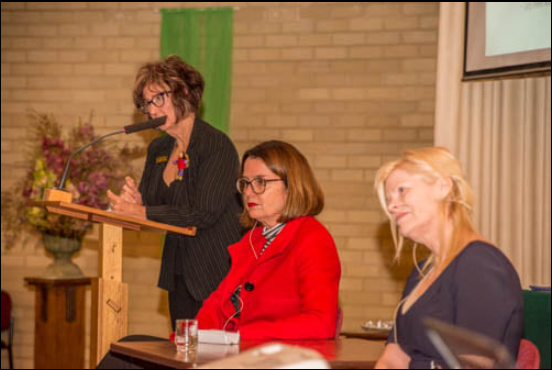 Wig Library ongoing project
Soroptimist International Murray Bridge instigated the Murray Mallee Wig Library in 2016 to assist local women who have lost their hair due to illness. This service continues fully supported by the SIMB club and has attracted awards such as the Rural City of Murray Bridge's Community Initiative of the Year, Soroptimist International South West Pacific's Health Best Practice Award, and the runner up Premier's Community Service Health Award.

Annual Scholarship
Every year Soroptimist International Murray Bridge offers a scholarship to Year 12 students attending schools in the Murraylands to assist with the costs of tertiary studies. It is judged on a range of criteria, including academic achievement, personal qualities and community involvement, and is presented in the form of a cheque to the value of $2,000 in March of the year that the successful applicant commences study.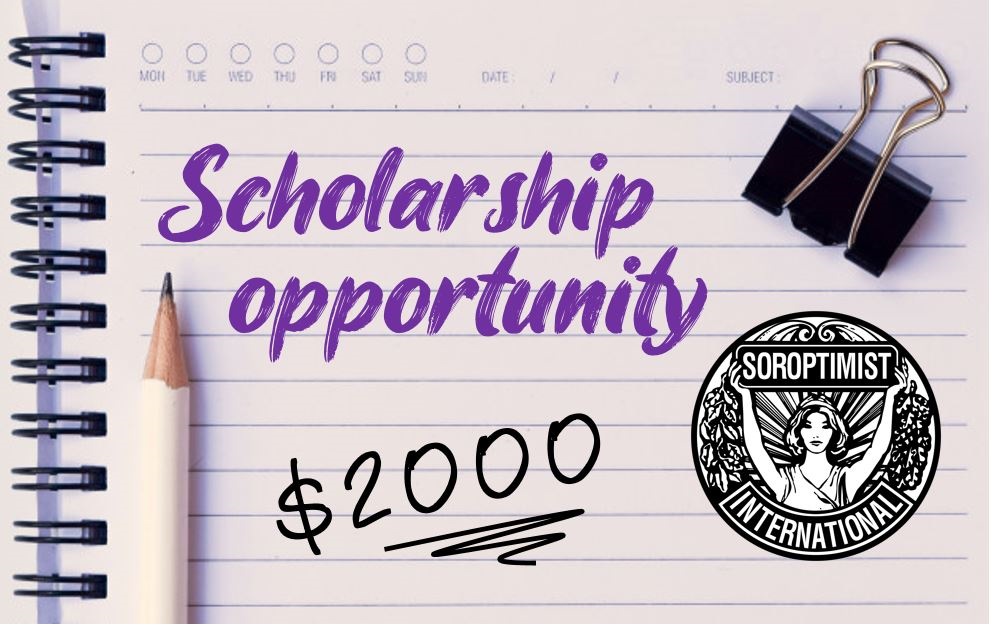 SI Murray Bridge News
A Gift from MA Foundation
Soroptimist International of Murray Bridge welcome Athalie McArdle, creater of the A Gift from MA Foundation. The foundation was set up in 2012 after the death of her mother, Mary Ann Slape who lost her battle with cancer. Aware of the expense incurred with frequent journeys to Adelaide hospitals for regular cancer treatment Athalie established the foundation to help alleviate some of the financial worry for cancer patients living in regional towns. Click here to read the full article published in the local newspaper, The Murray Valley Standard.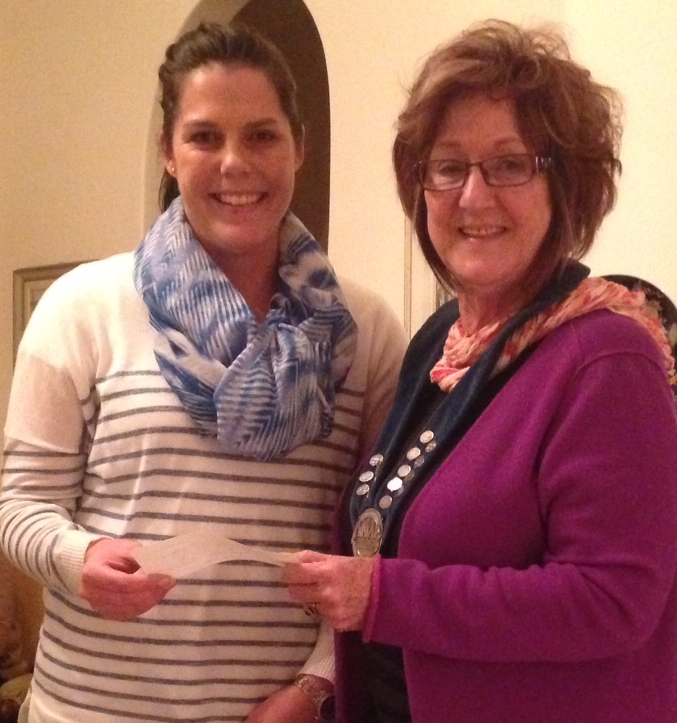 Athalie McCardle receives a cheque from SIMB President Annette Korzeba.
Soroptimist International support Days for girls
Members of Soroptimist International of Murray Bridge recently listened with disbelief, to hear the plight of girls whose education is disrupted because of lack of sanitary items. Read more, courtesy of the local newspaper, The Murray Valley Standard.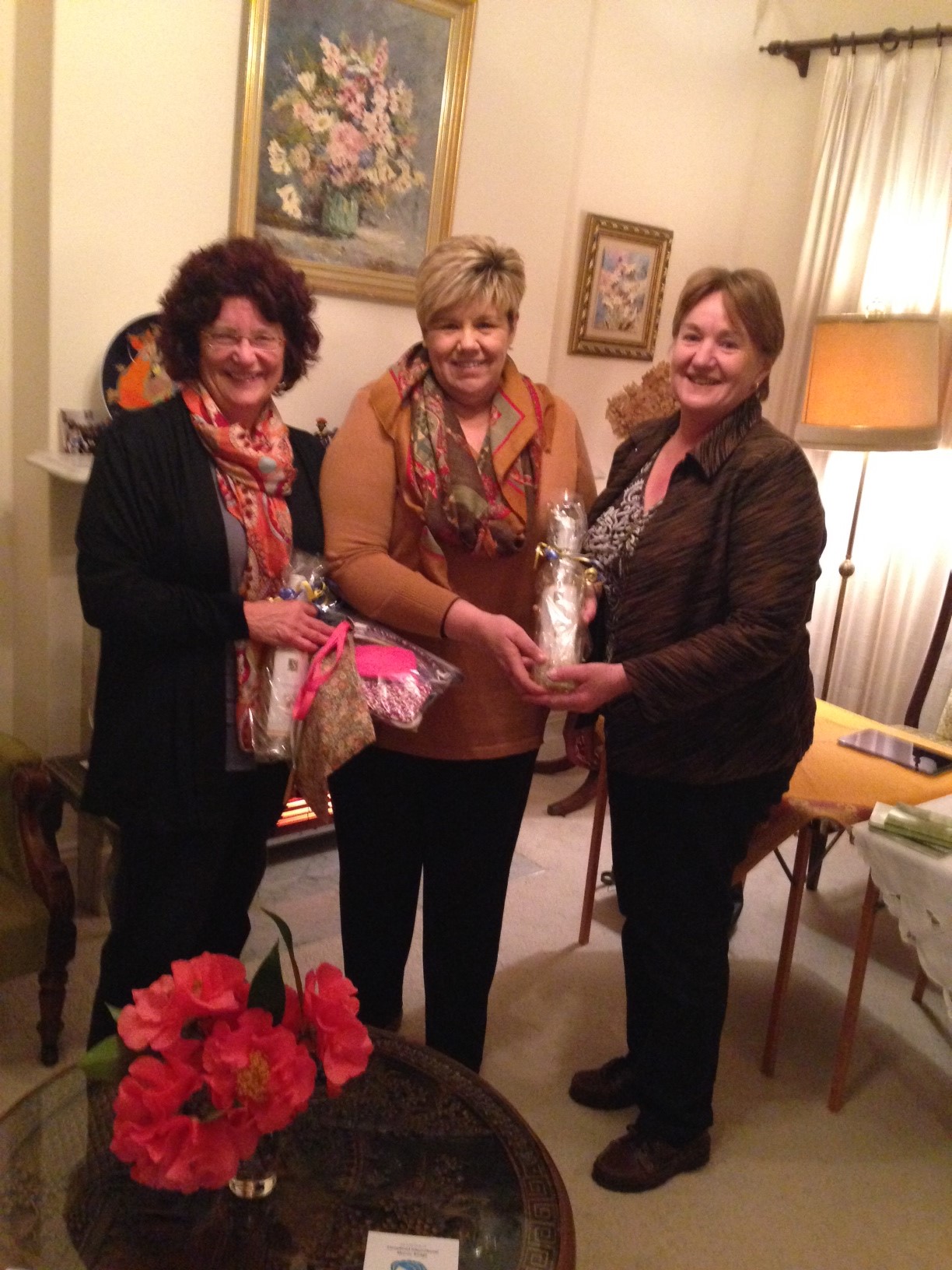 Acting President Bronwyn Heard thanks guest speakers from Girls for Days, Sally Charlton and Katherine Steinert.
Suicide strategy talks to Soroptimists
Standyby Response Service region coordinator Tracey Wanganeen, spoke at a Soroptimist meeting recently, quoting the most recent figures from the Bureau of Statistics, which show Australian deaths on the road in 2014 was 1310, compared to 2864 for suicide. Standby is a suicide bereavement response service offering free 24-hour support and assistance to those who are left to suffer the loss of a family member, neighbour, work or team-mate Read more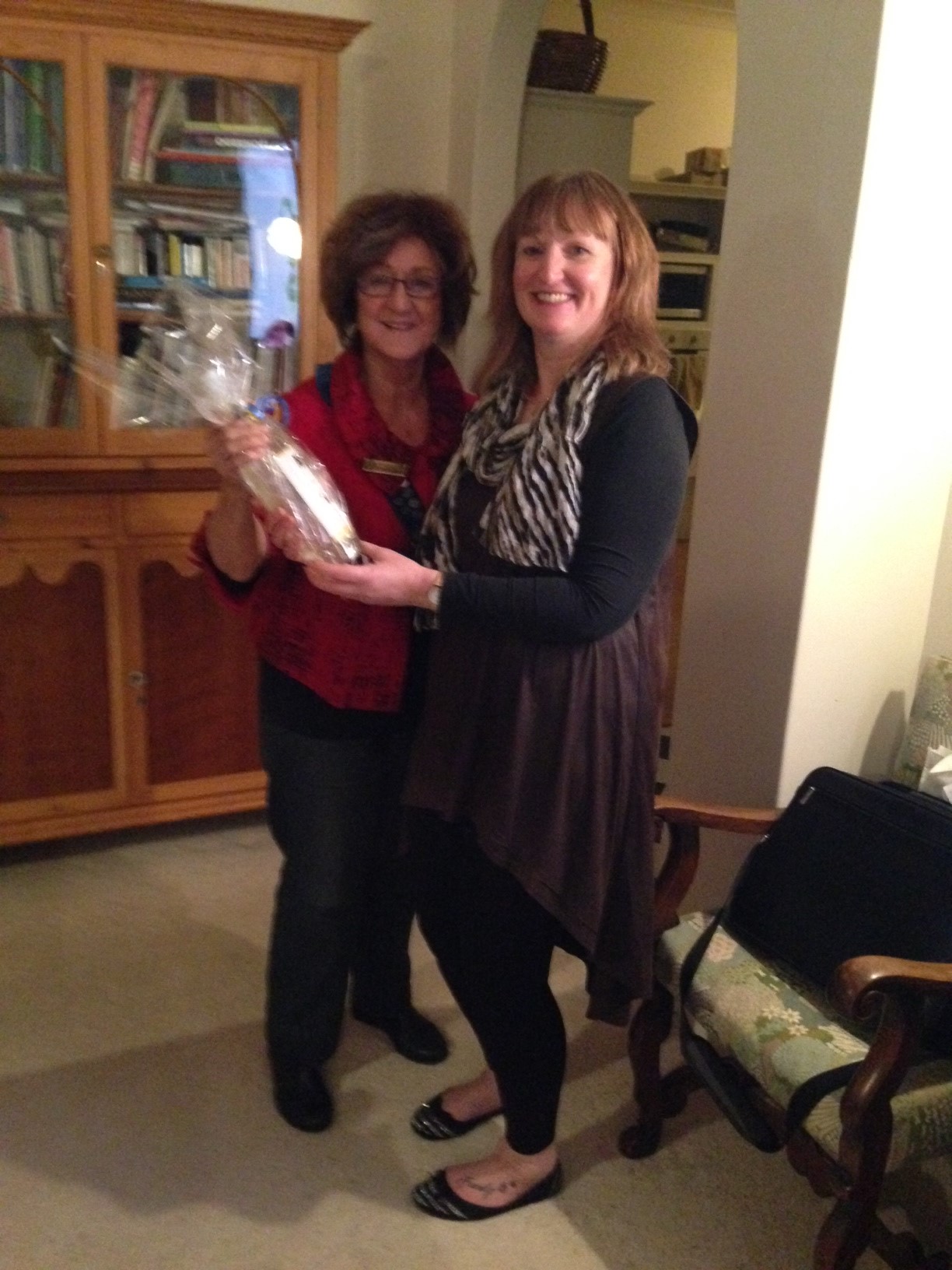 Tracey Wanganeen receives a thank you gift from Soroptomist International Murray Bridge president Annette Korzeba.
SI Murray Bridge Inducts New Member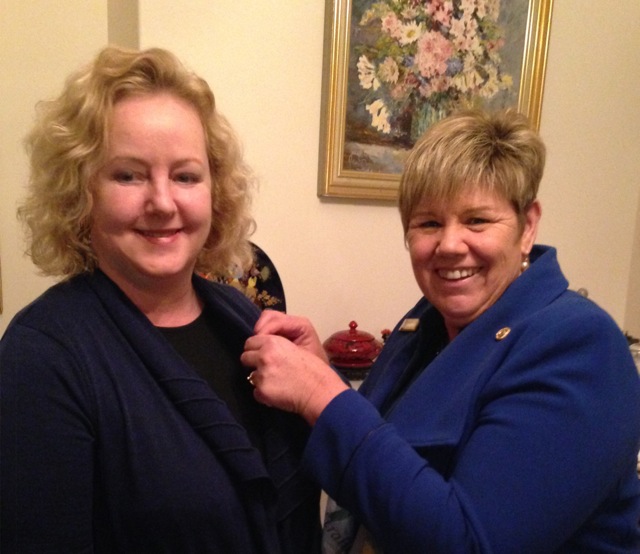 Karen is an Elected Member of the Rural City of Murray Bridge who continues to be a tireless advocate on issues of justice and human rights violations particularly for women.
SI Murray Bridge Events
International Women's Day Morning Tea
Annual event; Sue's Open Garden at Aldgate was held in September. It was a beautiful day and a great success. Details: simurraybridge@siswp.org