SI ADELAIDE INC
SI Adelaide is the oldest club in the Soroptimist region of South Australia, chartered on June 24th 1949, by Florence Rutter. Our membership is comprised of women across the lifespan. In 2011-2012 we've inducted some young university students. They've brought new life, energy, ideas and more laughter, to our club. Student membership is subsidised by the club. As the city based club of our region, meetings are held at National Council of Women House (NCW House) 95 South Terrace Adelaide, or at the RobRoy Hotel in Halifax St, Adelaide. Planning to visit? Best to email siadelaide@siswp.org, for clarification We wouldn't want to miss you. Follow us on our social media sites.
SI Adelaide Club Newsletters
Read our regular newsletter to see what's happening in our Club. Our newsletters are writen by various willing club members each month to share the work around, facilitate entrepreneurial skills and encourage creativity!
Hot off the Press!
ESTHER BRIGHT TRAVEL AWARD
Applications are now closed
A generous donation from Ms Esther Bright, through Soroptimist International of Adelaide, has enabled the establishment of the Soroptimist International of Adelaide Esther Bright Travel Award. One travel award is made available each year, valued up to $1,000.
The purpose of this award is to provide tertiary female students an opportunity to attend meetings, symposiums or conferences either in Australia or overseas to present papers or to further their research and studies.
To be eligible for consideration for the award of a Travel Award in any given year, applicants must:
(a) be a permanent resident of South Australia, Australian citizens or permanent residents of Australia; and
(b) are studying at a tertiary institution within the state of South Australia.
The Travel Award will be awarded on the basis of the extent to which the proposed travel will enhance work in the chosen field
The Travel Award will provide additional assistance with the cost of an applicant's proposed travel within Australia or over seas
Soroptimist International of Adelaide, will invite the winner to report in person to a meeting of Soroptimist International of Adelaide within 6 months of receiving the award.
Applications are invited with the closing date of 30th June each year siadelaide@siswp.org
click here for an application form or here to see the poster
We're on Instagram!
The club has recently joined Instagram on social media, so Irene Mendez took up the teaching role. So much to learn.
Guest Speaker
SI Adelaide heard from Jess Duke from
sands.org.au
(Stillbirth and Neonatal Sudden Death Society).
A wonderful support organisation for parents and families grieving loss of baby/infant,
running on the smell of an oily rag.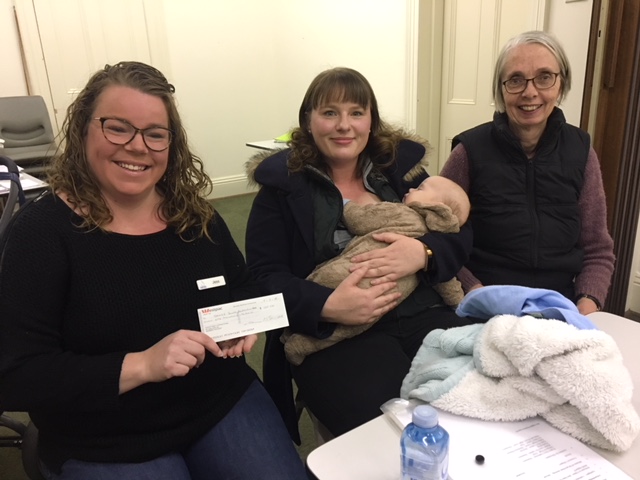 inspirational talk by PNG midwife
Paula Krai, a midwife from Papua New Guinea, gave an inspirational talk about her work. Paula is one of the midwives we met when she was studying previously at Flinders Uni. She's back now studying for her Masters in Midwifery. and her motto seems to be "Ïf you don't ask you don't get."
When Paula transported a seriously ill woman to
read more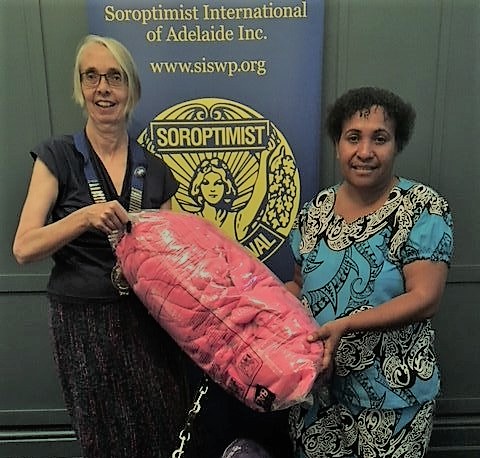 Celebrating Long serving Members and New Members!
| | |
| --- | --- |
| Rosemary and Jean at SIA's 67th birthday | Irena and President Donna |
Art Exhibition to support The Zahra Foundation
Supporting our campaign against domestic violence our club held a highly successful Exhibition at St Oswald's Anglican Church, Parkside. The Exhibition "A Safe Place To Be" was a mixed exhibition of paintings, sculpture, ceramics, glass, etchings, & lino cuts curated by Tim Boon of Art for Charity's Sake. All profits were to support the work of The Zahra Foundation Australia.
SI Adelaide "Walk The Talk"
Walk The Talk is a Soroptimist advocacy and awareness raising campaign dedicated to the elimination of violence against women. Each year SI Adelaide holds a number of events to support this campaign.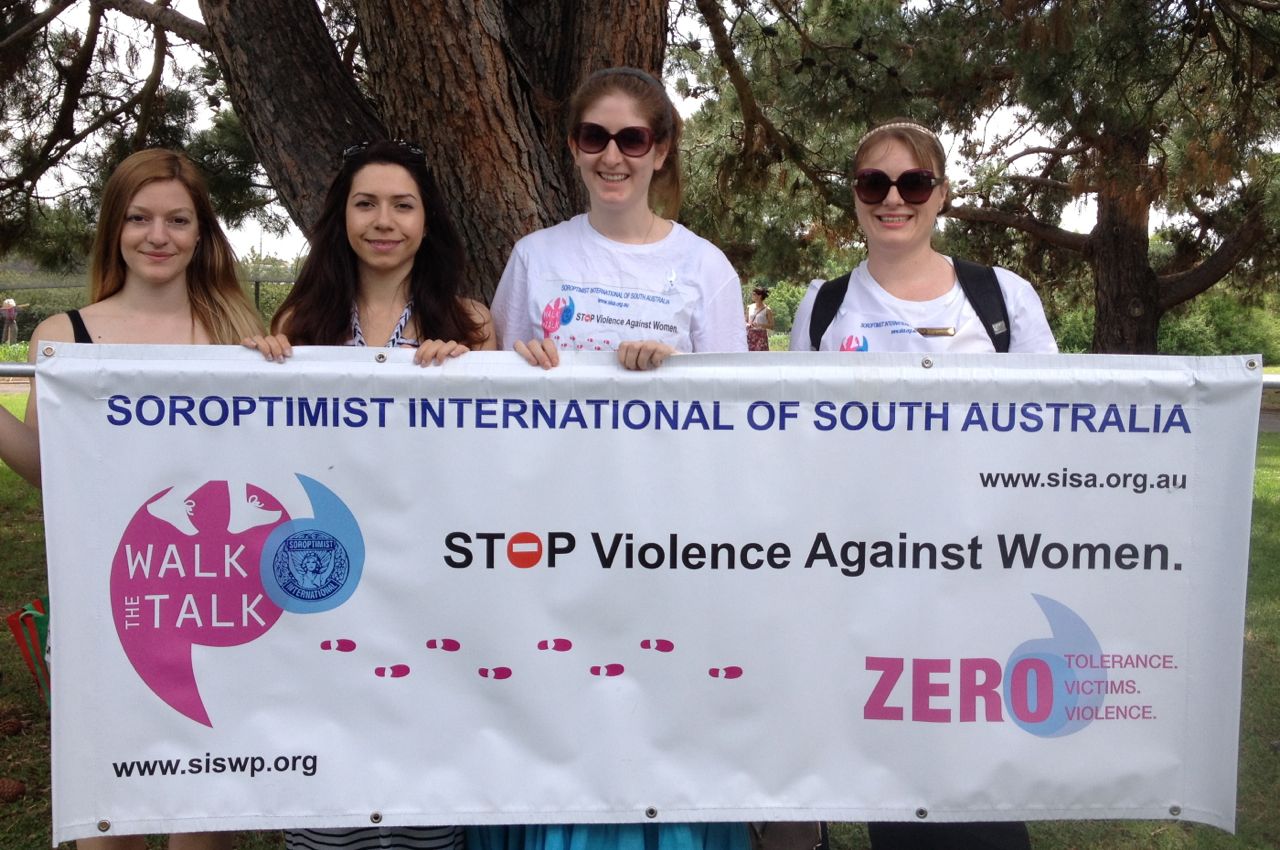 Information evening on Women and FinaNce
SI Adelaide hold an annual evening session at the Robroy Hotel in the city on Women and Finance with highly informative speakers from various business backgrounds. This year another successful information evening was held with the title "A Man is Not a Financial Plan". Included in the presentation was invaluable advice on the ins and outs of a rental agreement. Read the full article about the evening.

Christie, Carina and Marrion
Candle Light Vigil
SI Adelaide members support The Coalition of Women's Domestic Violence Services of South Australia (CWDVSSA). The vigil is held each year to remember those who have died as a result of domestic and family violence and the loved ones left behind.
supporting the White ribbon campaign with an annual March
SI Adelaide takes part in the White Ribbon March from Victoria Square to Parliament House an event organised by the local FADVAN (Family and Domestic Violence Advocacy Network), which is a gathering of service providers and interested parties.
Soroptimists march behind the Walk the Talk banner alongside of many community groups, including SAPOL and Uniting Communities and a wide diversity of people.
As part of the event there are speakers at Parliament House representing a wide range of connections to DV. In the past years guests include a DV survivor, represention from the Premier's office, former AFL footballer Gavin Wanganeen, and Joe Szakacs from SA Unions. Both Gavin and Joe spoke as young dads, acknowledging their parental responsibilities.
All join in taking the new White Ribbon oath. read more
I will stand up, speak out and act to prevent men's violence against women.
white ribbons in the adelaide Central Market
For several years SI Adelaide has been selling white ribbons in the Central Market on the Saturday prior to the White Ribbon breakfast. We have been working with White Ribbon Ambassadors and members of the Adelaide White Ribbon Breakfast Committee.
Several Ambassadors find that this event is a great opportunity to meet the public directly and connect with the real issues. It's also a great opportunity for SI Adelaide members to meet community members who promote White Ribbon. Men talking about DV issues has real impact on people who buy ribbons. read full article
SI Adelaide Events

SI Adelaide News
SI Adelaide 2018 August Soup and Dessert Night.
This is an annual event and a wonderful opportunity for members to bring friends and invite visitors to come along and have some fun and socialise.
Of course, there's the food and wine. Pauline Nutt enthusiastically brings the champagne…..she's a legend.
The menu comprises, a couple of starters while the soup is heating up.
Then there's a selection of usually 3 soups…..this year, Green Pea, White Bean and Hearty Vegetable. Generous mug or mugs with crusty bread.
Followed by delicious desserts, Blueberry Cheesecake, a fruit platter, self saucing chocolate pudding and a pavlova ring. All scrumptious….difficult to be restrained read more
Birthday Celebrations and more!
What a terrific afternoon at Boulevard Lounge, Wallis Cinema Mitcham where SI Adelaide recently celebrated their 69th birthday, on Sunday June 24th. This is the first time in many years that we have celebrated on the actual day….24th June 1949. Those celebrating, Irene, Marrion, Pat, Denise, Sharon with baby Henry, Rosemary, Donna, Pauline and Pam. The fresh scones, jam and cream, come highly recommended.
Membership milestones for the amazing:
Pauline Nutt of 30 years.....she is a legend. Always such a positive member.
Donna Coombe 20 years of dedication both in Queensland and in South Australia
Pam Lacey 15 years of being a wonderful invaluable member on so many levels.
Happy birthday SI Adelaide and thank you all members for your years of service.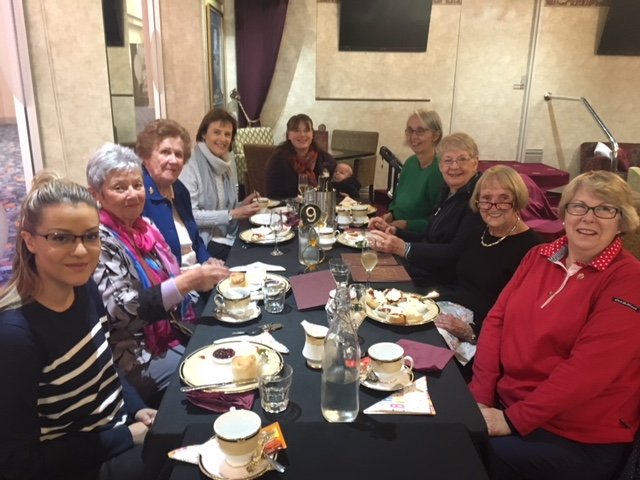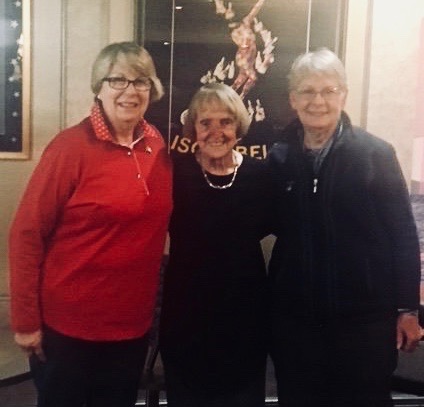 Pam, Pauline, Donna.
ACSO medal award winner 2016
Tod Stokes was nominated by SI Adelaide for the Heidi Taylor Medal as part of the ACSO awards this year.
He won, we were thrilled. Here's some background to the reasons he won. click here
Home essentials donation to Women's Safety services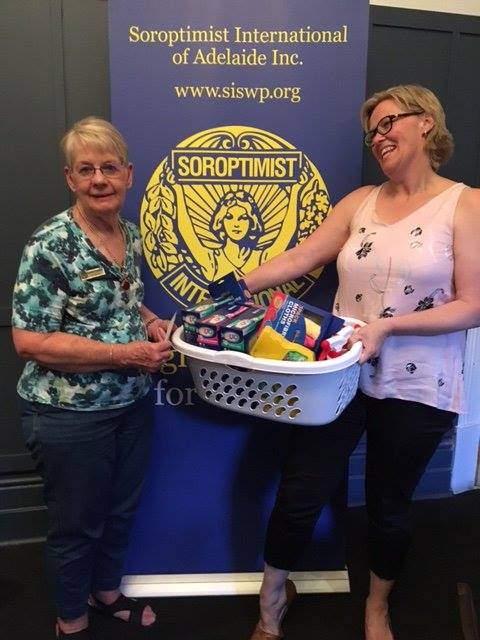 Our annual Home Essentials donation has been made for several years now.
The donation comprises a list of essential home basics, including cleaning products, items such as pegs, broom, dustpan and broom, laundry basket and teatowels.
These items are invaluable to women starting a new life after leaving DV as they often have little to spend. Women's Safety Services don't receive a budget for these items, so our donation is a great help.
This year, Kendy Whitmore from WSS, who is a Property Manager, came to accept the donation. Being the PM, means that she is in charge of distribution of these stores and she was THRILLED with the donation saying how needed these essential items are and how expensive they can be.
We were delighted to have Kendy and her son come to our meeting and hope that they weren't too cramped up in the car on the way home. There was a big load of goodies.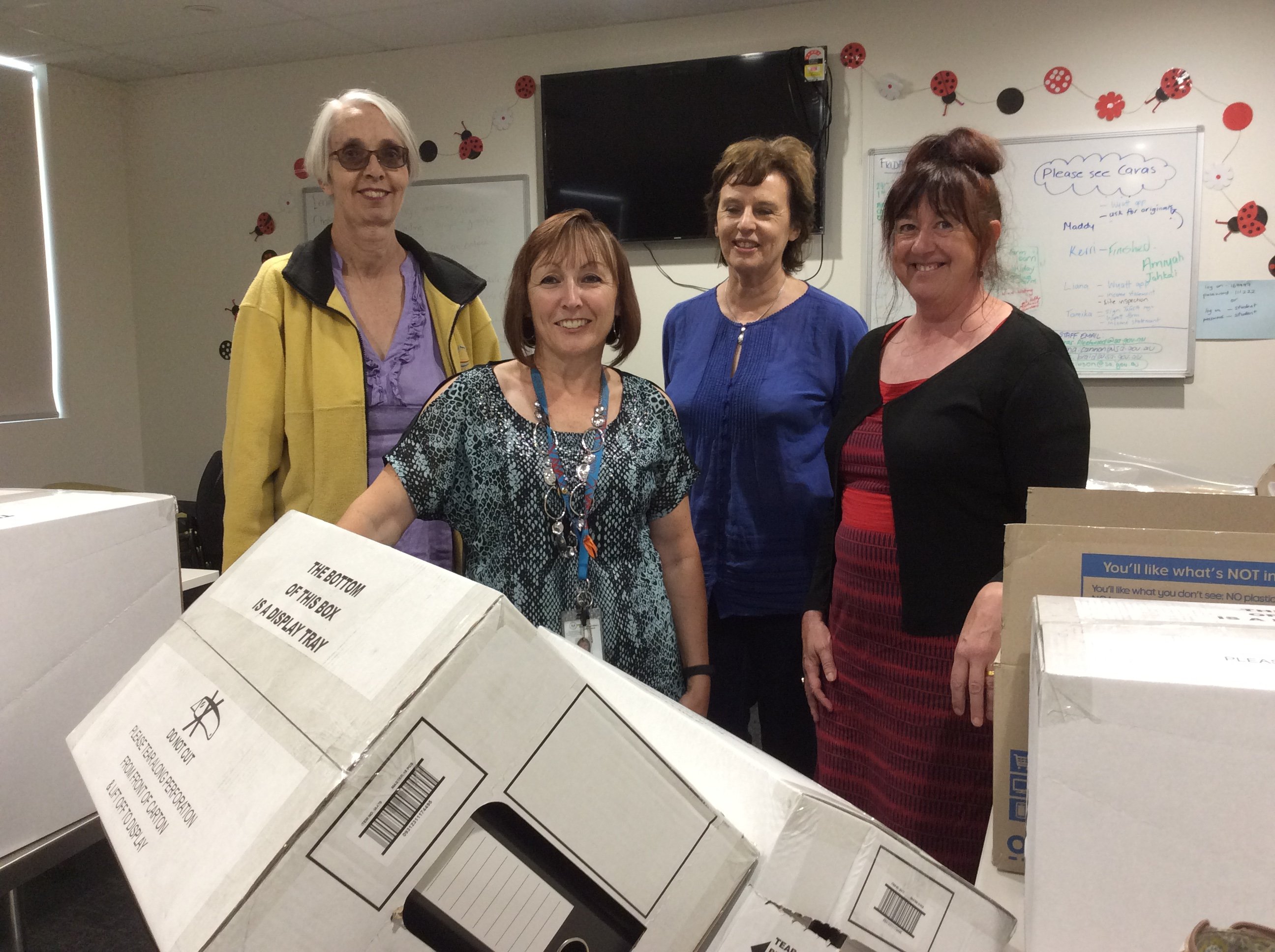 SI Adelaide donation to Young Parents Program December 2017
The club has been supporting this program for about 5 years now and we are delighted that each year the number of young parents returning to study, is increasing.
This year we provided 30 stationery packs. Rosemary and Denise purchased the stationery on behalf of the club and delivered it to Manager Michel and midwife Kerrie, at The Parks, in December.
Every year, Officeworks have given us support with purchase price, for which we are extremely grateful.
Here are some facts about the program:
read more
esther bright scholarship winner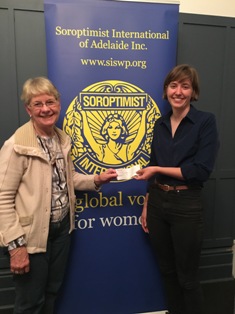 President Donna (left) with young scientist and 2016, Esther Bright winner Stella Child
Flinders University medal for academic achievement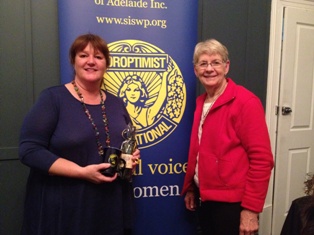 President Donna (right) with Michele Jarldon who won the Flinders University Medal in 2011, for academic achievement.
essential equipment for hospital in lae, png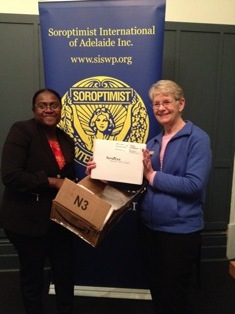 President Donna, presenting PNG Nurse/Midwife Cherolyn with two dopplers for the Lae Hospital
Days For Girls Sewing day
Days for Girls is an international project, which provides sustainable sanitary kits for girls in low resource countries. These packs enable girls to attend school for many more days in the school year.On Saturday February 20th, members from SI Adelaide went to the Days for Girls sewing day at Blackwood. read more See our EVENTS for our Days For Girls fundraising Devonshire Tea.
Scholarship applications
Stayed tuned for next years scholarship applications
SI Adelaide Congratulate Arman Abrahimzadeh on Award
Arman was awarded the Allan Sloan Young Citizen Community Service Award for 2015.
He was nominated by SI Adelaide because of his commitment to raising awareness of domestic violence and issues which face women who leave violent relationships. Since the death of his mother, Zahra, in March 2010, Arman has worked tirelessly to raise awareness of domestic violence issues. read more
Events