About
Soroptimist International
Soroptimist International - a world wide service group for women
Soroptimist International is a global volunteer movement where women work together to transform the lives of women and girls across the world.
One of the largest professional women's service clubs in the world, we have a network of over 75,000 club members in 132 countries and territories. Members work at local, national and international levels to educate, empower and enable opportunities for women and girls
Soroptimist International is active in 6 United Nations Centers with 19 permanent representatives to the UN. Through partnerships and projects we work to make a difference to the lives of women and girls and to promote awareness of issues that affect women.
Follow Soroptimist International on Facebook

Soroptimist International of the south west pacific
Soroptimist International South West Pacific (SISWP) is one of the four Federations of Soroptimist International. SISWP is an expanding and dynamic Federation.
SISWP Vision: SISWP is a leading women's advocacy group in the south west pacific that provides programs to assist women to realise their aspirations and to live in strong peaceful and equitable communities.
SISWP Mission: To inspire action and create opportunities to transform the lives of women and girls.
This year was the 21st Conference of Clubs of SISWP. This is a General Meeting of the clubs of our Federation – the time when members from across SISWP meet together to consider the future of our federation. The Conference is held every two years in the country of the SISWP President.
The Conference of Clubs 2018 was held in Melbourne in May. The theme of the Conference was "Inspiring and Innovative Women Shaping the Future"
Follow Soroptimist International SWP on Facebook

Soroptimist International Region of South Australia
The first club to be chartered in the Region of South Australia was the Soroptimist International Adelaide Club in June 1949. Since then the Region has grown to 9 clubs.
Although we advocate for global peace, international goodwill and human rights for all our focus is on women and girls. We work to enable women and girls access to education, employment and empowerment, to eliminate violence, to improve health care and food security and environmental sustainability.
The Region of South Australia is part of the Soroptimist International South West Pacific Federation. It is one of four Soroptimist Federations globally, and currently includes 13 countries in the Asia Pacific Region. These countries are: Australia, Cambodia, Fiji, Hong Kong, Indonesia, Malaysia, Mongolia, New Zealand, Papua New Guinea, Samoa, Singapore, Solomon Islands and Thailand.
Each club meets regularly and can take part in organised Soroptimist Programme Activities or clubs can identify the needs of women and girls in their own communities to establish their own Club Projects. Clubs get together as a Region during the year to discuss, plan and workshop and have fun.
Clubs from across the Region to across the world can and do work together.
Our current focus is promoting EDUCATION as the key to advancing the status of women and girls globally.
Our current theme is to Educate to Lead
Follow Soroptimist International South Australia on Facebook

SISA welcomes Anne Berry as President!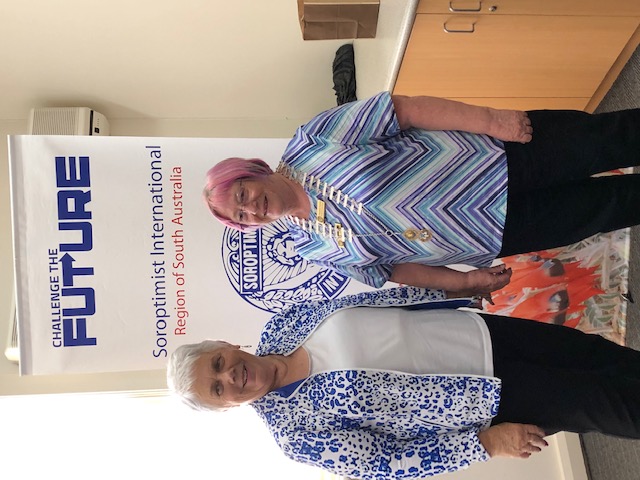 2019 President Di Lockwood (left) handing over to 2020-2021 President Anne Berry
Patron of Soroptimist International Region of South Australia

South Australian Region President Anne Berry, Mrs Lan Le and Secretary Dianne Potter
SI South Australia Region Days
Region Days are held four times a year and is where members from all SA Clubs get together. The day starts at 1030 with morning tea, a guest speaker and workshops. A light lunch follows, time to catch up with old friends and new before the Region meeting is held where business is discussed and ideas and plans for the future flow.
SISA combined club projects
SISA Gender Studies Award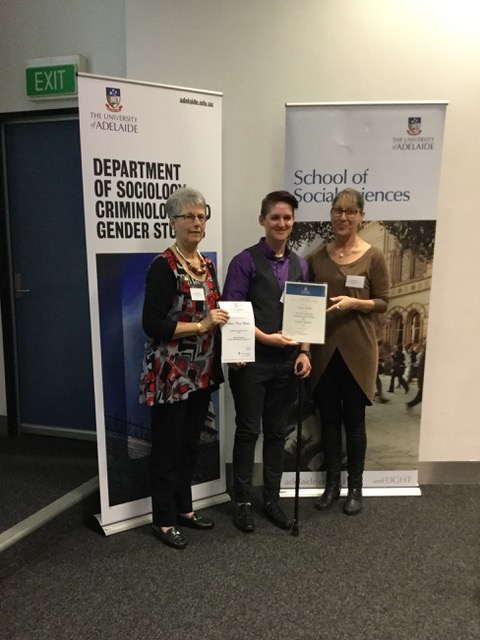 The SISA Gender Studies Award is funded by 6 clubs from the Region (SI Adelaide, Eastern Districts, Naracoorte, Southern Districts, Barossa and Torrens). The award is valued by both the Discipline and the winning student at the University of Adelaide, where research and scholarship in the field of gender studies carries great importance.
The winner in 2017 is Susan (Cam) Biddle at presentation of award with Dianne Potter and Susan Czernich from SI Torrens.
Find out more about our clubs, their projects, activities and club contact details on their individual Club Page
SISA Master of Biotechnology (Plant Biotechnology) Studies Award
This prize has been established by a contribution to the University of Adelaide, by 6 Soroptimist International clubs in South Australia. These clubs are SI Adelaide, SI Barossa Valley, SI Port Pirie, SI Naracoorte, SI Southern Districts of Adelaide and SI Torrens.
The award is open to female students undertaking a Master of Biotechnology (Plant Biotechnology) in the School of Agriculture, Food and Wine.
Thi Diem Nguyen is 2017 winner, pictured with SISA IPP Allison Hobbs and Professor Diane Mather Coordinator, as well as lecturer, of programme/s.
SISA Region News
Delegates from clubs across South Australia attended the SI Australia AGM in Brisbane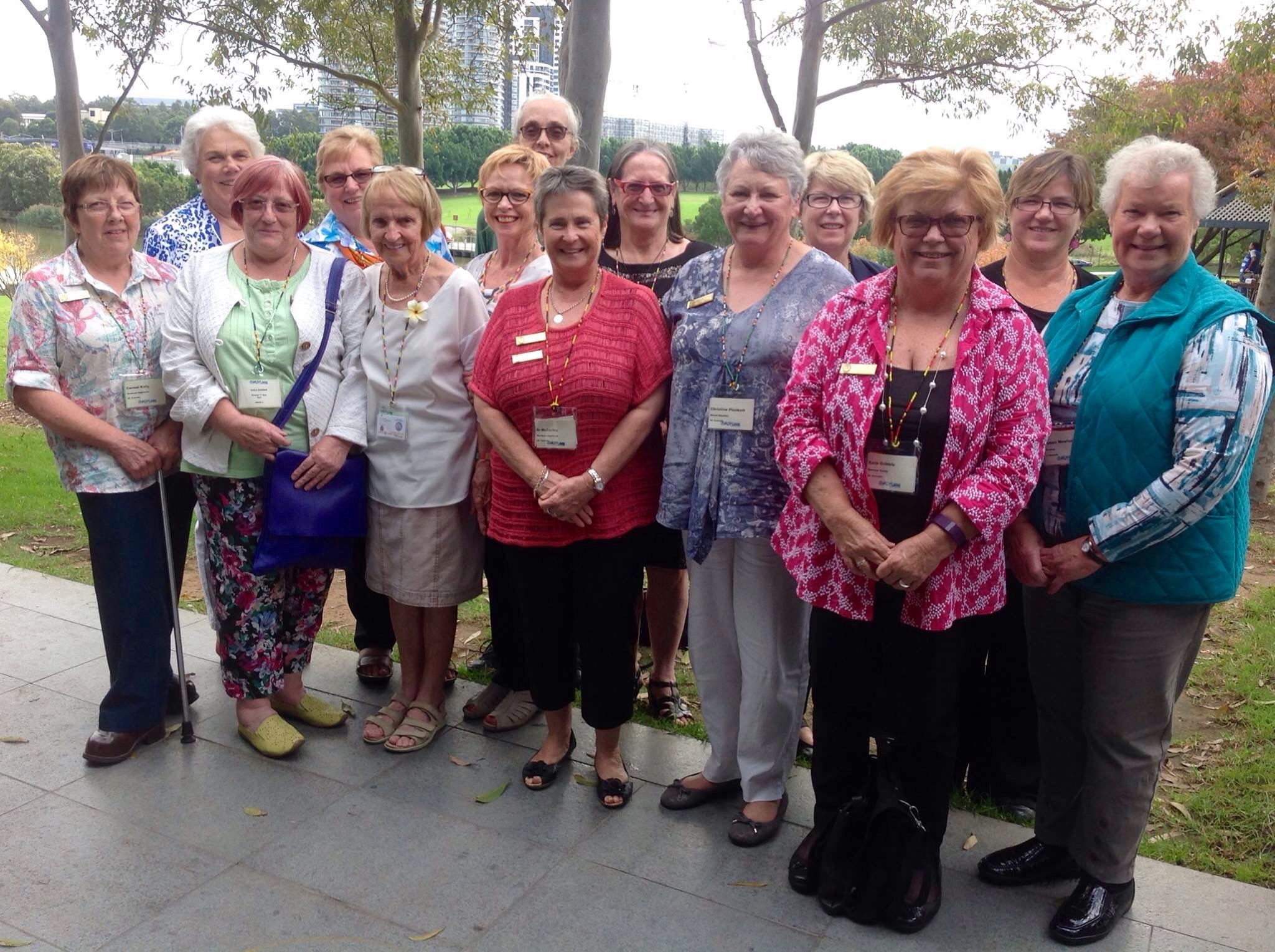 The 21ST Conference of Clubs of SISWP
The 2018 SISWP Conference of Clubs was held in Melbourne, in the beautiful State of Victoria, Australia.
The Conference theme: "Inspiring and Innovative Women Shaping the Future". The format for our Conference of Clubs will be a little different than in previous years, in that our General Meeting for the business session of the Conference will be held on Friday 4th May leaving the 5-6 May 2018 as truly the Conference activities.
There was a jam-packed program with inspiring speakers, innovative panel sessions, workshops that inform and inspire and a social program that allowed members to celebrate this our 21st Conference of Clubs and our 40th Year as SISWP.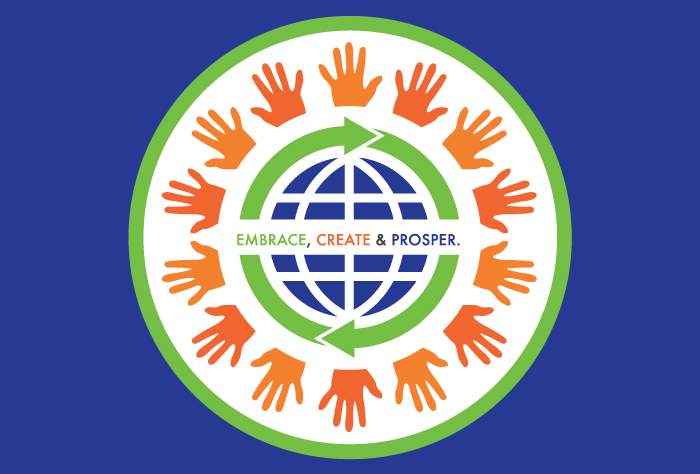 \
Bangka Island Memorial Service, 2021
The annual service is to remember the Australian Nurses who were massacred at Bangka Island in 1942 and other nurses who died due to enemy action in WW 11. The service is held at the SA Women's Memorial Playing Fields at St Marys which are a memorial to these women. Two of the survivors later became Soroptimists.
Soroptimist International Convention Kuala Lumpa Malaysia 2019
The 21st Soroptimist International Convention will take place in Kuala Lumpur, Malaysia from 19th to 21st July 2019. The staging of the 21st Convention in Malaysia, making it the first in Asia, is like a symbolic coming of age as the Convention completes its world presence in the 4 continents of the globe.
For Malaysia, it is indeed a great honour, which we embrace with passion and commitment and all efforts will and are being taken to ensure the convention will be unique, memorable with hospitality as a key ingredient, living up to our Malaysian DNA, "Malaysia Truly Asia".